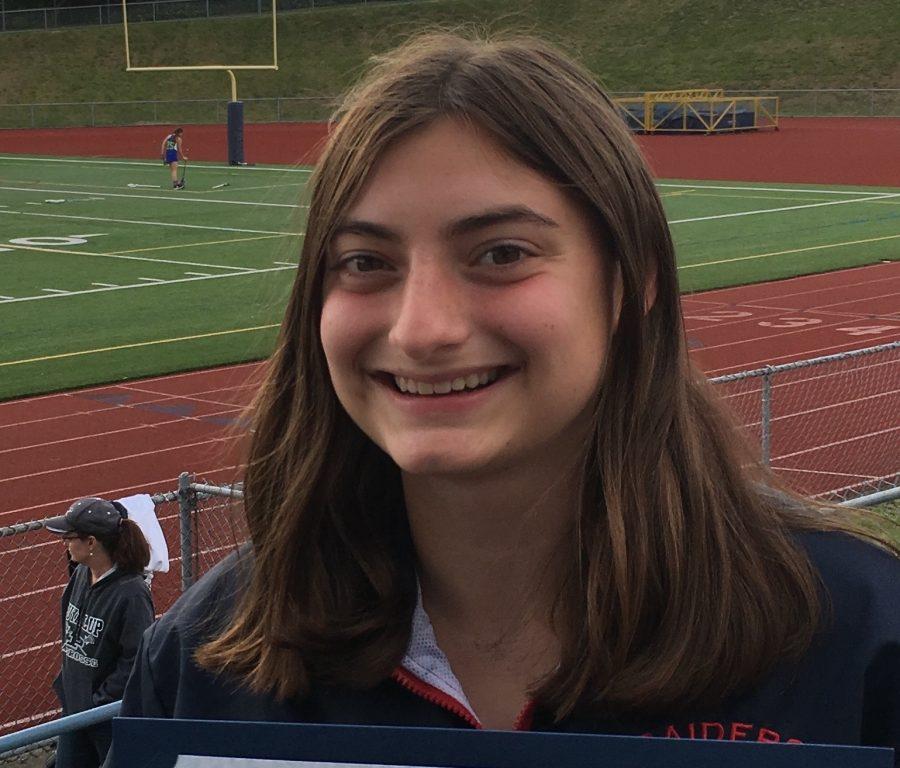 Alex Jensen is the editor-in-chief of the Linfield Review and a senior journalism and media studies major. She's from Seattle, Washington. In fall 2018 she lived abroad in Oslo, Norway studying sports journalism and climate change journalism.
Alex has been with the Review since her freshman year. In her second semester she became the features editor. Then her sophomore year assumed the sports editor role, which she came back to in the spring of her junior year.
As well as writing Alex has also creates graphic designs for the newspaper.
Whenever she has a chance to be away from her computer, she's playing lacrosse where she's been one of the team captains for two years. Or she's doing work within her sorority Phi Sigma Sigma.
After college, she aspires to continue her work in journalism and graphic design.
Alex Jensen, Editor-in-Chief
Jun 04, 2020

Davis announces Linfield's fall reopening

(Story)

Apr 23, 2020

Protesting a pandemic: Politics has gone too far

(Story)

Apr 11, 2020

Commencement postponement leaves seniors with mixed reaction

(Story/Media)

Mar 19, 2020

Linfield extends online-classes to end of semester

(Story)

Mar 14, 2020

NWC suspends spring sports until further notice

(Story/Media)

Mar 14, 2020

As the coronavirus spreads Linfield takes precaution

(Story)

Mar 11, 2020

What Oregon's state of emergency means for Linfield

(Story)

Mar 09, 2020

Adopt, don't shop, your clothes and more

(Media)

Feb 18, 2020

McMinnville Short Film Festival this weekend

(Story)

Nov 13, 2019

The moment, the pop and the end

(Story)

Nov 10, 2019

Fashion landmark falls

(Story)

Nov 09, 2019

Wildcats Upset the Lutes

(Story)

Oct 27, 2019

Men's Soccer takes Bruin's hit

(Story)

Oct 23, 2019

Between the pipes: Why be a lacrosse goalie?

(Story/Media)

May 06, 2019

Northwest conference All-Conference teams

(Story/Media)

May 06, 2019

CATSPY'S award winners

(Story)

May 06, 2019

No softball outfield nets, shattered glass

(Media)

Apr 22, 2019

A Day in the Life of an Athletic Training Student

(Story/Media)

Apr 22, 2019

Tennis sweeps conference, Harris celebrated

(Story)

Apr 22, 2019

Men's tennis goes out strong

(Story)

Apr 08, 2019

Wildcats amount eight honors

(Story)

Mar 11, 2019

Wildcats lapse against Bearcats

(Story)

May 13, 2018

Wildcats knock regional tournament out of the park

(Story)

May 12, 2018

Wildcats advance to championship round

(Story)

May 08, 2018

Multisport athletes search for a balance

(Story)

May 07, 2018

Linfield hosts NCAA softball regional tournament

(Story)

May 07, 2018

Wildcats' names top conference all-star roster

(Story)

May 07, 2018

Golf bonds over rough patch

(Story)

May 07, 2018

Wildcats hunt down national rankings

(Story)

May 06, 2018

Language TA's learn, teach without borders

(Story)

May 02, 2018

Last seniors standing

(Story)

Apr 22, 2018

Wildcats earn championship titles, break records

(Story)

Apr 22, 2018

NWC championships past repeats itself

(Story)

Apr 16, 2018

Seniors weekend ends in smash

(Story)

Apr 16, 2018

'Cats top charts at Lewis & Clark invitational

(Story)

Apr 09, 2018

Wildcats stride past opponents; embrace strong winds, rain

(Story)

Mar 19, 2018

Wildcats earn secondary honors at George Fox invitational

(Story)

Mar 19, 2018

Tennis takes punch by fighting 'Roos to Bulldogs

(Story)

Mar 05, 2018

Track 'Cats win top honors at Icebreaker

(Story)

Feb 22, 2018

Wildcats road ended with the Blues

(Story)

Feb 18, 2018

'Cats got the Blues, Pirates capture team members' hearts

(Story)

Feb 18, 2018

Sports media course new to mass comm

(Story)

Feb 18, 2018

Baseball takes on Whitworth

(Story)

Feb 06, 2018

Men's basketball shoots for second consecutive playoff tournament

(Story)

Feb 06, 2018

Swim team glides toward championships

(Story)

Dec 04, 2017

Holiday lights allowed in rooms

(Story)

Dec 04, 2017

Wildcats bruise Bruins

(Story)

Nov 20, 2017

National meet concludes, Neal earns All-American, Beard places 77th

(Story)

Nov 13, 2017

Athletes switch it up, try other sports; who will go farthest?

(Story)

Nov 13, 2017

XC women take third; Beard, Neal head to nationals

(Story)

Nov 02, 2017

'Cats within running distance of historic milestones after strong conference meet

(Story)

Nov 02, 2017

Men's soccer stumbled, tumbled away in Washington games

(Story)

Oct 22, 2017

Women's soccer ends losing streak

(Story)

Oct 21, 2017

'Cats brave the rain, Bruins are swept away

(Story)

Oct 16, 2017

Pacific Lutheran Lutes and Puget Sound Loggers, oh my

(Story)

Oct 16, 2017

Pirates sail away, blue skies return

(Story)

Oct 01, 2017

Women's XC has nationals in sight

(Story)

Sep 30, 2017

Wildcats blow Pirates out of the water

(Story)

Sep 25, 2017

Knudson named NWC Student-Athlete of week

(Story)

Sep 25, 2017

Women's soccer uses motivation from loss against Bearcats to defeat Pioneers

(Story)

Sep 18, 2017

Women's soccer wins one, loses one

(Story)

Sep 12, 2017

Women's soccer wins, loses on the road

(Story)

Sep 05, 2017

Cross country runs at Linfield Harrier Classic

(Story)

Sep 05, 2017

Volleyball starts season with a triple win

(Story)

May 11, 2017

30 ways to creatively pay off student loans

(Story)

May 01, 2017

Wildcats head to nationals

(Story)

Apr 25, 2017
Apr 24, 2017

Track NWC championships

(Story)

Apr 17, 2017
Apr 02, 2017

Willameta Invitational

(Story)

Mar 31, 2017

Track 'Cats place in top-10 at Willamette

(Story)

Mar 19, 2017

Wildcats rank top ten at Lewis and Clark Invitational Friday and Saturday

(Story)

Mar 05, 2017
Mar 05, 2017

ASLC cabinet: a year in review

(Story)

Feb 28, 2017

Catball claws Bruins for a win

(Story)

Feb 28, 2017

Rosenberg Named NWC coach of the year

(Story)

Feb 19, 2017

Going all four, featuring men's and women's basketball

(Story)

Feb 18, 2017

America's transition from the Obama to the Trump administration

(Story)

Feb 17, 2017

The man behind the designs

(Story)

Nov 14, 2016

Swimming finds victory, loss against Puget Sound, PLU

(Story)

Nov 06, 2016

Volleyball sweeps Bruins in home match

(Story)

Nov 05, 2016

Battle on the court ends in Linfield victory

(Story)

Oct 24, 2016

Environmental Film Festival on Campus

(Story)

Oct 17, 2016

Linfield Volleyball Takes Tough Loss Against Puget Sound

(Story)

Oct 13, 2016

Volleyball triumphs Bearcats in three sets

(Story)

Oct 09, 2016

Linfield Women's ITA Championships

(Story)

Oct 07, 2016

Loggers cut down Wildcats in women's soccer match

(Story)

Oct 03, 2016

Lewis and Clark sweeps women's volleyball

(Story)

Sep 30, 2016

Women's soccer falls in double overtime to Pacific University

(Story)

Sep 25, 2016

Volleyball bounces back, earns first conference win

(Story)

Sep 24, 2016

Pirates sink the 'Cats in three

(Story)

Sep 18, 2016

Linfield volleyball falls in second conference match

(Story)

Sep 15, 2016

Bearcats claw their way to a victory over Wildcats

(Story)