Men's Soccer takes Bruin's hit
The Bruins momentum out swayed the Wildcats today after a late goal in the first half by George Fox. Linfield struggled to gain traction in the second half leading to 1-0 score. The men's soccer team played at home today after being on the road yesterday to Pacific University
Linfield held possession the most and kept to the ball primarily on the George Fox's side the first half.
As the action moved closer to the Wildcats bench cheering erupted. Linfield's bench was overcrowded with more men than spots. But the high intensity shrills quieted down after the Bruins Solek Ashkino dribbled past sophomore Ronan Krutzikowsky to a clear shot on goal.
With less than three minutes in the first half the Wildcats bench still sat quiet. Even though the team continued to keep possession in front of the George Fox goal.
Returning in the second half the possession shifted. George Fox held the Wildcats more to their side of the field.
"It's just trying to limit our mistakes and make sure we can capitalize on the other end," junior goalkeeper Nick Van Kleek said on combating momentum shifts.
Frustrations and intensity between players heightened as did the number of yellow cards given out. Eight cards were given out all in the second half.
But after the referee called a foul on Gerardo Perez when a George Fox player going up for a header landed on Perez's head. The Wildcats picked up momentum driving the ball harder to the George Fox goal.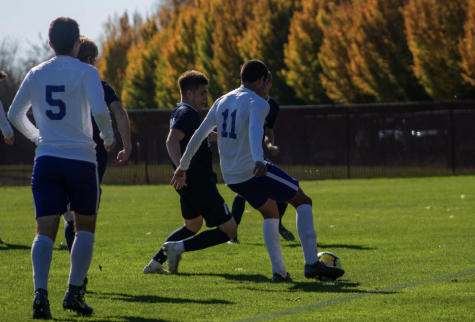 George Fox picked up on Linfield's shift because they switched to a defensive mode. Every time the ball moved to their end it was immediately booted out.
Tensions rose on the field and from the sidelines. Every whistle from the referee was followed by a roar from the stands.
"We just got to talk to each other and keep each other engaged," Van Kleek said about what the team does when calls aren't going their way. "You'd see Luke yelling at Cesar all the way up top and just see people yelling at each other and making sure people are staying engaged and doing our own game."
In the last couple minutes of the game Linfield had one more chance in front of Bruin's goal after foul. The ball is set just inside Bruin territory. Junior Luke Marks tries to head the ball in, but George Fox goalkeeper, Sebastian Lopez, saves it.
After a loss on the road yesterday and today's the Wildcats now sits seventh in the conference. And George Fox moves up to the sixth place.
Overall Linfield has a 4-11-1 record.
Next, the 'Cats are on the road to Whitman and Whitworth. Whitman is ranked first in the conference and Whitworth is fourth.
"Going into this week we're just going to have to train hard and work like we've never worked before," sophomore Cesar Cruz-Espindola said.