Wildcats hunt down national rankings
The Linfield Open told multiple stories over the weekend. There a those who are still in the hunt to grasp and maintain a national ranking and those who are merely trying to gain a better conference time.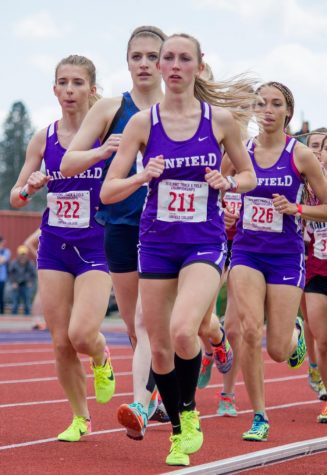 Junior Olivia McDaniel was the only Wildcat to gain a first-place over the weekend. She, junior Joanna Galli and freshman Meg Angier swept the top three in the women's pole vault. McDaniel hit the top mark and her personal best of 12 feet, 6 inches. Galli and Angier both hit a height of 11- 4 ¼ inches. This was also a personal best for Angier.
"Going into [Saturday's] meet I knew that I needed to jump a season best if I wanted to make it to nationals," McDaniel said. "I had the worst meet of the season at University of Oregon the night before [not gaining a height] but [coach] Dayson Tioganco helped me keep a clear head going into Saturday by having me stay relaxed and not put too much pressure on myself."
McDaniel's top mark of 12-6 puts her in a comfortable seventh place rank nationally as the top 22 get bids.
"It would be amazing to make it back to Nationals. It would show me that all my hard work this season has paid off. This season has worn on me at times, and it has definitely not been easy," she said.
Last year McDaniel said she felt so honored just to make it to the 2017 NCAA championships and spent the majority of the time just taking it in. This year, however, she said she is going there to compete and hopefully come home with an All-American title.
At this point senior Kaelia Neal is sitting comfortably to head to nationals as she is ranked ninth in the 1500. Sophomore Dana Brooks so far is in the scope to head as well since she is ranked 18th in javelin.
Decathlon athlete sophomore Keaton Wood holds 12th nationally with 6374 points. As long as his mark stays among the top 20 men, he will also compete at the NCAAs.
Wood also placed ninth in the pole vault marking 11-5 ¾.
There were other Wildcats who competed to better their season marks.
Senior Taylor Vicknair took second in the men's 110-meter hurdles with 15.72 seconds.
The Wildcats women's 4 x 100 relay team took third with 51.24 seconds. The team was made up by freshman Kristen Burke, Juliet Arnswald, sophomore Jenna Mihelich and freshman Desirae DesRosiers.
Sophomore Mikayla Bradley placed third in the women's hammer with 34.97 meters.
Senior Ana Ramirez snagged fourth in the women's 3000 steeplechase with 13:07.44 minutes. Junior Taylor Peterson grabbed a respective fourth place but, in the women's, high jump with 4 feet, 11 inches. Sophomore Baylie Cameron placed fifth in the women's 400 hurdles at 1:05.67 seconds.
"This meet felt very different compared to our other home meets because, the conference finished up, the atmosphere felt a little more casual. Many of our athletes were hoping to improve on current times and marks before the season's end," Cameron said.
Next, a handful of Wildcats will compete in the Portland Twilight meet Friday and Saturday. Field events will be contested at George Fox University starting at 10 a.m. while the running events will be held at Lewis and Clark College starting at 3:45 p.m. on Saturday.