Between the pipes: Why be a lacrosse goalie?
A defender screaming "cutter!" whizzes past. A frantic instant later, an opponent follows, her colors speeding by an almost unrecognizable blur.
Suddenly, the fray is marked by the sound of a clasped catch and release. Three feet in front of you, the ball is coming your way.
It's going here. You step there. Save!
A flood of relief fills Kylee Duey after she succeeds in stopping the shot.
But the job isn't done. She has 10 seconds to get the ball out of the goal circle, else find the spotlight shining back on her.
The next play is essential. A pass that's off the mark or a defensive error means the ball is heading right back at her.
Some players might let the chaos get to them, but not Duey. She's comfortable with it.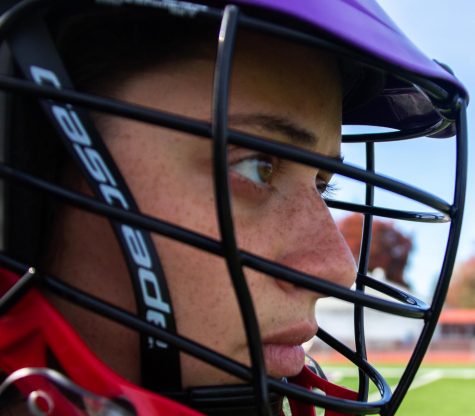 Duey is a senior goalie on the women's lacrosse team at Linfield.
From the time she sees the ball heading down the field after a turnover, she has no more than 10 to 15 seconds to set up. She has to brace for a defensive failure allowing an opposing player into the eight-meter shell protecting the goal.
"And then it's like trying to keep up with the chaos," Duey said.
Attackers cut through the arc calling for the ball. The defense tries to keep up staying right behind them to stop an open lane to the goal. But defensive breakdowns happen. Perhaps one of the defenders has fallen or collided with another player. And the attacker gained an extra step.
Through all of that commotion, she has to see a shot heading her way at 50 miles per hour.
Over time, Duey has trained her mind to work with it. Otherwise, the intensity of that atmosphere could get awfully stressful.
"All goalies are a little bit crazy," said head coach Lindsay Kibler.
They have to be. Every team has been training for months, if not years, to develop the conditioning and skills to drive a ball past the other team's lone goalie.
"It takes confidence and guts to stand in that position, take those risks and make those saves," Kibler said. "And to stand in that crease and say, 'Come at me.'"
Kibler's a former goalkeeper herself. She played for the University of Pennsylvania in 2009 and University of Kentucky in 2010-11.
Last year, Linfield averaged about 24 shots on goal per game. Duey said she achieved about 80% of her saves by blocking shots with her body.
"Ball bruises are really interesting, because the start out with a nice little white spot in the middle where the ball hit," she said. "And then it's red around the outside, and then everything fills in a dark nice purple."
The position is so debilitating physically it can leave players with bruises the size of small galaxies. And it's equally debilitating mentally.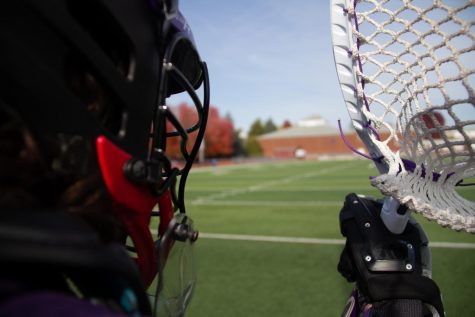 As a goalie, Duey said, you have to resign yourself to the fact you will be scored on. A high school coach of hers said 50% was a really good save percentage, as the average was around 40%.
She recalled a high school game against Wilsonville where she suffered a constant barrage of shots and felt like she'd never get a save.
"It felt like I'm letting my teammates down, because I'm letting them score like six, seven, eight goals in a row," Duey said. "And I'm like, I don't know what to do."
When you break the streak, she said, you have to seize the momentum and roll with it.
Why stand out there between the pipes? Why be in what amounts to a batter's box?
For many goalies, it started out the same way. When the coach asked, "Who wants to be the goalie," they raised their hands.
Lacrosse is just now coming into its own. Ten years ago, when Duey was getting her start, it didn't have a lot of youth leagues like soccer and basketball.
When Duey's friend Isobel said she wanted to be a goalie, she thought, "Oh, that sounds like fun. I'll be the back-up goalie."
But after Isobel first got hurt, then sick, Duey became the starter.
The position suited Duey, as she's always been much more a defensive-minded person. And the goalie is the last line of defense in lacrosse.
Duey's eyes beam as she tells the story of a triple overtime game against Century.
It was sudden death at that point. So, while Duey might not have scored the game-winning goal, she saved the shots that gave members of her team the next chance to do so.
Her voice speeds up with enthusiasm as she says, "It was just really awesome. This is where I want to be — backing my team up as much as I can from this end of the field."
During the game, Duey has to have her mind always envisioning the next play.
Because goals can be scored so fast, there's no time to worry about the last one. She can't change that, but she can change what happens next…
Her dad always tells her before games:
"Think of the ball as a watermelon. The ball is so small and hard to save. But if you think of it as a watermelon, there's more surface area. There's more for you to save. It's easier to catch that way, so visualize the ball as a watermelon and you as a brick wall."
Leave a Comment