McMinnville Short Film Festival this weekend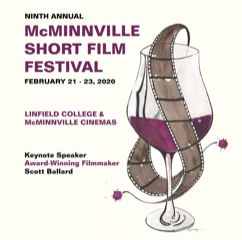 Lights, camera and action. The McMinnville Short Film Festival is coming to town for an exciting and packed weekend with 85 films being screened. The films are 20 minutes or less and range from comedy-dramas, documentaries, environmental films, animated, and horror/suspense.
Opening night of the festival begins at 6:30 p.m. Friday night at the ICE Auditorium on Linfield's McMinnville campus. The first night is called "narrative one" and features comedy-drama films. 
Linfield students receive free admission to the event with the student code: LinfieldID. To guarantee a coveted spot in the auditorium students can get a ticket online and then show up at the door with their student ID for free admission. Students may show up at the door Friday with no tickets, but a spot isn't guaranteed.
To view the rest of the festival students can receive $5 tickets with the code: Linfield5. All tickets can be purchased the festival's website. 
Film makers are flying in from all over the country for the festival. On Sunday, a panel of judges from the film industry will hand out awards.
A team of three screeners watched 236 films and whittled the final bids down to the best 85 films. Submissions ranged from local entries to international ones with films being picked from Poland, New Zealand, Japan, Mexico and Canada. 
The festival is debuting a new Native American film category, where either the filmmakers must be Native American, or the subject has to be relevant to them.
Festival Background:
Nancy and Dan Morrow started the festival nine years ago to share their love of films and filmmaking. The two ran MovieTime, a film store, for 16 years before converting it into an art gallery, Gallery at the Ten Oaks.
The first festival debuted in 2011 with just 28 films and submissions only came from around Yamhill county and Salem areas.
"We found that there was a call for local people to show off their films," Dan said.
The festival originated with a video contest at the UFO festival that featured only sci-fi films. But the next year they opened the video contest up to everybody creating the first McMinnville Film Festival and it has been growing ever since.
"We're video nerds," Dan said.
Nancy said that the county had every form of art available except film until the festival.
In its early years they would take any film submitted. A mom once submitted a film that she shot on her iPhone and Dan had to help fix it. But now the festival sees submissions from Sundance award winning films and Oscar-nominated short films.
The festival has been rated in the top 100 best reviewed film festivals out of 7,000 competitors. 
Festival Schedule:
6:30 p.m. Friday (February 21) Narratives #1 Comedy & Drama. Location: Linfield College Melrose Hall – Ice Auditorium
Saturday (February 22) Location: McMinnville Cinemas 300 NE Norton Lane
10 a.m. Student Showcase
12:30 p.m. Environmental 
2:30 p.m. Animation
6:30 p.m. Narratives #2 (comedy & drama)
9 p.m. Horror/Suspense
Sunday (February 23) Location: McMinnville Cinemas 300 NE Norton Lane
10 a.m. Native American
12:15 p.m. Experimental / a bit strange 
2:30 p.m. Documentary