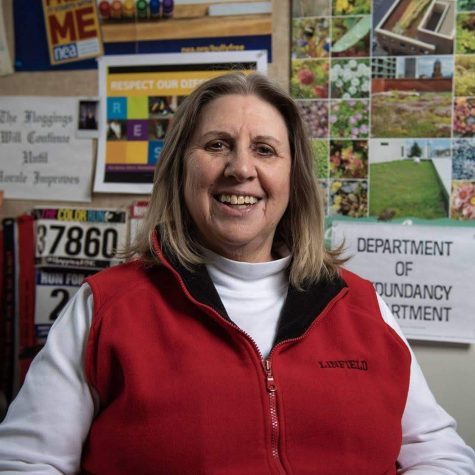 Angel Rosas, News Editor
April 29, 2019 • No Comments
One of Linfield's most beloved professors willing be concluding her career at Linfield with a last lecture. Professor of health education at Linfield College Dawn Graff-Haight will be presenting a "Last Lecture"...
Olivia C. Gomez, editor-in-chief
April 27, 2019 • 1 Comment
This article is part of a larger series on institutional restructuring. To read more, please visit our website, thelinfieldreview.com. If you would like to provide information or corrections, please email the editor-in-chief...
Elijah O'Bryant, Writer
April 9, 2019 • No Comments
In the recent cycle of national news, you might have heard about this recent college admission scandal. You may know by now that about 50 or so affluent parents, coaches and "businessmen" were arrested...
Anne Walkup, Opinions Editor
March 25, 2019 • No Comments
Spring Break is aptly named—a break during the spring. Its purpose is not to give professors the chance to assign extra assignments, essays and preparation time for exams. But as midterm projects and...
Letter to the Linfield Community
March 11, 2019
HHPA hours frustrating, inconvenient for students' schedules
March 11, 2019
More accessibility, less regulation needed for library media use
March 11, 2019
Chase Whittaker, Sports Editor
May 18, 2019 • No Comments
After a hard-fought game yesterday, the fifth-ranked Wildcats found it in them to rally a win over the Bulldogs from Texas Lutheran University. The Wildcats started off the game slower than they would have wished after trailing...
Emma Olson, Writer
March 17, 2019
Linfield Theatre recently presented "She Kills Monsters," a play about Dungeons & Dragons, sisterhood, being queer, and the 90s. This eclectic mix of topics came together...
Grant Beltrami, Arts Editor
February 25, 2019
Signing into Xbox Live, PSN or Discord and seeing all of your friends online in the same game is rare. Even massively hyped releases like "Grand Theft Auto," "The...