Adopt, don't shop, your clothes and more
Thrifting. Resale. Secondhand shopping. Ballin' on a budget. "Poppin' tags", in the words of the one and only Macklemore. Whatever you want to call it, there is now a place to do it at Linfield: The Cat Closet.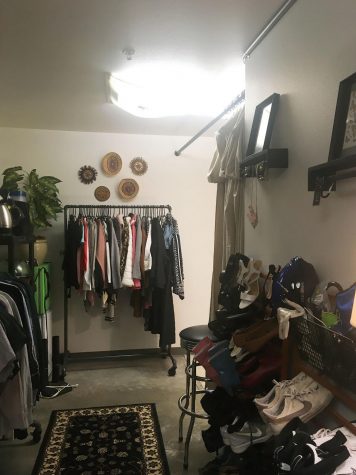 The Cat Closet, the new campus thrift store, has made over $200 and has been a "huge success" since its opening in January, said the store manager and student Taylor Vogul, '20. The store sees new faces every opening as well as a couple regulars.
After this semester, the proceeds will benefit the nonprofit Homeward Bound Pets, a local no-kill animal shelter. The nonprofit relies on donations and the proceeds from its own thrift store to operate, but its thrift store was robbed of cash and various items in December.
Vogul said she wants the proceeds to go back to the McMinnville community each semester and is working on a process where Linfield clubs and organizations can request the proceeds to go to a specific nonprofit. 
Before the Cat Closet came to be, the space was known as the Bike Room in the HP-A apartment building. The small space was used for bike storage during the school year and storage for students between school years. Vogul was tasked with transforming it into the space it is now, taking all the unwanted and abandoned items and organizing it into a functional shop.
And she did so with completely thrifted materials and DIY projects.
"I was inspired by some of my favorite thrift stores which use recycled and thrifted items as decor. I had so much help from my family and friends in painting, DIY-ing and thrifting most of the decor that you can now see in the shop," Vogul said. 
The idea came from former sustainability coordinator Reza Refaei as part of the sustainability department's goal to increase sustainability efforts on campus, according to Vogul. The Cat Closet is currently under ASLC and is run by Vogul as well as Margo Stewart, '23, and Davia Guzman, '23.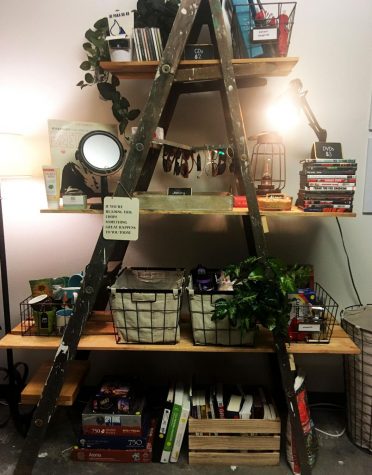 The items in the thrift store are either donated by students and evaluated by the staff or sourced from the blue donation bins put out by the HP's and residence halls at the end of the school year.
Not all the items the store collects are displayed at once, meaning that the inventory is always changing and being added to. 
"There have been a surprising amount of expensive/valuable donations," Vogul said. "This includes brands like Gucci, Moschino, Celine and Comme des Garcons to name a few. A lot of these are currently in storage to be further authenticated before selling."
The Cat Closet also offers appliances like microwaves that aren't displayed in the shop due to space issues, so Vogul suggests students ask an employee if they are interested. 
Thrifting for clothing and other items fits well with the "broke college student" lifestyle, but there are benefits to thrifting besides the one on your wallet. There is also a reduced environmental impact that secondhand shopping offers compared to the traditional fashion industry.
What do the fashion industry's effects on the environment really look like?
The EPA estimated 16.9 million tons of textile waste, which accounted for 3 percent of all municipal solid waste (better known as everyday trash).
Not only that, but the polyester production for the textiles in one year emits the same amount of greenhouse gases as 185 coal-powered plants do in the same amount of time, or about 1.5 trillion pounds of carbon dioxide and other harmful elements.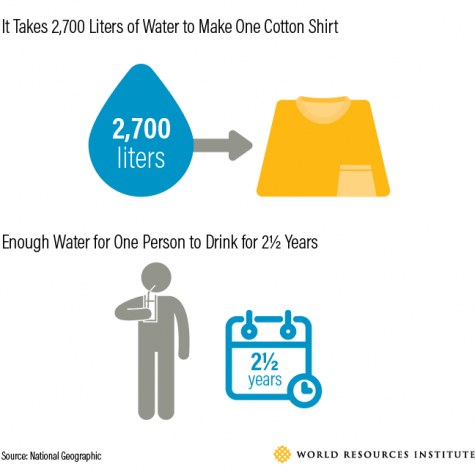 Cotton, a common natural resource, is a water-intensive crop—needing up to 700 gallons to grow enough fibers for one shirt. Water is also used in other areas of new clothing production. Dying textiles uses about 1.3 trillion gallons of water each year, according to the World Resources Institute. 
Buying secondhand can help offset these impacts on the environment. 
In addition, many second hand stores are donated or sold by local sources, like the Cat Closet. Newly produced clothes often have to travel long distances from factory to individual retail stores, which contributes to the amount of fossil fuels burned. The negative environmental impact worsens when customers order to their doorstep, as convenience is traded for plastic packaging (AKA more waste).
"Primarily shopping second hand was a change I made in my life about 3 years ago," Vogul said. "Learning more about the unethical practices, environmental harm and wasteful nature of the fast-fashion clothing industry made me aware that this was not something I wanted to support."
You can shop, or you can adopt without having to leave campus. 
The Cat Closet changed their hours this week and are now open on Wednesdays from 4:30 p.m. to 6:00 p.m. and Saturdays from 12:00 p.m. to 3:00 p.m.
Leave a Comment