ASLC cabinet: a year in review
Alex Jensen, Staff Writer and Graphic Designer
March 5, 2017
Beneficial, accomplished, fun and just getting started is what sums up the past year for the ASLC cabinet members. The nine members worked closely together to achieve their goals. Vice president Kenna Whatley, '17, said that their end goals may not look as anticipated but are aligned with the overall goal: to improve student experience, get students involved, and have Linfield be the best place for all its students.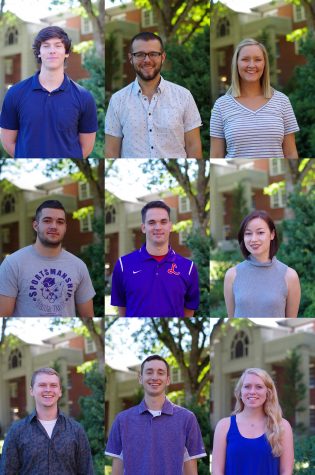 To many of the cabinet members, this past year has meant progress. Speaking on behalf of the group, vice-president of programming Cruz Morey, '17, said that when entering everyone had a lot to do in each position but all have made good achievements thus far.
As a senior, Whatley said "It's just been nice to have this kind of be like a culmination of my experiences and my being here to give back to other students has been really fulfilling."
Most of all Whatley thought it was special to see her fellow cabinet members grow as leaders, especially the new ones. "Where everybody is now I think is actually pretty outstanding. I think we recognize that. This teaches you a lot" she said.
Sports director Bobby Tarnapoll, '18, said "it's a great way to grow individually and outside of the classroom but while also giving back and doing your job for the school."
The member's proudest achievement has been getting the food trucks to come to campus. There was one last semester and another coming on March 17. Club director Connell Crabtree, '18, said "just getting that out there and making it possibility for students to have a late-night food option on campus is a pretty big deal for some of here at least." He felt that the whole process of getting the food trucks approved by the administration was a high achievement. He hopes the trucks will continue to come on campus.
Student center director Mike Sheldon, '18, added that he thinks communication has improved this year. Coming into the position he felt that not many people knew what ASLC did or how to reach out to them. The ASLC app was a big proponent in assisting with both of those aspects.
President Nathan Pellatz, '17, pointed out how cohesive the group worked together to be one unit instead of nine different people with different jobs.
When entering the position Pellatz was intimidated to be working with all successful leaders on campus, since this was his first year in student government. Throughout the year he learned how to step back and let others take the reins since he still had a lot to learn. He admitted it wasn't always easy because he likes to be on top of it.
Heading forward, the cabinet's goal is to make Wildstock the best one yet, have a successful election, and train who is replacing them.