NWC suspends spring sports until further notice
Student athletes mourn the suspension of their season, seniors say final goodbyes
Student athletes fret about their season ending abruptly perhaps because of an injury, but never due to a pandemic level virus infecting the globe.
Early on Thursday, phones chirped and buzzed with notifications of athletic events across the country being suspended or cancelled. MLS, MLB and NCAA all suspended their seasons following the NBA's announcement Wednesday night that it too will be taking an hiatus.
Thursday afternoon Linfield's spring sports' athletes gathered in emergency team meetings awaiting news. But when Garry Killgore, athletic director, walks into the room on a day where sports across the nation were already cutting short their seasons — it's not good — and it wasn't.
At 3:15 p.m. the Northwest Conference released a statement that all competitions and championship events will be suspended, effective immediately, until further notice. Linfield is following the conference guidelines regarding suspension but have not cancelled the spring sports seasons. 
"That follows a nationwide trend, even though most of them [teams] have cancelled out right," Killgore said. "We have suspended but it is hard because there are no national championships to go to right now. The NCAA has already cancelled them."
Freshman, sophomores and juniors grapple with their season potentially being over. But seniors look out on their last year and the time they thought they had as well as a senior night game never going to be played.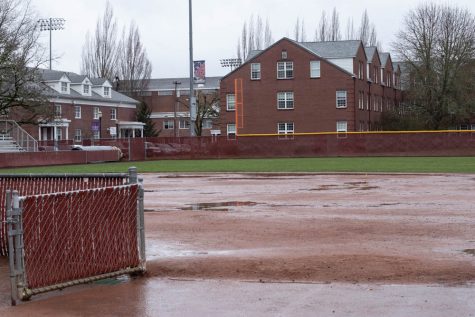 Killgore stressed that the conference is just suspended so there's a small hope that competitions will resume. Teams can opt to hold unofficial practices, they just can't be mandatory. 
If competitions are able to be held again, the conference would need five out of the nine teams to not have cancelled their seasons for conference tournaments to take place. 
But for the women's lacrosse team that only plays seven teams out of the conference because Lewis & Clark and Pacific Luthern don't have teams the situation is tough. Softball also only plays eight out of the conference teams because Whitman doesn't have a team. 
The NCAA Division III administration yesterday announced they will grant an additional season/semester of eligibility for student athletes participating in spring sports. 
Schools may also assist students with travel, lodging and meals as a result of campus displacements.
Division III Administrative Committee decisions: pic.twitter.com/wBB7IkW1C1

— NCAA Division III (@NCAADIII) March 13, 2020
While the college is on its new spring break the HHPA will be closed for recreational use but the training center will remain open for athletes. 
Where the Wildcats left off their seasons: