Cheese sampling
Take a journey to France in the eyes of a cheese connoisseur. The French club put on a cheese tasting last Friday in the Fred Meyer Lounge. The club wanted to promote more of what the language departments do, especially the French program.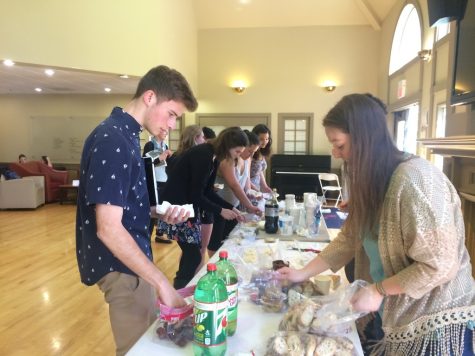 There was around 20 people at the start of the event all crowding around two tables filled with cheese, bread, spreads and drinks. Club President Michaela Duffey and fellow helpers were rushing around still cutting cheese when the masses arrived.
The French cheese tasting featured 11 different kinds of cheese ranging from mild to pungent. Duffey said that they spent $160 on the event. And wish they bought more cheese and less bread.
"I think it is going really well. We are already running out of cheese. I am surprised about how many people were here in the beginning" said Duffey.  
Clément Hossaert, teacher assistant for the French department, said the club wanted to have a gathering with food since it is part of France's culture.
There are thousands of different kinds of cheese made in France.