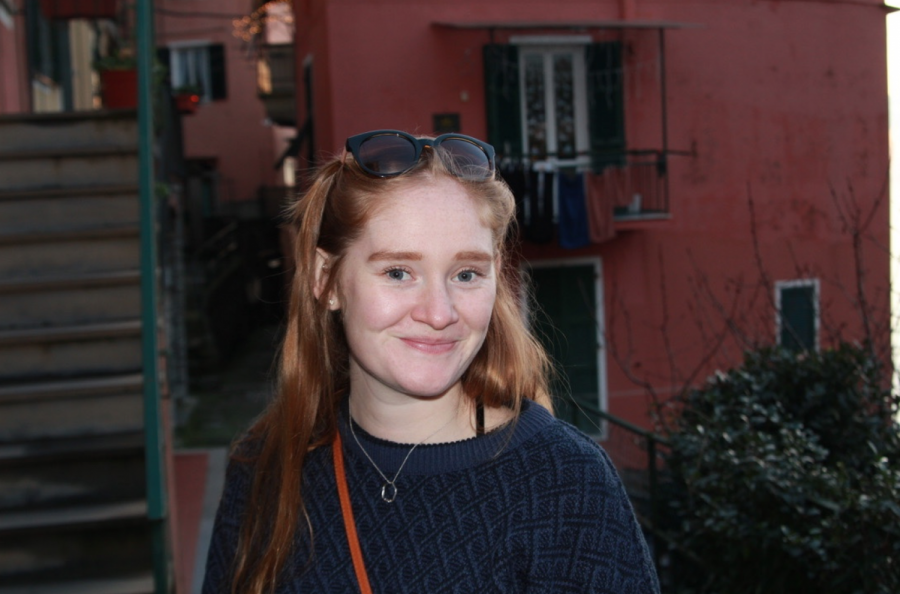 Camille Botello is a senior Journalism & Media Studies and Spanish double major and the News Editor for the Linfield Review.
Journalism and storytelling continue to be some of the most important aspects of her life. Camille hopes to use her voice someday for those who can't, and to positively affect people with the stories she tells.
At Linfield, Camille works with the Alumni Engagement, Global Cultural Studies and International Programs offices, and enjoys attending on campus events and forums. Her favorite experience at Linfield so far has been studying abroad in South America for eight months.
Her career aspirations include investigative reporting, documentary making, coaching, teaching, or working for a non profit.
If you see her around, ask her about: thrift and consignment stores, national forests, and traveling.
Camille Botello, News Editor
Oct 27, 2020

A word from Camille Botello, the reporter behind the sexual assault series

(Story)

Jul 25, 2020

Multiple pages about sexual misconduct were redacted from a May faculty trustee report

(Story)

Jul 07, 2020

Student says fraternities need better sexual assault reporting procedures

(Story)

Jun 28, 2020

David Baca remains Board chairman despite faculty vote of no confidence

(Story)

Jun 12, 2020
May 30, 2020

Faculty assembly passes a vote of no confidence against Board chairman

(Story)

May 27, 2020

President Davis addresses Linfield community regarding recent Title IX complaints

(Story)

May 18, 2020

Former senior Board member facing multiple allegations of sex abuse, other Linfield trustees facing accusations of similar misconduct

(Story)

May 11, 2020

Linfield students abused by the same perpetrator say the college's reporting system failed them

(Story)

Apr 23, 2020

Protesting a pandemic: Politics has gone too far

(Story)

Apr 15, 2020

Refunds issued to students forced to vacate campus housing

(Story)

Apr 09, 2020

Linfield to postpone, not cancel graduation

(Story)

Mar 31, 2020

After continued sexual harassment, two students say administration should have done more to protect them against the same serial offender

(Story)

Mar 30, 2020

He can sing on his own: Bad Bunny's new album breaks records, pushes boundaries

(Story)

Mar 10, 2020

Last Thursday's defeat: Bidding farewell to the last female presidential candidate

(Story)

Mar 02, 2020

Linfield student claims administration mishandled her sexual assault case

(Story)

Feb 29, 2020

"The Bachelor" continues to disappoint

(Story)

Feb 15, 2020

Board of Trustees votes to move forward as Linfield University

(Story)

Feb 14, 2020

Break up with your boyfriend, because you're bored

(Story)

Feb 12, 2020

Pelosi's pettiness permeates the House Chamber during last week's State of the Union address

(Story)

Nov 05, 2019

Linfield closed Pioneer housing this year, but new investigation suggests that someone may still live there

(Story)

Oct 30, 2019

Linfield study abroad student amidst chaos of Chilean protests

(Story)

Oct 24, 2019

Police activity sparks campus concern

(Story)

Oct 19, 2019

Linfield Falls to Puget Sound

(Story)

Oct 01, 2019

Stripping away stereotypes one male nurse at a time

(Story)

May 08, 2018

Linfield sexual assault reports are fifth highest in Oregon

(Story)

Apr 22, 2018

WWII journal inspiration for prof

(Story)

Apr 09, 2018

Differing views on Snapchat, a divisive favorite

(Story)

Mar 18, 2018

Spanish TA conceives radio show

(Story)

Mar 18, 2018

To go or not to go Greek at Linfield

(Story)

Mar 05, 2018

Growing popularity in Latin music may be indicative of social change

(Story)

Feb 19, 2018

3-D print your heart out

(Story)

Feb 18, 2018

The problem with academic tenure for all professors

(Story)

Nov 12, 2017

Fresh perspective for HHPA faculty

(Story)

Oct 31, 2017

#MeToo movement provides voice to voiceless

(Story)

Oct 25, 2017

Life flight from College Avenue

(Story)

Oct 16, 2017

Looking into the eye of Hurricane Maria

(Story)

Sep 25, 2017

Earthquakes rattle the future of México

(Story)

Sep 18, 2017

Bill to help homeless, foster youth afford college

(Story)

Sep 08, 2017

Linfield, McMinnville community reflects on DACA decision

(Story)

Sep 05, 2017

Mishaps at students' summer jobs

(Story)

May 13, 2017
May 01, 2017

Baseball ranked top in West Region

(Story)

Apr 29, 2017

People take to their keyboards

(Story)

Apr 16, 2017

Linfield lax falls to Whitman

(Story)

Apr 16, 2017

Linfield men's baseball start the post season at first seed

(Story)

Apr 12, 2017

'Cats sweep Whitworth in four game series

(Story)

Apr 11, 2017

What's the deal with Sodexo?

(Story)

Mar 20, 2017

Watching the madness

(Story)

Mar 20, 2017

Catball makes an appearance in the sunshine state

(Story)

Mar 14, 2017

Wildcats split with Pacific, look to win in Florida

(Story)

Feb 22, 2017

'Cats take game one, fall to Willamette in two and three

(Story)

Feb 19, 2017

'Cats take game one, fall to Willamette in two and three

(Story)

Feb 18, 2017

Long distance love

(Story)

Feb 17, 2017

Don't forget about your non traditional peers

(Story)

Feb 17, 2017

Linfield choir takes on Austin

(Story)

Jan 21, 2017

McMinnville community participates in national Women's March

(Story)

Nov 06, 2016

Women's Soccer Beats Whits

(Story)

Nov 03, 2016

From childhood dream to D3 reality

(Story)

Oct 23, 2016

The election of scandals

(Story)

Oct 23, 2016

How college students feel about making the first move

(Story)

Oct 23, 2016

The importance of debate moderators

(Story)

Oct 09, 2016

Linfield radio to Hollywood Improv club

(Story)