He can sing on his own: Bad Bunny's new album breaks records, pushes boundaries
Latin reggaetón superstar Bad Bunny has made history with his album "YHLQMDLG" (Yo hago lo que me da la gana//I do whatever I want), and for good reason.
The Puerto Rican artist's album, which he dropped at midnight on leap day, has broken all sorts of records. He has surpassed J Balvin's record in the top 20 on the Hot Latin Songs Chart, landed as the most streamed all-Spanish album ever on the Billboard 200— even beating Shakira's 2005 album "Fijación Oral: Vol. 1"– and has the most career entries on the Hot Latin Songs Chart, more than the father of reggaetón himself: Daddy Yankee.
What makes these records especially impressive is a lot of reggaetón fans think of Bad Bunny more as a talented collaboration artist than a solo act. You've probably heard a few tracks from his 2019 "Oasis" duet album with J Balvin, Cardi B's "I Like It," or "Mia" featuring Drake. Or, if you watched the 2020 Super Bowl Halftime Show you saw Bad Bunny perform in a whole slew of songs with J Balvin, Shakira and Jennifer Lopez. 
There are many songs on "YHLQMDLG" with the typical reggaetón hook, but what sets the album apart are the songs with layered and less traditional production for its genre. 
Si Veo a Tu Mamá
"Si veo a Tu Mamá" is one of the collection's shining outliers. Bunny opens with the chorus on the light raindrop-elevator-music-type melody.
Todavía yo te quiero – I still love you
Pero sé que es un error – But I know it's wrong
Porque ya tu no me quieres – Because you don't love me anymore
Y sin ti me va mejor – And without you I do better
The bass drops in rhythm with the next verse, giving the soothing melody an additional layer that contributes to the song's buildup. 
Y si veo a tu mamá – And if I see your mom
Yo le pregunto por ti – I ask her about you 
Pa' ver si ya tienes a alguien – To see if you already have someone
Alguien que te haga feliz – Someone who makes you happy
As the song nears the peak of its arc, Bunny reflects on this love affair in his softer falsetto, and then picks up his pace until he's in an all-out rap by the end of the second verse.
He then gracefully floats back up to his falsetto, drops down to his melody, and layers in a new harmony.  
Al menos que seas tu – At least let it be you
Baby, te quiero aunque diga lo contrario – Baby, I love you even if he says I don't
Llevo seis meses solitario pero..  – I've been single now six months but..
Hoy salí con los muchachos a beber – Today I went out to drink with the guys
Y dije que de ti no iba a hablar – And I said I wouldn't talk about you
Son la cinco, ya va a amanecer – It's 5 a.m., the sun's already rising
Si no prenden la voy a llamar – If the lights don't turn on I'm going to call her
Bunny concludes "Si Veo a Tu Mamá" where he started: pondering his heartbreak in the beautiful simplicity of a few light raindrop beats.
Yo Perreo Sola
"Yo Perreo Sola" is another one of the tracks on Bad Bunny's new album that has exploded in popularity. The upbeat, bass-heavy song gives listeners a surge of energy that compels them to dance, which is what the song is about, anyways. It starts with a female vocalist: 
Antes tú me picheabas – Before you ignored me
Ahora yo picheo – Now I'm ignoring you
Antes tú no querías – Before you didn't want to
Ahora yo no quiero – No I don't want to
No, tranqui – No, chill
Yo perreo sola – I get down* alone
The cadence of the song is similar to many reggaetón hits, but the music video is nothing if not unique to what other Latin pop stars have produced in the past. 
Bunny surprised fans by appearing as both himself and his female counterpart in full drag queen hair and makeup. And throughout the rest of the video, he gloriously dispels stereotypes about gender and sexual orientation in each scene.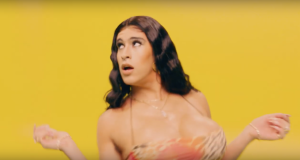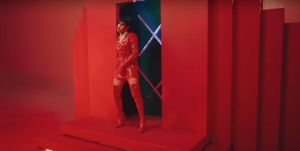 He plays the sexy, self-sufficient woman who doesn't need a man to dance with, but also as himself — a man respecting a woman's decision to dance with him or not.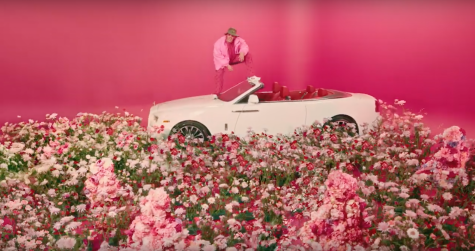 We find Bunny dressed in pink dancing on a car in a field of roses, which is an interesting, symbolic juxtaposition of gender norms. Next the scene cuts to a green space with neon signs that reads "las mujeres mandan," meaning that women are in charge, and  "ni una menos," which is a reference to the movement to end violence against women.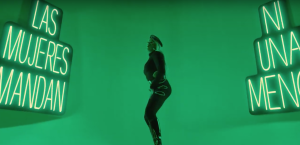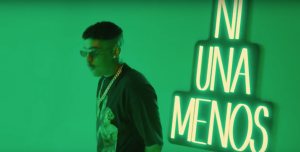 Bunny takes it a step even further in the next take, portraying himself as the shackled slave of a group of goddesses. This is shockingly unique to the image most male artists make for themselves, perhaps especially Latin stars– a group which has been criticized as being overly "machista," or hyper-masculine.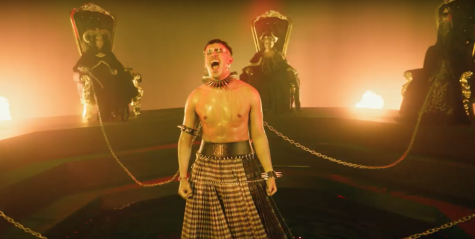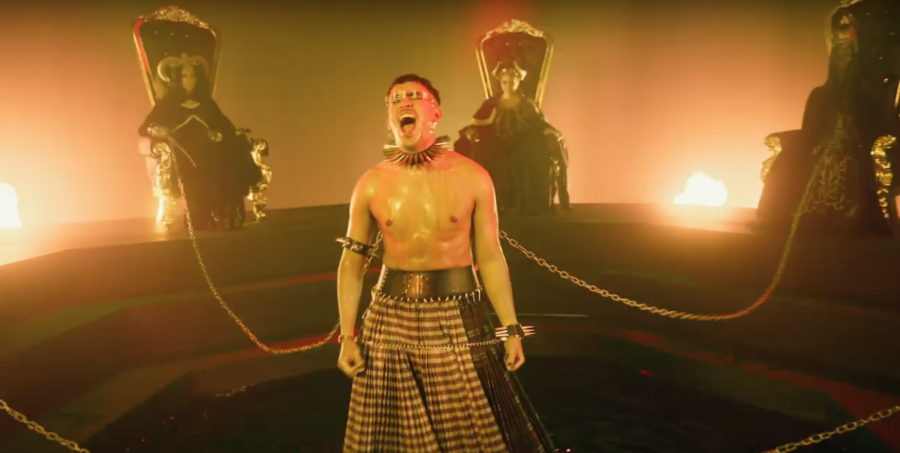 The video ends on a black screen and one simple command.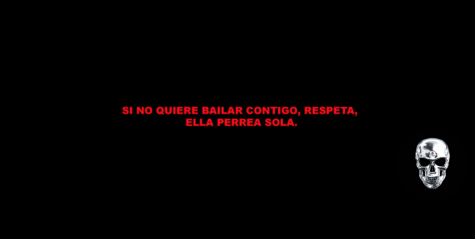 The artist not only bends the rules of lyrical content in traditional reggaetón, but also shatters any preconceived ideas about the way women are to be portrayed in his videos. If nothing else before was an indicator of Bad Bunny's feminist principles, his "Yo Perreo Sola" music video is proof. 
Soliá
Again with "Soliá", which is one of the most underrated songs on the whole album, Bad Bunny continues to carve a less traditional path for himself. 
The song begins with a series of low-fi, aerated electronic beats while Bunny introduces us to the main character. 
Llegó soliá, salió sin las amigas – She arrived alone, left without her friends
Revelada en el alcohol – Revealed in the alcohol 
Buscando una salida – That she's looking for a way out
De esa relación de mentira – Of that fake relationship
Mami, ya vi como me miras – Babe, I already saw how you look at me
Te lo repito por si se te olvida – I'll say it again in case you forgot
Envíale un mensaje que diga… – Send him a message that says… 
The snare drum and bass make the hook of the chorus known in Bunny's next lines, but the sound maintains the tender whisper of the smooth electronic rhythm. 
Que no te deje sola – That he shouldn't leave you alone
Porque puede perderte – Because he could lose you
Si algún día vuelve a verte – If someday he comes back to see you
De mi parte le dices que – Tell him from my part
Que no te deje sola – Not to leave you alone
The second half of the chorus is without lyrics, and is reminiscent of the indie electronica vibes of Mike Posner's "I Took a Pill in Ibiza," ODESZA's "Meridian," and Hippie Sabotage's "Your Soul." It sounds like a warm and stunning ode to the mainland United States' low-fi, chillwave electropop artists, while also incorporating Bunny's own Latin flare.
"Soliá's" pace accelerates in the second verse but slows and deepens at its subsequent bridge. When we arrive at the final chorus Bunny's voice is diluted into an electronic, almost mellow robotic sound, onto which he ends the song. 
If this album tells us anything, it's that Bad Bunny will never be only seen as a featuring artist again. The Puerto Rican pop star shows he is absolutely unstoppable, and truly does whatever he wants on "YHLQMDLG." 
*Translation note: Perrear translates more closely to mean 'to dance provocatively' to a reggaetón song specifically.