Police activity sparks campus concern
Sept. 23: A man armed with a knife is spotted near Jane Failing and escapes until police find him a few hours later. 
Oct. 7: A community member commits suicide near Keck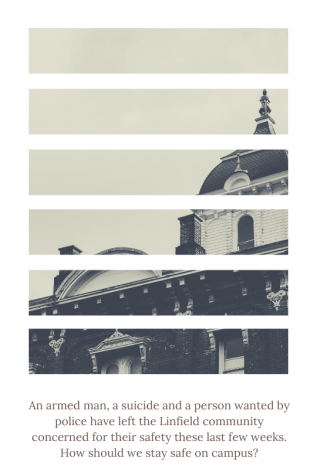 Drive over fall break. The means of death was not divulged.  
Oct. 14: Police find a wanted individual in the parking lot of the Vivian Bull music building. They fire non-lethal projectiles to prevent further campus disruption. 
Three incidents in the last three weeks have drawn police to Linfield campus, stirring concern among students, faculty and staff. But Dennis Marks, a former McMinnville police captain and the current Director of College Public Safety, said there's no cause to be overly wary of these incidents.
"There is an awful lot of news these days about shootings and mass casualties," he said. "I think we need to keep in context that millions of students go to school on college campuses in the United States every single day and nothing happens.  
"It is a concern and we need to be careful, and there are things that I'm hoping we will do as a campus to make this a safer place, but we also need to be reasonable in our response. We can't let fear prevent us from doing the things we need to do," Marks added.   
Linfield also has an array of safety services available to students, including call boxes, shuttle rides and an SMS alert system serving everyone in the Linfield community. But it seems as though students seldmon take advantage of some of these, especially the call boxes.
Marks said the ultimate way to stay safe at school is to be aware at all times. 
Hannah Wakefield, a senior psychology major, saw police swarm the car in the parking lot of the music building on Oct. 14. She works for Educational Media Services and drove past the incident while it was unfolding. 
 "I was really confused because I just happened to look over and see a large gun," she said. "I didn't feel unsafe, it was just a little weird to see but I also figured that I needed to drive away really fast." 
The e-mail Marks sent to students said that "there was a non-lethal projectile or projectiles fired by police as they took the subject into custody" during the Oct. 14 incident.
Wakefield said she generally feels safe on campus, but some circumstances can make her feel uneasy, like walking alone in the dark or spotting suspicious-looking people on campus at night. 
Marks said if there's anything he wants to resonate with students, it's to alert CPS with anything seemingly even remotely hazardous. "We would rather check up on ten 'non-incidents' than miss the one that was an important threat," he said.