Linfield radio to Hollywood Improv club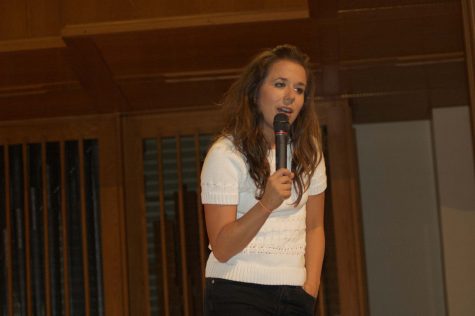 Celebrity and Linfield grad returned to campus to perform stand up for alumni last Saturday night in the Ice Auditorium.
Jenna Brister, Seattle native and mass communications major, started on Linfield's morning radio show, moved to formal improvisational comedy training at Portland Comedy Sportz, and is now hosting and producing a standup show at The Hollywood Improv club called The Chatterbox while writing her first feature film about small-town Oregon. To her classmates, Brister is remembered as the girl who streaked through campus on a moped, started food fights in her hall, and as the unofficial school mascot.
She opened her routine by talking about getting older, appalled that "there are people that can get into bars legally that were born in the same year that Billy Madison came out in theaters." Brister also poked at the fact that "kids now are allergic to everything," but then became empathetic when she realized allergies of her own: "loud bars and bright lights."
In between writing her feature and performing stand up bits, Brister was cast in an episode of ABC's "The Bachelorette" starring Joelle Fletcher. Brister taught a group of Fletcher's men the basics of comedy as one of the group dates, stating that it ended up being more of a comedic disaster than a night of laughs.
Brister concluded her performance by sharing valuable lessons she's learned from Walt Disney. Peter Pan taught her to leave through the window with any man that comes into her room, and Snow White made her try harder to be "the hottest girl in the friend group." Alice in Wonderland taught her that sometimes taking other people's pills can be interesting, faking an injury like Cinderella can lead to true love, and women should "change everything about their physical appearance to please a man" like Ariel from the Little Mermaid.
Bristor brought laughs and memories to her fellow alumni on Saturday, which was the perfect way to end homecoming.