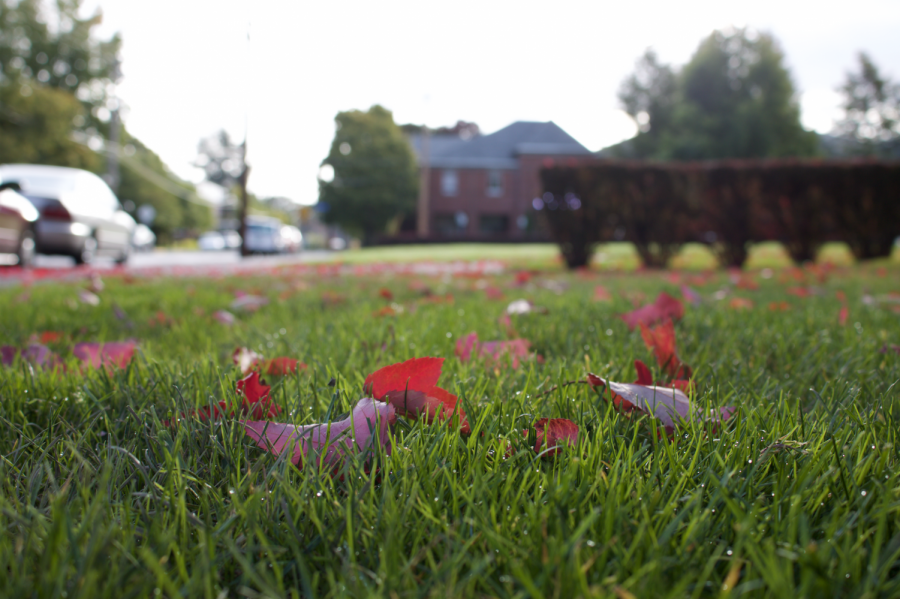 Linfield student claims administration mishandled her sexual assault case
It's been nearly three years since she was sexually assaulted. Now, as a senior, a Linfield student is alleging that the administration has been mishandling her case for the majority of her college career. 
Shelby Behr filed a no contact order in the fall of 2018 against her alleged rapist, another Linfield student, but claims he has since breached it multiple times and that the administration has turned a blind eye. 
And she is not the first person to come forward about sexual assault mismanagement at Linfield. 
AnnaMarie Motis, the former Linfield student representative of the Board of Trustees, filed a lawsuit against the college for negligence in failing to protect her from ex-Chair of Financial Affairs David Jubb, who she said sexually assaulted her at a trustee dinner in February of 2019.     
The Linfield Review doesn't identify alleged survivors of sexual assault but Behr said she wanted her name attached to her testimony.
Linfield Residence Life and the Student Health and Wellness Center are the two departments on campus that handle sexual assault reports, but neither are allowed to speak about the specifics of Behr's case per the Family Educational Rights and Privacy Act (FERPA), which prohibits colleges from releasing students' educational records without consent.
No contact orders (NCOs), according to Linfield's Options and Resources handbook, "are issued reciprocally and not intended to be punitive," meaning they are part of a non-formal reporting process. 
"It's not that they can't be in a room together, they just can't have contact with each other," said Director of Residence Life Jeff Mackay.
He and Adrian Hammond, the director of student rights, responsibilities and community engagement, emphasized that a Linfield NCO doesn't have the same specifications as a legal restraining order. Furthermore, NCO agreements don't include a specific, measurable distance the parties must have between each other.   
"The no contact order can be fluid to fit the needs of a student and we also recognize that it's probably going to change over their time being here," Hammond said.
Behr, however, said she was "entirely unaware" that the NCO wouldn't actually protect her from seeing her alleged abuser, and that she was misled about its parameters.  
"If a no contact order is supposed to be for that severe of a situation, they shouldn't offer it as a path forward for survivors," Behr said. "I committed to something that I thought would protect me. It made me think that I had a path forward that was going to get me what I needed, and the only thing I needed was to not see my rapist on campus."
"
I committed to something that I thought would protect me. It made me think that I had a path forward that was going to get me what I needed."
— Shelby Behr
Mackay said he realizes the challenges of NCOs at Linfield. "It is difficult on a campus of 1,300 students — on a small campus where everybody knows each other. You come to this campus if you want that small environment and that creates challenges." 
He also said that while local law enforcement is presented as a reporting option, he usually focuses on Linfield's on-campus resources for survivors of sexual assault and relationship violence.  
Behr claims her alleged rapist breached their NCO three times: stalking her off campus, stalking her where she works, and intentionally seeking her out in the crowd at last year's Wildstock festival. 
He also presented in one of her business classes and enrolled in an extra semester at Linfield beyond his assumed graduation date. Behr said she wasn't previously alerted about either of these instances.    
If the administration determines someone has breached an NCO, Mackay said his department would launch an investigation and could make housing or academic accommodations for students who feel violated.  
When Behr reported her alleged abuser's actions to Hammond and Mackay they added new restrictions at the base of the document, but ultimately determined he hadn't broken their NCO agreement.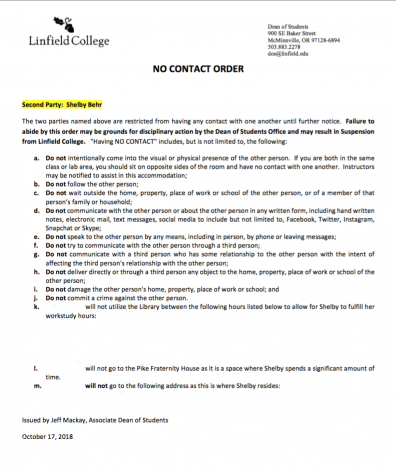 "I don't know any other way to prevent that from happening," Mackay said. "These two students know they have a no contact order. I can't predict everything that those two students are going to be doing and everywhere that they are going to be going. There are no sanctions that could be brought against the student at that time because we're not doing a formal conduct process."
"
These two students know they have a no contact order. I can't predict everything that those two students are going to be doing and everywhere that they are going to be going."
— Jeff Mackay
Mackay also said that faculty members don't know about NCOs, so the professor of Behr's business class wouldn't have been notified about her situation. Only College Public Safety and Residence Life know the details of NCOs between students. 
Hammond added that this is because some students file for low-level offenses like roommate conflicts.   
"Someone who brutally sexually assaulted me is really different than someone who stole my shorts last week," Behr said. "This should not be a remedy for a sexual assault violation if it's really that level of protection."
Because of her multiple witnesses and photo evidence of her alleged rapist breaking their NCO at Wildstock last year, she said that she has presented a solidified case to the administration and still hasn't received adequate support.
"The reason that I'm so frustrated is because my case is irrefutable," Behr said. "And I still didn't get help. So that means that basically every other girl on this campus has a more 'gray area' situation than I do, and that means that nobody is getting help."
Currently, Behr is training to become a Bystander Engagement Training leader for Linfield's Fraternity and Sorority Life so she can educate her peers about the importance of intervention. 
"I am persistent, and I won't give up, but survivors shouldn't have to do this," Behr said. "My anger out of this situation isn't just me targeting the school, it's also me trying to advocate for survivors… Their [the administration's] negligence has caused more sexual assaults on our campuses, and if they had done something in the beginning, this might not have been a problem."
***
This story was updated on May 13, 2020. David Jubb was inaccurately said to be the Chairman of the Board of Trustees. He was the Chair of the Financial Affairs Committee. 
***  
Editor-In-Chief Alex Jensen was a reporting contributor for this story. 
If you have a similar story that you would like to share with the Linfield Review, you can contact Camille Botello ([email protected]) or Alex Jensen ([email protected]).
If you or someone you know is a survivor of sexual assault or relationship violence and would like on-campus support, you can reach out to College Public Safety at 503-883-7233, the Student Health and Wellness Center at 503-883-2535, or Residence Life at 503-883-5433.
Off-campus resources include the Henderson Hours Crisis Line at 503-472-1503, Yamhill County Crime Victim Services at 503-434-7510, and National Sexual Assault Telephone Hotline at 1-800-656-4673.