Multiple pages about sexual misconduct were redacted from a May faculty trustee report
Linfield Trustee Chairman David Baca redacted about three pages of content regarding sexual misconduct from a faculty trustee report before it was distributed to the faculty assembly in May.   
The original uncensored report, obtained by The Linfield Review from a student who wishes to remain anonymous for fear of retaliation, addresses concerns for the safety of Linfield students concerning sexual misconduct. 
One omitted section of the report written by Faculty Trustee Daniel Pollack-Pelzner says: "When I told the chair [Baca] that there had been multiple allegations in the past year of sexual misconduct by trustees against students and faculty…the chair accused me of pursuing a secret agenda to grab power. The chair told me that if I really cared about sexual misconduct, I would be going after the faculty, who were the true predators."
It continues: "Then the president said that I was putting Linfield at risk by reporting claims of sexual misconduct… Finally, the President said that people like me were destroying Linfield from within and could only show loyalty by accepting the teachings of Jesus Christ in the New Testament."
An official university spokesperson said the president never made these statements. Additionally, the Linfield Review asked Professor Amy Orr, the faculty executive council secretary, if these comments were reported, but she declined to answer for confidentiality purposes.
The Review has also received no allegations of sexual misconduct against faculty members.  
Pollack-Pelzner writes the faculty trustee report three times every year to notify the Board of Trustees of university news prior to each on-campus Board meeting. This is part of his job as the faculty trustee.
The Linfield Review asked Pollack-Pelzner to provide comment for this story, but he declined. 
In an article published two months ago, Pollack-Pelzner said on record that Baca redacted content from the report and told the trustees not to discuss it. In that previous interview, Pollack-Pelzner said he was aware of three Board members who have been accused of sexual misconduct since February 2019, during which former trustee David Jubb was accused of sexually assaulting the Linfield student trustee.
In the May interview Pollack-Pelzner did not identify the additional Board members who are rumored to have been accused of sexual misconduct. However, The Linfield Review received names of three trustees other than Jubb who have been accused of sexual misconduct from two anonymous sources, but cannot identify them without formal charges.
The Review asked Linfield's former General Counsel John McKeegan if there have been any sexual misconduct allegations against current trustees since Jubb left the Board, but he was unresponsive.
Pollack-Pelzner also wrote in the May report that Baca struck sexual misconduct from the Board's agenda and described fellow Trustee Ronni Lacroute's request for concrete action as "an emotional response uninformed by current needs."
The Linfield Review asked Lacroute to comment on this statement but she was unresponsive. The paper also reached out to other Board members for additional information, but none responded.
The original uncensored version of the May report by Pollack-Pelzner also states: "I think that if four different members of the Board have been credibly accused of sexual misconduct since last February… then that constitutes a crisis. There are about 40 members of the Board. So at least ten percent of the Board has been accused of sexual misconduct in the last year."
The censored version of the report was distributed to the faculty on May 11, just about two weeks before they passed a motion of no confidence against Baca, 88 to 18. 
An email sent on June 11 on behalf of the Committee of Trustees reiterates the Board's commitment to pursue any allegations of sexual misconduct with professionals outside of the university's purview. It also mentions that investigations are confidential by law.
"It is our heartfelt desire to be as transparent as possible on these matters, and to live up to our pledge to ensure that the college remains a secure, positive and forward-looking learning environment," the email said.
On June 26, the trustees alerted the Linfield community via email that after considering the faculty's motion in executive session, they will continue to operate under Baca's leadership. 
"As we stated at the time, and restate today, allegations that have been made against trustees are being investigated by independent professionals," the email said. "We will share information about the results of those investigations upon their completion, within the limits of the law."
The university denied claims of trustee sexual assault in a statement on its official Instagram and Twitter accounts on June 30. "A series of communications in the past 24 hours have created the impression that there are at least three complaints against trustees for sexual assault or abuse," the post said. "That is not true. There are no such charges against any current trustee. There are no accusations of sexual assault or abuse by students against current trustees."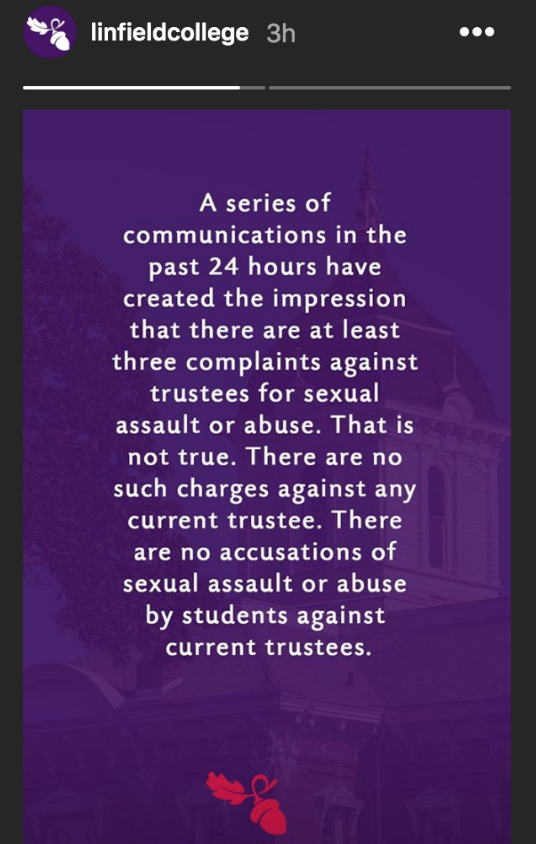 But it is unclear whether or not the university was negating claims of sexual assault or sexual misconduct. The section on sexual misconduct in the Fall 2019 Student Policy Guide does not address the differences between the two. 
Oregon law 163.445 defines sexual misconduct as a person engaging in sexual intercourse or oral or anal sexual intercourse with an unmarried person under 18 years of age. In accordance with this law, the university spokesperson said: "Linfield has no such accusations against any members of the Board. Dr. Pollack-Pelzner spoke of three alleged anonymous accusations in February… one was deemed to be unworthy of investigation; the other two are under investigation." 
The university spokesperson also said the social media announcement on June 30 was not contradictory to the Board's message to the Linfield community on June 26.  
"David Baca has a long and devoted history with Linfield College," the university spokesperson said. "It is unfortunate that very few… have actually had the opportunity to meet him or work with him. Many of the statements being made about him are rife with misinformation. When David Baca learned of the alleged misconduct by a now-former trustee [Jubb], he personally and immediately asked for that trustee's resignation. There was no 'failure to take action.'"
The Linfield Review asked Baca to comment on this story through voicemail, email and text message, but he was unresponsive. He told the Oregonian in May that he was disappointed with the vote of no confidence, but didn't divulge more information.
Many current students, faculty members and alumni have posted their discontent over the Board's decision to keep Baca on social media, sent emails to trustees, and scheduled meetings to speak with President Davis. Over 3,200 people have signed a student-created petition calling for Baca's resignation and over 100 gathered on campus to protest on July 16. 
Despite this, the university spokesperson said there has been no information to suggest the Board is reconsidering its decision to uphold Baca's position as the trustee chairman.