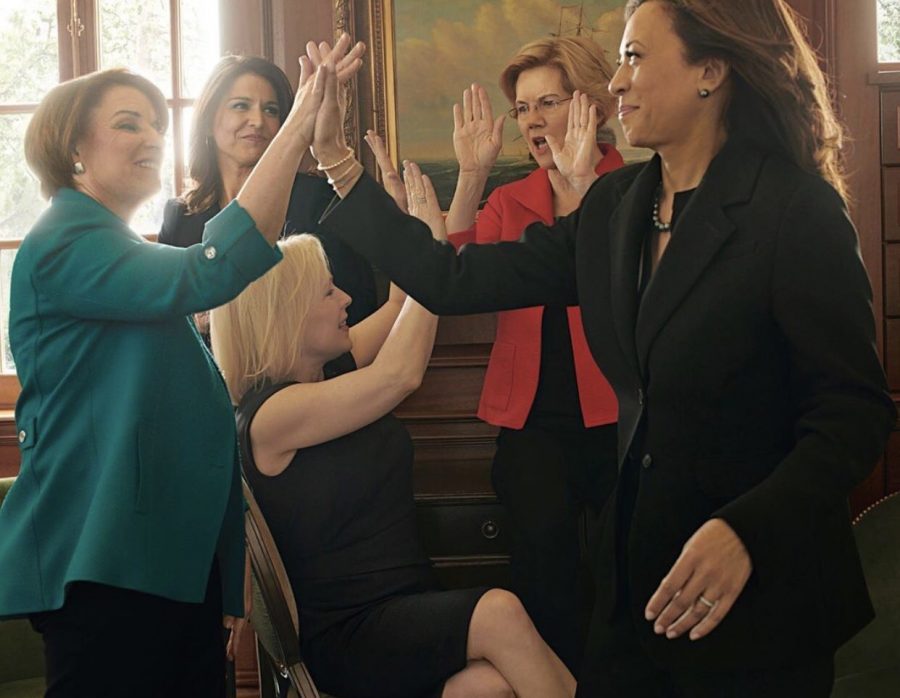 Last Thursday's defeat: Bidding farewell to the last female presidential candidate
Technically Rep. Tulsi Gabbard is still running, but she did even worse than former New York City Mayor Mike Bloomberg on Super Tuesday.
March 10, 2020
Way back at the beginning of this presidential race, six women (out of 28 total) entered the running to become the first United States Madam President. After Massachusetts Sen. Elizabeth Warren dropped out last Thursday, we are left to choose between Vermont Sen. Bernie Sanders and former Vice President Joe Biden– two white men in their 70s– to face Donald Trump in the general election. 
It's disappointing to witness two men outshine yet another female powerhouse in the political arena, especially after the primary's promising start. Warren ending her campaign after a lackluster performance on Super Tuesday just reinforces the false notion that women, innately and through no reason apart from our gender, are just less electable than men.
A lack of female representation doesn't only apply to politics. Women only make up 5% of CEOs and 11% of the top earners in S&P 500 companies. In many industries, there are less women in leadership positions than there are men named John. And if that isn't unfair already, women of color only make up about 8% of all females in leadership.
It's only been 100 years since women even won the right to vote. This seems like a long time ago, but for many of us, our great-grandmothers were the first women in our families born with the right to lawfully participate in politics. The majority of us are only part of the fourth generation of women born with the right to vote. 
And although that was a milestone for women's rights, American patriarchy runs so deep through the veins of this country that it still manifests itself in underrepresentation and oppression. There are still men debating other men about the limitations and conditions of women's health issues, there are still men finding other men not guilty of sexual assault, and there are still men electing other men to positions of politcal power. And as much as men can be champions of modern-day women's liberation, the bottom line is that they can never actually understand the American female experience. 
BIG PRESIDENTIAL ENERGY pic.twitter.com/GdTft7aXhe

— Meena Harris (@meena) July 1, 2019
We were close to having our first Madam President in 2016 when former Sec. of State Hillary Clinton won the democratic primary, and we were close again this year with Sen. Warren. But when will the glass ceiling in politics actually chip? When will women get to elect another woman on their behalf? When will a woman be seen as having the same qualifications and power as her male counterpart? 
Warren's lack of support last week to win the democratic nomination means much more than the end of the last woman's campaign for the presidency. It's a nationwide defeat. It means that still, after all this time, people in this country don't see women as serious presidential contenders. And that is devastating for women everywhere. 
***
The Oregon Primary Election is May 19, 2020. Oregon residents must register to vote on sos.oregon.gov by no later than April 21, 2020 to be eligible to participate in the primary.