David Baca remains Board chairman despite faculty vote of no confidence
In an email to the Linfield community on Friday, the College Board of Trustees said they would uphold David Baca's position as Chairman. This comes a little over a month after the Faculty Executive Council passed a motion of no confidence (88 to 18) in his leadership after allegations surfaced that he mishandled reports of sexual misconduct between Board members and students and faculty.
Former senior Board member David Jubb has been criminally charged for sexually abusing four different students, and information from a February 2020 faculty trustee report suggests that three more current trustees have been accused of similar misconduct.
The vote, though it has no removal power, indicated that the majority of Linfield faculty members are critical of the chairman's commitment to promoting safety after a student survivor claimed Baca promised her that Jubb would not be allowed at trustee functions where alcohol was served. 
Now after the announcement that Baca will keep his position as the chairman, students are speaking out over social media about their discontent over the Board's decision.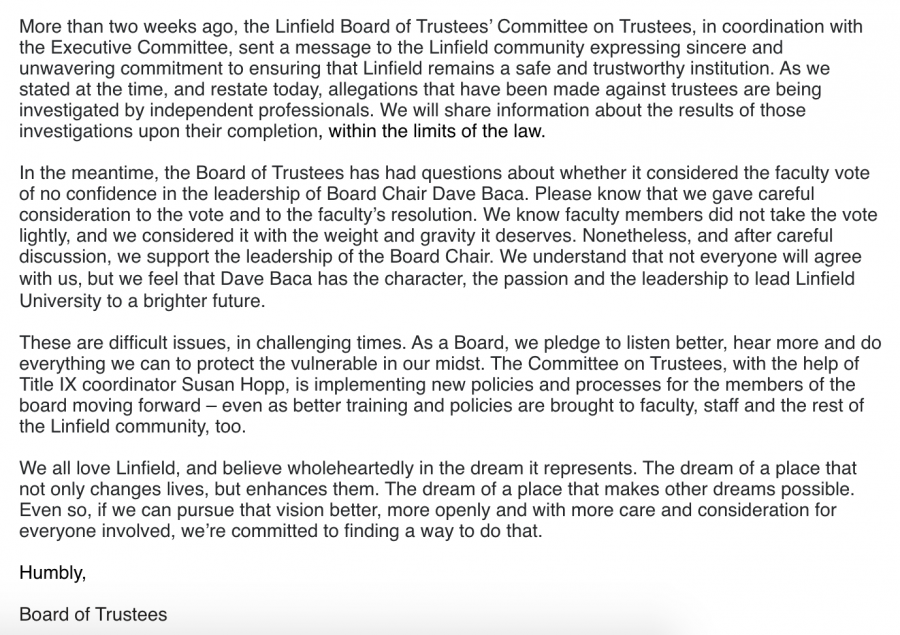 In an email, President Miles K. Davis said that the Board's decision was made carefully. 
"The Board had an opportunity to review the chair's entire record, as well as his specific work on the matter in question," he said. "The vote demonstrates the trustees' confidence in the chair." 
Trustee Chair of Academic Affairs Doug Tunnell and English Professor Daniel Pollack-Pelzner abstained from commenting on the story. Baca and other trustees and faculty members were unavailable for comment.    
Maddie Robert graduated from the English Literature program at Linfield in May. After the announcement on Friday, she wrote a letter to both Davis and members of the Board expressing her disappointment over the outcome of the Board's decision. 
"I was under the impression that Linfield was committed to creating an anti-sexual assault environment on campus and this completely undermines that," she said. "This decision shows everyone in the Linfield community that sexual assault is an excusable offense."
Robert said she was inspired by the email templates created by Black Lives Matter supporters that people sent to their local representatives, and wanted to create her own version for the Linfield community. 
"I knew that would be a productive way to channel my anger," she said. "I know a lot of people felt similarly but may not have known what to do or where to start. I wanted to share what I wrote for anyone who also wanted to take action but didn't know what to say. I feel like the more of us that speak up, the less they can ignore us." 
Even people Robert doesn't know have shared her email template online. 
"
This decision shows everyone in the Linfield community that sexual assault is an excusable offense."
— Maddie Robert
"I am just hoping we can spread the word as much as possible so the Linfield administration knows that this decision does not reflect well on the college itself or the values they choose to uphold," she said. "Miles Davis reached out to me shortly after I sent my email and said he would welcome the opportunity to speak to me about my concerns. So I guess my next step is a conversation with him." 
Davis said there has been some misinformation spreading in the aftermath of the Board's announcement. 
"In some unfortunate cases, there appears to be confusion between the actions of David Jubb and Dave Baca," he said. "Some of the posts and messages are conflating the actions of the two. Regardless, I am open to discussing anyone's concerns directly." 
Madeline Shelton, who also graduated in May, said she is confused by the decision. 
She said it doesn't make sense to her that the Board would keep Baca even after the faculty voted 88 to 18 in no confidence. "I think if Baca spoke up about why David Jubb retired, tried to show at least a little bit of understanding, and actually listened to faculty and students, this would be a different story," she said. 
Shelton graduated with a Bachelor's in Elementary Education, and said news like this could end up inadvertently affecting the future of her department at Linfield. 
"I would recommend this program to any future teacher but when it's at a school with a reputation for mishandling sexual assault it makes me think twice," she said. "The issues on the administrative level trickle down and could unintentionally affect departments that deserve to be thriving."
She also said she will be reaching out to her family and friends, many of whom are Linfield alumni, to inform them of the situation and encourage them to stop donating to the college until the situation is resolved.  
"
Linfield must be a place that is safe for its students, faculty and staff, and a place that takes strong action against anyone who violates our policies and expectations."
— President Miles K. Davis
Antonio Peña-Anaya will be a senior in the fall, and a member of the first class set to graduate from Linfield University. He has reposted Robert's email template on his Instagram page, and has been vocal about his discontent over the Board's leadership. 
"Not only are they ignoring the faculty's voice but they are disrespecting all survivors of sexual misconduct," Peña-Anaya said. "He [Baca] should not be chair of the Board and after this decision I believe he shouldn't be on the Board at all. He must be held accountable." 
Peña-Anaya said if social media engagement and emails to Linfield administrators and Board members don't effectively elicit change, he will help plan an in-person protest. 
Hannah Curry, also an incoming senior, is another student who has been outspoken about the Board's decision. 
"An announcement located in the seventh paragraph of an email was not enough and we deserve answers," she said. "As a student leader on campus, it's my role to listen to student concerns and do my part in making a difference. I've been posting ways to get in contact with board members on my social media, and educating those who may not know the full story." 
Davis said the Board of Trustees and members of the faculty assembly simply did not come to the same conclusion about Baca's leadership. 
"People of good conscience can disagree about the same set of facts," he said. "In this case, that's what happened." 
He emphasized that no confidence votes cannot be used to actually remove members of the Board. 
"The Board of Trustees heard the faculty viewpoint, held a special meeting to consider it, deliberated the points the faculty members were making and, ultimately, disagreed with their conclusions," Davis said. "That does not mean the viewpoint wasn't heard and taken seriously."
Even with some of the unrest, he said he is hopeful for the future of the university.  
"Linfield has a very bright future," Davis said. "I believe this deep in my bones. Linfield must be a place that is safe for its students, faculty and staff, and a place that takes strong action against anyone who violates our policies and expectations. If we can do better, then we have an obligation to make things better."  
View Comments (3)