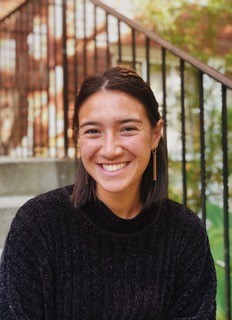 Lexi Kerr is the features editor for The Linfield Review after being the sports editor for Fall 2018. She is a senior JAMS major and studio art minor.
When she's not writing for the newspaper, she's either playing soccer, working as a contract graphic designer or doing anything that a typical Pacific Northwest granola would do. Climbing, hiking, shaming people for using single-use plastic— she does it all.
After surviving her last year in college, she aspires to go into the public communication sector for an environmental organization.
Lexi Kerr, Features Editor
May 05, 2020

[PHOTOS] Finals approaching, but popular study spots remain empty

(Story)

Mar 09, 2020

Adopt, don't shop, your clothes and more

(Story)

Feb 26, 2020

Linfield Gallery encourages students to find voice as artists

(Story)

Dec 05, 2019

Santa's got a big bag… full of waste

(Story/Media)

Nov 12, 2019

110 minute battle ends men's soccer season

(Story/Media)

Oct 29, 2019

October 21 earthquake marks fifth off Oregon coast this month

(Story)

Oct 14, 2019

Linfield carillon rings once again

(Story)

Nov 08, 2018

Wet 'Cats ranked third in preseason poll

(Story)

Oct 30, 2018

Korean novelist describes 10-year struggle in writing first book

(Story)

Oct 30, 2018

Safety first, Linfield purchases $950 dollar helmets

(Story)

Oct 30, 2018

The final race for the 2018 cross country season

(Story)

Oct 11, 2018

Homecoming game: Then and now

(Story)

Oct 11, 2018

Life after sports doesn't mean life without sports

(Story)

Oct 11, 2018

Practice makes Preparedness

(Story)

Sep 25, 2018

Heartbreak at home for women's volleyball

(Story)

Sep 25, 2018

Freshmen to watch this season

(Story)