Linfield Gallery encourages students to find voice as artists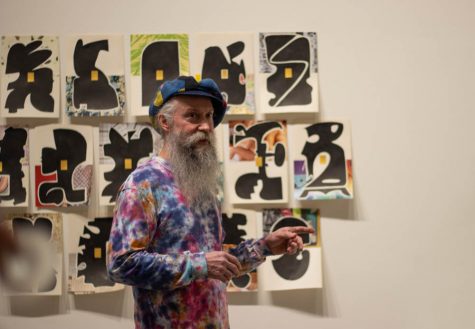 It is not uncommon to most to have a moment where you think: "where do I go from here?" Or even, "where do I start?"
Totem Shriver's exhibition, "PATH. SKY. DREAM.," in the Linfield Gallery offers inspiration to those who have not found their path and may not understand how much freedom they have as artists.
"Art students and people in general, don't realize how much freedom they have," Shriver said during the artist talk. "Art students sometimes get a little taste of that but, actually, you know, students in general, you guys have a lot of freedom. So if you can, have a creative output for it. I think everybody should take an art class, even if they are not an art major. It can be very frightening, but also maybe a freeing moment, you know."
The adjunct art professor of 3D design gave an artist talk and live performance to students, faculty, and members of the McMinnville community during the reception night Feb. 12 in the Linfield Gallery.
"I think working in different media, working with different people collaboratively, is a very interesting thing and necessary kind of thing. Once you get into the world, you need to work with all kinds of people from all backgrounds with all kinds of different ideas, so that's what I try to exemplify in this show, working with different people and kinda co-create with them," Shriver said.
The exhibition showcases wood carvings, both hanging and free standing, 2D collages and paint on canvas.
Shriver's art will be displayed in the Linfield Gallery in the Miller Fine Arts Center until March 21. The Gallery is open from Monday through Friday from 9:00 a.m. to 5:00 p.m. and Saturdays from 12:00 p.m. to 5 p.m..
(Photographs by Jordan Davis)
Leave a Comment