Santa's got a big bag… full of waste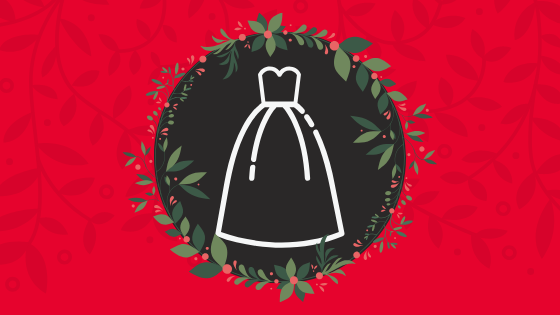 T'was the morning of Christmas and the kids couldn't wait,
To open the presents under the tree so great.
So pretty, they looked, wrapped in sparkles and bows;
Kids screamed with excitement so the parents arose.
With smiles and joy, they opened gifts with haste;
The packaging and ribbon all… going to the waste.
So this may be the first (ameature) holiday poem to include the word "waste." Out of all the holiday-themed words, "waste" is normally not a common one, but it's something that more people should be thinking about when entering the holiday season. 
Americans produce 25 percent more waste between Thanksgiving and New Years than any other time of year, according to the National Environmental Education Foundation. 
Why is waste so bad, anyways? Curbside garbage– those big bins you have outside your house– is often taken to the landfill, which the Environmental Protection Agency says is the third-largest source of human-related methane emissions. Methane is a greenhouse gas that has even more heat-trapping capability than carbon dioxide and is a huge contributor to climate change. 
Between the holiday parties, Christmas festivities, and seasonal decorations, many items end up being waste around this time. It's time that we start being conscious of what we throw in the trash this season. 
I have always loved making my presents for friends and family look spectacular and stand out from others under the tree. But what's really important if you are giving gifts is the gift itself, not what it's wrapped in. 
Gift wrapping paper and ribbons go straight to the trash after the gift is revealed. Sure, some wrapping paper can be recycled, but it's more wishful and even more harmful to throw everything in the recycling bin instead of the trash.
If the wrapping paper has any glitter or metallic embellishments, it is not recyclable, according to Recology spokesman Robert Reed. Throwing these types of paper in the recycling bin can potentially ruin a batch of recyclable material and recycling plants will send those contaminated batches to the landfill. Ribbon, too, is not recyclable. Because it's so small, it can get caught in the machinery at recycling plants and slow down or ruin operations.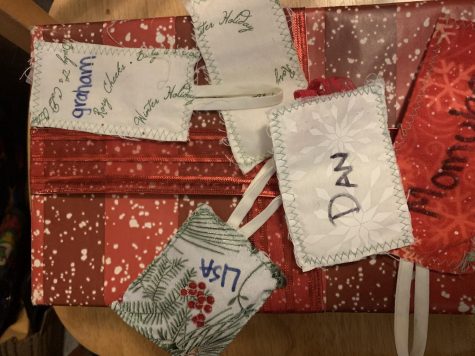 There are plenty of alternatives to wrapping paper that can reduce the amount of trash bags hitting the bins the day after Christmas.
Zero Waste McMinnville member Beth Rankin uses cloth squares of various sizes for wrapping paper and reuses them every year. She also uses cloth tags that are decorated with pen to label gifts in her family.  
But what about the gifts themselves? As harsh as it sounds, some gifts end up being waste as well. 
"My pet peeve is when friends or family give gifts of 'stuff' because they feel compelled by the excessively commercialized norms of the holiday season to gift 'something' even if it's an item I would never want or use," said environmental policy scientist Bill Fleeger.  
Fleeger and his immediate family have moved away from giving gifts. To some, this may seem like a radical step. But what's the point of giving gifts if they're not of any value? This is something I encourage you and your family or friends to consider!
If gifts are something you love about the season, then you don't need to sacrifice that. However, don't fall into the consumerism trap.
"Less is more," said Reiza Refaei, Linfield coordinator of outdoor leadership and campus recreation.  "Giving things just to give things is pretty wasteful. If you're going to buy something, buy something that will last for a long time and has meaning behind it."
Holiday deals and the infamous Black Friday and Cyber Monday tempt us with deals and discounts and often influence us to purchase things without much meaning. It's good practice to always imagine where something you're purchasing will end up after it's life ends and how long that items' life will be. Rafaei said to never underestimate the gift of something handmade.
There are a handful of ways you can reduce the amount of waste you produce without sacrificing holiday traditions:
Use sustainable alternatives to wrap your presents.

Make sure to avoid buying embellished wrapping paper and stick to the ones that can be recycled. Or, you can skip the purchase all together and use old newspaper, cloth or reuse a gift bag you have stuffed in your closet. 

Buy local!

Buying local reduces the amount of packaging waste you create and also cuts down on greenhouse gas emissions, as commercial items are often shipped from far away. Crafted items by local makers also tend to be packaged without plastic, unlike mass produced items found in stores. 

Think about how you 'deck the halls'.

Many decorations and trinkets are made out of plastic, which can take decades to breakdown. Avoid those and the cheap decorations that break after one season of use. You can also hit up your local, second hand shop for decorations. 

Be conscious of what you're gifting.

Don't feel compelled to gift something just to gift something. Avoid "stuff" this holiday season and focus on meaningful, long-lasting items. Don't overlook the gift of food or an experience that will create a memory.

Let others know about being sustainable this holiday. Sometimes it's not in your control about what waste is produced during the holiday season. When it comes to gift giving, let your friends and family know that you're trying to reduce waste and encourage them to do the same.
Recycle your string lights and invest in LEDs! When your old set of lights inevitably stop working, take them to your local Lowe's, Home Depot or the like to be properly recycled. When you have to purchase new ones, buy LEDs that are longer lasting so you don't have to depose of them as quickly.
I am not asking people to put holiday cheer in the backseat to let the environment take the front seat. But I am asking people to be more environmentally conscious this holiday season. 'Tis the season to be jolly and sustainable!
Leave a Comment