New season, new jerseys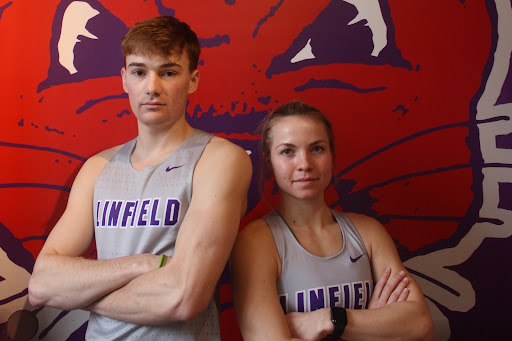 With second semester classes underway, spring athletics are following closely in tow. With that, the Linfield track and field team will be toeing the line for the first time in their self-designed jerseys this spring season.
"When I first got here, I wasn't really impressed with the jerseys and I think a lot of people weren't as well," recalled Chandler Morris, a first year masters program student and a fifth year sprinter for Linfield's track team. "We didn't really like the purple on purple, we kind of felt like grapes; out of date without contrast on the jerseys."
In recent years, other track and field teams in the conference have updated their jerseys, leaving Linfield track athletes feeling behind the trend in their old kits.
It was last year that Morris brought the idea to head coach Travis Olson, and he became more on board with the idea than he had in previous years.
"The track and field program felt it was time to get new jerseys with the old ones in a state of wear and tear," Olson said. "I want everything to look the same for as long as possible, and I think that was probably the biggest reason [for new jerseys], because I was tired of them being different."
The team often has to order replacement jerseys when they get worn down or lost every couple of seasons. However, since they order generic Nike jerseys, the design changes slightly, leaving the team mismatched. All athletes, including recent graduates, were excited for this refresh.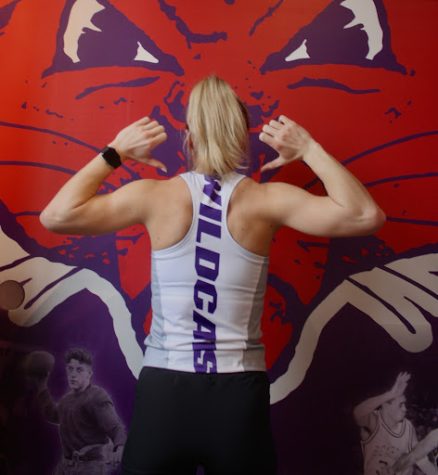 "I told Trav to change the jerseys six years ago, and he didn't until I left," stated Linfield alumni and Male Athlete of the Year in 2022, Keaton Woods.
With this green light, Morris jumped at the opportunity and started making mockups through Nike Team, which is the partnership that the track team uses for ordering their equipment. From there, Morris had templates to work with and got to choose the font, color and wording placement.
Morris presented Olson with four color options for the top: white, black, gray and purple. They chose gray per Olson's request and because they liked how it contrasted with the purple bottoms.
"When I was an athlete here, the jerseys didn't change very much," Olson said. "We've pretty much always had those purple tops and purple bottoms, with either a cursive or block 'Linfield' logo."
At first glance the final design on the new jersey may look simple; the university name showcased boldly across the chest and the team mascot "Wildcats" written down the back. And while it is simple, a lot of creativity went into the making of this jersey in order to freshen up the aged all-purple look.
"We're limited on what we can do–we can't start from scratch as far as lettering and color schemes go," Olson said. "[Nike] has certain designs on their website that you can play around with, which is how we came up with the new design."
However, that didn't stop Morris from getting creative with the limited options. But he also opted not to work alone.
"I had the most experience in design because of my [digital art] major, but I didn't want to just do it myself," Morris said. "I wanted to include as many people as I could to get more eyes on it."
He recruited help from teammates Matt Metcalf and Kenzie Feinglas, and received input from Olson, a former Linfield decathlete (1998), and Linfield's Director of Athletics, Garry Killgore.
"I didn't have the biggest role," Metcalf said. "I helped Chandler and Kenzie and together we just tried to figure out a way to fit what we wanted in the design with both Linfield and [Wildcats] on the front and back."
The trio kept the designing process as a secret from most of their teammates in order to keep the process swift.
"I think people knew we were doing it, but we didn't really want to release it to a lot of people," Morris said. "When you have a lot of eyes on a design it's harder to get anywhere because there's always going to be one thing that people will want to change."
They knew they wanted something minimal and timeless that the whole team would want to rep, which is where Feinglas felt her role came in during the process.
"I feel like I was more of a voice for the girls, rather than an actual designer of the jerseys," Feinglas said.
The team will stick with this design for a while since the athletes keep their jersey for all four years. This, however, will be the first time they will do so without worrying about future replacement jerseys being slightly different, since it's their custom design.
View Comments (2)