Right sock, right shoe, left sock, left shoe: Senior cross country runner Holly Riley on racing, COVID-19, and the spirit of the sport
Holly Riley stepped up to the white, painted line in the grass. She tightened her ponytail—hair freshly washed and straightened with a flat iron, like she has to for every race. Before this, she had put on her special racing socks and racing shoes. Right sock, right shoe. Left sock, left shoe. Laces knotted as many times as she can. Like she has to before every race.
If she doesn't follow her strict pre-race routine, it will be a bad race–according to Riley.
Her Linfield University teammates gathered around her, donned in identical purple singlets. The gun went off, and Riley began the first lap of the Ash Creek Invitational—the last time she would race a 5k on this course
Riley got into the sport in seventh grade, when she joined her middle school track team in her hometown of Arlington, Wash. She wasn't interested in being fast, per se—she just wanted to hang out with her friends after school.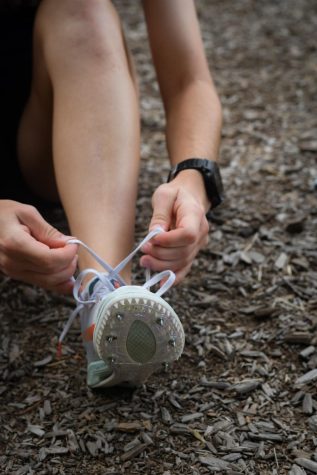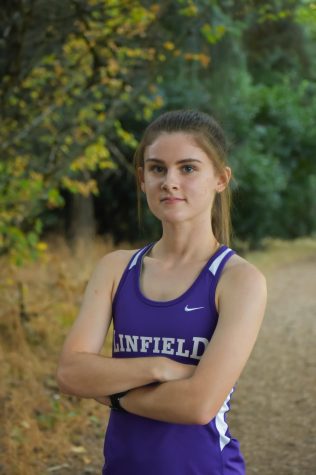 "I never did a sport–other than gymnastics when I was really little, but I didn't do that for very long," Riley said. "And so I wanted to just be involved in something and a lot of my friends were going to do track. I knew there were a lot of events to choose from so I could find something I was good at."
Her friends were all distance runners, so she gravitated toward longer events, and the rest is history.
Now that Riley is going into her final season of her college running career, her friends and teammates are still of utmost importance to her. That, and being fast.
"I'm not necessarily out to win, but I do like to compete with myself a lot." She paused for a moment before adding, "and with others too," as she smiled to herself.
But for Riley, competing against runners on rival teams is different from competing against her teammates. She loves to see familiar purple singlets on the course and "bring each other up" as they pass one another. This often takes the form of whispering words of encouragement in between labored breaths.
"That's always super empowering," she added.
Riley's time on the Linfield team has been unconventional. She will only get the opportunity to participate in two racing-seasons of cross country, rather than the traditional four. This is partly due to the fact she's graduating a year early, but also to other circumstances. The COVID-19 pandemic effectively canceled what would've been her very first season at Linfield.
She said that that summer before her first semester of college was the best shape she'd ever been in.
"I didn't get to test that fitness," she said. "That was weird and I was a little sad."
But that didn't stop her. Riley made the most of her "season" with the Linfield cross country girls. Though they didn't race in the fall of 2020, she went all in on practices, "secret sister" gift exchanges, and other team bonding activities the girls did while waiting for racing to become safe again.
"She is one of the most determined and down-to-Earth teammates I have ever gotten the chance to run with," said junior Kaylee Delzotti, Riley's teammate and friend. "Her attitude and kindness lift others up on low days and she is always there for her team."
The Linfield cross country head coach, Michael Blackmore, said Riley is a role model student athlete.
"She prioritizes her day to get the maximum from herself in the classroom and the sports environment," he said about Riley.
Though COVID cut her Linfield racing days short, Blackmore said if she continues to run on a graduate school team or in some other setting, she will bring her drive to excel with her.
When asked about memories that stand out to Riley from her time on her various cross country teams, she said it's not about the races.
"It's the community we have," she said. "The conversations we have after races, that's what I really like."
Riley will be graduating at the end of this semester, with a major in mathematics and a minor in psychology. For now, she plans on moving back home to Arlington to be with her family as she plans out the next chapter of her life.
Though her time at Linfield will be over in a few short months, her time running will not. She hopes to continue to race in community events wherever she ends up. Right now, she's considering joining a team for the 196-mile Hood To Coast relay in August of 2023.
She'll take with her the memories that she's made at Linfield and the love she has for competition.
Whatever race it is—no matter how big or how small—she'll have to freshly wash and straighten her hair, pull it back into a sleek, high ponytail, and her socks and shoes will go on her right foot first, left foot second, just like she has to every single time before competing.
There may just be less purple singlets to whisper a "good job" to as she passes them on the course.
The Linfield University cross country team (and Holly Riley) will be racing next at the Charles Bowles Invitational in Salem, Ore., on Saturday, Oct. 1, at 9 a.m. For more information, visit the season schedule on the Linfield Athletics page.
Leave a Comment