Chasing an NCAA qualifier and a break in the rain
Rain, cancellations, more rain.
Not many people find the freezing, endless drizzles that trail into late spring enjoyable, but this unusually wet spring in Oregon has impacted Linfield junior Kenzie Feinglas more than the average individual.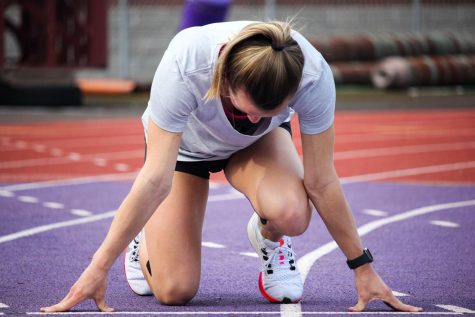 The talented sprinter for Linfield's track team has an important stretch of competitions ahead of her in the upcoming six days. While achieving the NCAA Division III national time standards in the 100 meters, 200 meters and 400 meters may feel out of reach for Feinglas, her coaches believe she can achieve those times this season.
"My coaches want me to try to qualify for nationals, which I honestly feel like is very far-fetched," Feinglas said with a laugh.
Growing up just outside of Seattle in Eastlake, Wash., Feinglas has experienced many practices and races on a soaked track with downpours impairing her view of the finish line, but there's no denying that sprinters generally perform at their best in warmer temperatures.
As Feinglas prepares to race tonight at the Oregon Twilight meet at Hayward Field in Eugene, Ore., she knows this could be her best opportunity to achieve a top-20 spot in the nation.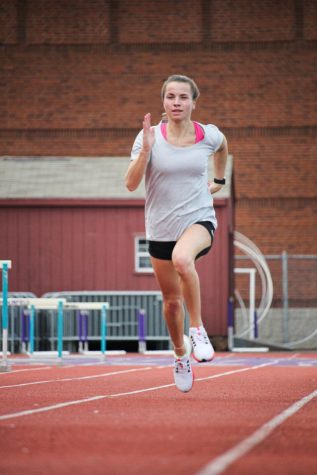 While there isn't a specific qualifying time for Feinglas to hit, she and her coaches have estimated that she will need to run 12.08 seconds in the 100—0.17 seconds faster than her current personal best from the NWC Championships earlier this season—based on last year's national championship qualifying times.
After today, Feinglas has the opportunity to qualify in the 200 and the 400 at the Linfield Open in McMinnville, Ore., tomorrow. The 200 is also in reach for Feinglas since she only needs to shave off 0.3 seconds from her current personal record. Her final opportunity to punch her ticket to nationals is at the George Fox Last Chance Qualifier next Tuesday and Wednesday if she doesn't achieve her times sooner.
"That'll be the final stretch," Feinglas said. "I'm going to compete, I'm going to run, but I'm not going to expect anything out of it."
Although Feinglas might not be expecting a nationals qualifier this season, she knows that Hayward Magic is real and that it could play a part in bringing her that standard.
She's also hoping and praying for a break in the rain just once this season.
"If I get good weather, it's possible," Feinglas said. "But we haven't had good weather once this fucking season."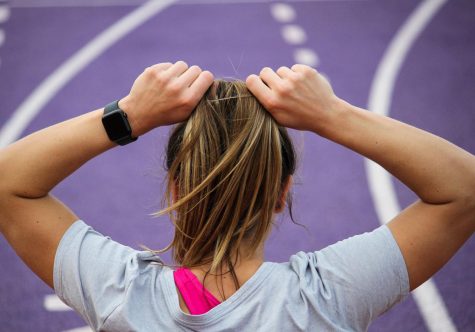 While Feinglas won't be dwelling on that 12.08 in the 100 tonight, she's still taking this competition seriously and isn't letting her pre-race rituals slide.
She always styles her hair in speed braids—two tiny French braids that look like lanes on the track pulled back into a ponytail—and this season she developed a few more superstitions pre-competition routines.
"I wear the same socks, underwear and sports bra every single meet," Feinglas said. "I only eat almond butter on meet days—I fell in love with the packets of vanilla almond butter especially."
Back in spring of 2020, Feinglas debated whether or not to continue with the sport she'd been competing in since middle school after her freshman season got canceled due to the COVID-19 pandemic. She kept running, but she stayed away from sprint workouts and instead went for three- to seven-mile runs throughout the week.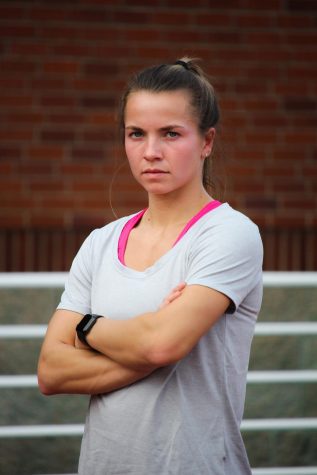 Things changed when Feinglas decided to stay on campus in McMinnville after her sophomore year and discovered CrossFit.
"Until I started doing CrossFit, I didn't realize that lifting weights actually did help me on the track," Feinglas said.
She almost fully credits her sizeable improvements this season to walking into that first class at Gunner CrossFit last June. Although her track coaches didn't want her doing all of the heavy lifts and intense cardio that's included in a traditional CrossFit workout during the season, Feinglas still thinks those workouts before her junior season vastly helped her improve on the track.
"Something this year clicked in me," she said.
Feinglas's shift in training and perfected routine before competition will hopefully combine for the ideal race at the reimagined Hayward Field—as long as the rain and wind hold off for at least 12.08 seconds.
Leave a Comment