Surprising injury suspends sprinter's season
It took less than a second for Linfield freshman sprinter Daniel Olson's conference-qualifying 200-meter dash to go from celebration to catastrophe.
Finishing in 22.43 seconds—which at the time of the race was the top time in the Northwest Conference for the 2021 season—Olson shattered his previous PR of 23.04 seconds. 
But he also shattered his elbow. 
In his first race of the day at the Jenn Boyman Memorial Invitation at Maxwell Field on April 3, Olson finished second in the 100-meter dash, recording a time of 11.56 seconds, but little did he know that would be the final race of his freshman season he would finish on his feet. Seeded fifth in the meet in the 200, Olson went into the race with the hopes of sticking to his race plan, which entailed even splitting the 100s.  
"I'd already run the 100 and it wasn't a PR, but it definitely prepared me for the 200," Olson said. "Best 200 I've ever run. I was mentally and physically prepared. That helped me run my best, especially the back end of the race."
One of Olson's teammates, junior Chandler Morris, finished fourth in the 200 with a PR of 22.92 seconds. Morris remembers seeing Olson in the lead throughout the entire race. 
"He turned around [after his 100] and went a 22.4, so he ran faster in both his hundreds together," Morris said. "I kind of saw him going out really fast and I'm like, 'Is he gonna hold, is he gonna hold,' and then about 150 I heard him grunt, so I thought he tore his hamstring."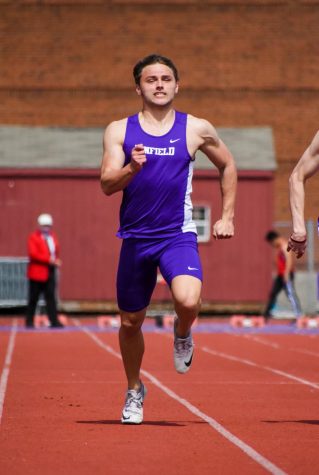 The feeling Olson had at the end of the race was like none other he could recall. He knew he was in the lead—and by a lot. The next competitor trailed by about 10 or 15 feet, finishing two-tenths of a second behind Olson. However, Jett Pharn-Cromb of Warner Pacific finished on his feet, whereas Olson lost his footing, resulting in his elbow taking the blow. 
"It wasn't until I crossed the finish line that I felt relief that the race was over," Olson said. "I did feel extremely fatigued and felt myself falling. Trying not to fall on my face, I slid, landing on my left elbow and back."
"He threw his arms forward and then slid on his shoulder," Morris said. "I think the sound of the sliding was the worst part of it…just hearing him scream after it." 
Later that afternoon, Olson found himself in the hospital instead of anchoring the 400-meter relay. What he originally thought was a dislocated left elbow was ultimately diagnosed as several fractures of the radial head and shaft as well as some ligament damage and several abrasions. 
"At first I wasn't sure what happened," said Linfield track coach Travis Olson. "I knew he went down but didn't really know the severity of his injury until I met him at the trainers. I felt horrible for him because I know how much he loves to compete."
Olson underwent surgery to repair the damage, which included inserting several plates and screws into his elbow. Following surgery, Olson's recovery process will include intensive physical therapy, which is scheduled to last at least three months. 
As a dual-sport athlete, Olson only trained full time with the track team for one week prior to his injury. He spent the majority of his freshman season in the pool, where he recorded impressive times for a freshman. Specializing in the 50-yard freestyle, Olson grabbed three first-place finishes in dual meets during the swim season in addition to his short-lived success on the track. 
However, instead of improving his speed in the pool and on the track in his hometown of Medford, Ore., this summer, Olson will find himself in the physical therapist's office and rehabbing his injury. Olson will get his splint off April 30 and will have a brace on for six weeks. His rehab will begin once his splint is off, though Olson is unsure of what the rehab process will entail. 
"Initially it was tough mentally," Olson said. "But after talking with other athletes that have had severe injuries and have recovered, it has given me strength to persevere and come back better than ever."
"It has made me appreciate how supportive my college family is—including my coaches," Olson said. 
Olson is determined to come back stronger than before, ready to not only prove to himself that he can improve from his shortened season but also to show his teammates and coaches how much he has grown mentally from this sudden end to his freshman season. 
"I think it's definitely going to help us come together and realize that injuries happen, and we've got to push through and come together," Morris said. 
With only a few weeks left in the school year, Olson decided to return home early and finish out the semester remotely as a way of having more access to physical therapy as well as being closer to his family. 
Although his freshman season ended with a trip to the hospital at the beginning of April instead of a chance to become Northwest Conference Champion in mid-May, Olson is determined to regain his form and come back stronger than ever, and he has the support to achieve his goals. 
"Physically, it drains my energy and it's tough," Olson said, "but I have family and friends supporting me to [help me] recover my strength and agility."