One killer Tot
"Tot, Aloo, Tater-Tot… anything that has to do with potatoes," Emma Sammartino giggled as she listed off all the nicknames given to her by coaches and teammates since her freshman year at Linfield University.
Originally from Boise, Idaho, Sammartino is in the midst of her senior year at Linfield. While busy majoring in biochemistry and minoring in mathematics, she is also a prominent member of the women's soccer team.
Sammartino started playing soccer as a young girl. Back then, it was just one of the plethora of sports she competed in. It wasn't until high school that she really committed to just two sports.
"My parents wanted me to play every sport when I was younger," Sammartino said. "I kind of grew to love soccer and basketball, and then I just focused on soccer as I got older."
She didn't always want to play soccer at the collegiate level. In fact, it wasn't until late in her sophomore year of high school—one left ACL tear later—that she realized how much she loved the sport. That and growing up with two old brothers who were playing soccer for their respective universities, drove her forward in her rehab and in search for the right school.
"I looked for a college for education purposes, obviously, and then Linfield was the place I wanted to go," Sammartino said. "Steve reached out and asked if I wanted to play, and I said, 'Sure, I'll give it a shot!' Four years later, I'm still here."
While she speaks highly about her time in Linfield's soccer program, it hasn't always been a breeze. Sammartino struggled freshman year after coming in unfit and blindsided by how different college soccer would be from both high school and club soccer. But she claims this as a good learning experience and even noted that she worked her way up to some playing time by the end of freshman year.
Sophomore year she felt more aware of the standards she needed to rise to, and by junior year she had secured an obvious spot as a starter.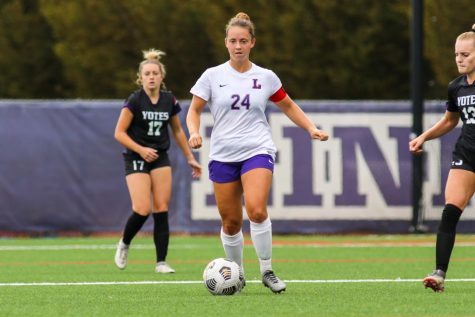 "I remember some practices in the middle of the season when some freshmen start to find their feet a little bit and things start to not be so crazy in their head," said Steve Simmons, Linfield's women's soccer coach. "But Emma started being ferocious. I thought, 'We've got a little Tasmanian devil on our hands… We've got a killer Tot!'"
However, her role on the team is different this year. Sammartino tore her right ACL and meniscus late in 2021 during her junior season. She had surgery that December and started the rehab process five days later, with the goal of returning to the pitch in time for her senior season.
Unfortunately, Sammartino's plan did not go accordingly.
During rehab, she didn't feel herself progressing. Sammartino trusted her gut and went in for an MRI. On August 9 of this year, she had to have another surgery on her meniscus.
"I had done everything right," Sammartino said. "I had done all the PT and it still wasn't getting better. The result [of the MRI] obviously was not the news that I wanted. It was honestly heartbreaking."
Even though she's unable to compete this season, Sammartino remains just as much a part of the team as her teammates.
"Although she isn't able to play, she is still a huge part of the team as a leader," said Jaeda Doctolero, a sophomore on the team. "She's always there during practices and games to cheer us on or help guide us whenever we have questions about positions or just anything in general. She brings great energy despite not being able to play."
For most athletes, having to sit the bench during their final season would be the end of the road. For Sammartino, it was just the door to a new role.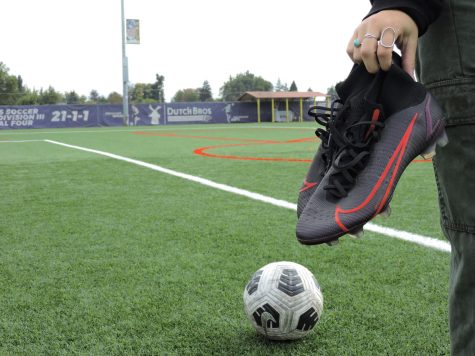 "I'm on the team because I couldn't imagine not being on the team my senior year, even if I can't play," Sammartino said. "I think I can still make an impact by being around for the freshmen and other injured players and help guide them through [the season]."
Sammartino is one of the many athletes that was graced with an extra year of eligibility due to the pandemic in 2020. However, she has recently decided that she won't be taking advantage of it.
"I think it's time for me to hang up the cleats," Sammartino said. "As much as I love competing and am going to miss the thrill of being out there, I just don't think coming back would be the same. Obviously I want to play my senior year, but my senior year is now, not next year."
Sammartino's leadership when playing on the field is still just as prevalent as she continues to support her teammates on the sideline at both practices and games. While still currently working through physical therapy from her last surgery, she is looking forward to resuming CrossFit and joining an indoor soccer league this spring.
Following graduation this May, Sammartino plans on taking a gap year filled with traveling and earning clinical experience before she applies to either physician assistant or medical school. While her soccer career won't end as she hoped, Sammartino has chosen to look ahead instead of fixate on what could have been.
"Enjoy the little things because you won't know when they're going to get taken away," Sammartino said.
View Comments(1)