Soaring above surgeries and setbacks
"My dad's, my brother's and my favorite bonding activity was to wrestle on the couch," Riley Omonaka said. "We used to have paintball wars and Nerf gun wars. All of the fun competitive things you could have in a house, we had."
The Renton, Wash., native is finishing her sophomore year and plays on the women's soccer team at Linfield University. While soccer is now her primary focus at the collegiate level, she still taps into the wrestling skills she learned from her brother, who's five years older than Omonaka, and her dad every now and then. 
As soon as Omonaka started running around the house, her parents immediately realized how much their little ball of energy needed to play sports. Omonaka remembers trying out practically a new sport each day just so that she could get all her energy out and not be bouncing off the walls all day at home.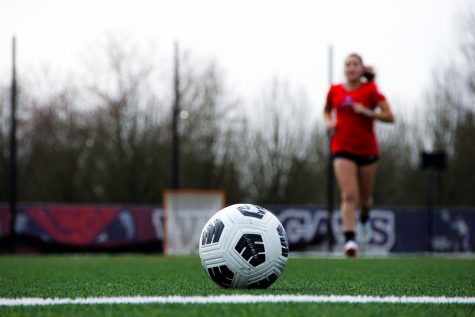 However, soccer soon stood out as the favorite for Omonaka. 
"I started playing [soccer] when I was probably about five," Omonaka said. "My parents put me in a youth sports clinic, and I played baseball, basketball and soccer. I tried the other sports, but then I got to soccer, and it was just like, 'This is it.' I was so focused and excited to go every day." 
As Omonaka became more invested in the sport, she looked to her brother for coaching and support. He never competed directly with her, but rather guided her to becoming a better athlete. 
This doesn't mean that the sibling duo didn't take every opportunity they were given to wrestle each other on the couch or compete in an intense game of one-on-one soccer at the park. 
Omonaka became more competitive on the soccer field throughout her middle school years and had her eyes set on playing for her high school team and eventually playing for a collegiate soccer team. However, her knees had a different agenda—which took her in another direction before she could even set foot on her high school's campus for the first time. 
"I had two knee surgeries in high school," Omonaka said. "One just before my freshman year and then [another] one [that affected] most of my sophomore and junior year. During that time, I spent a lot of my games and practices on the bench, obviously thinking about what I wanted to do going forward." 
It was unknown whether or not Omonaka would ever put her jersey and cleats on again. She had a new team, new coaches and what felt like a permanent spot on the bench. By the time her sophomore year rolled around and it was time for Omonaka to have her second surgery, the doctors said she would never run again.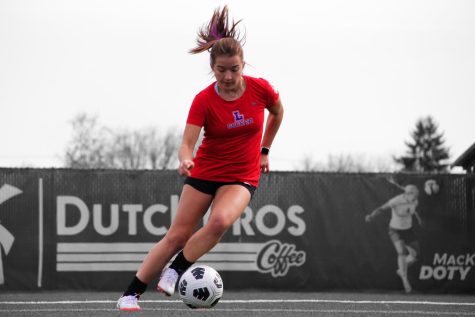 "To quote my doctor, he was like, 'Have you ever thought about biking or swimming?' And I can't bike or swim," Omonaka said. "That was kind of out of the question. I spent a lot of time thinking about what made the most sense for me and what I valued and prioritized in my life."
During the time Omonaka spent off the field, watching from the sidelines as her teammates played the game she loved, she questioned whether or not it was even worth it for her to keep dreaming of kicking a soccer ball into the net again. 
"Every minute I spent on the bench was painstaking—it was agonizing," Omonaka said. "That's how I knew that I wanted to get back on the field no matter what it took."
Omonaka finally got cleared to play partway through her senior year, but only in a noncontact position. Soccer, however, requires constant impact and contact if you're going to have any chance of playing an important role on the field. 
Omonaka started out in the goalkeeper position. 
"I convinced my physical therapist it was a noncontact position," Omonaka said. "In my first game back, I got a yellow card as goalkeeper, and my coach pulled me out of the game and ripped me a new one."
Instead of staying in the so-called noncontact position of goalkeeper like she'd promised her physical therapist, Omonaka slid into a forward who was on a breakaway and tackled the opposing player outside of the box.
Despite the setbacks she had experienced from her injuries and subsequent surgeries—along with risking further injury by tapping into her deeply competitive side and bringing her wrestling moves to the soccer field—Omonaka stayed healthy and finished her senior season by winning all-league MVP. Her days on the bench behind her, playing soccer at the next level was suddenly a strong possibility.
However, while Omonaka was pretty open to going most places for college as long as she could play soccer, she hadn't heard from many coaches indicating that they wanted her on their team. While she expected this in lieu of her injuries, Omonaka still felt discouraged, and the question of whether or not she should continue with the sport surfaced once more. 
"I could not get a callback to save my life," Omonaka said. "Nobody wanted to hear from me because I was a liability because of my two knee surgeries. And it was really frustrating and really disheartening." 
She'd heard about Linfield from her parents. They'd met at Linfield when they'd attended the school many years earlier. However, Omonaka had no interest in going to the same college her parents had gone to. 
"I'd always kind of known about Linfield through them, but it never really sparked an interest for me," Omonaka said. "In fact, it was quite the opposite. I was like, 'I'm not going to the same school as my parents. I'm not gonna do it.'" 
Center back—the position she played in high school—had quite a bit of competition as far as college recruiting went, so Omonaka had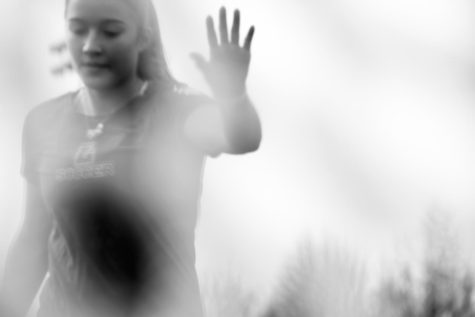 already expected to not hear very much from college coaches, but the lack of interest surprised not only her but also her club and high school coaches. 
After not hearing from a single college coach, Omonaka decided to mass email soccer coaches ranging from some Division I programs to smaller Division III ones. She finally heard back from one. 
It happened to be the Linfield women's soccer coach. 
"I needed someone," Omonaka said. "I needed a team or a coach who just was ready to take whatever I've got, because that's what I had to give. Then I met Steve, and he was so enthusiastic. He saw a lot of potential in me that a lot of club coaches even before hadn't seen."
Steve Simmons—the Linfield women's soccer coach—showed interest in her game and tenacity. He told her how much of an asset he could see her being to the team and how well she would fit with their style of play. 
Talking with Simmons gave Omonaka hope and made her excited to start her freshman year of college at her parents' alma mater. 
"It was the first time in my college recruitment process that I really felt excited to contribute to a team somewhere," Omonaka said. 
Omonaka attended an ID camp—where potential soccer players try out a day of practice with the team and current players have the chance to give feedback as to whether or not the prospect would fit on their team—at Linfield in spring of her senior year of high school as a way of getting a feel for the team and the playing style Linfield had to offer. 
"When I first saw Riley, I told my roommate, Laney, 'There's this girl who's really small, but so strong! She slide tackled a girl in the ID camp and she's so good! I hope she comes and plays here!'" senior soccer player Ava Dumler recalled. 
This training camp occurred just before the world shut down due to the COVID-19 global pandemic. Omonaka went from experiencing the excitement of finally having a plan and vision for what her relationship with soccer would look like in the future to questioning whether or not she would check into a game ever again. 
Omonka's spring completely shifted. Going from the high of playing with her future college teammates to the low of feeling locked in her bedroom for school and soccer brought her back to that first knee surgery and the doctor's words: "You might not be able to ever run again."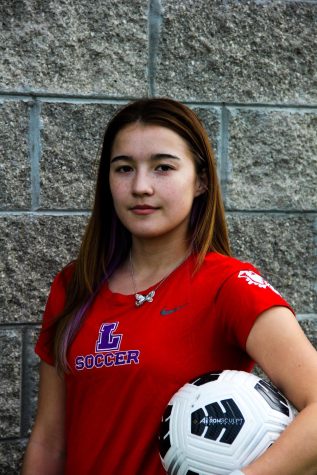 Training by herself soon became the norm. The thought of leaving her family and heading to Oregon for college scared Omonaka.
"I had really gotten comfortable being by myself and training by myself," Omonaka said. 
School became hours of Zoom in her bedroom. Soccer became hours of passing to herself and conditioning on her own around the neighborhood. Even passing a soccer ball from her foot to a teammate's foot was no longer considered "safe." 
When August of 2020 rolled around, it was time for Omonaka to move into her first college dorm, attend her first college soccer practice and prepare for her first college class. 
Even though Omonaka had been known for always having a smile on her face and always talking to somebody, being alone during the end of her senior year and throughout the summer leading up to college made it hard for her to be that same extroverted soccer player she had been up until Covid hit. Being alone for so long resulted in Omonaka entering college not being as outgoing as she'd been in the pre-pandemic years of high school, and she didn't let her new team see her feisty, competitive self on the field until later on in the season.
"I was so quiet and shy my freshman year," Omonaka said. "One of my friends on the team told me that she thought I didn't like her because I so rarely spoke."
As the season went on, Omonaka played in more games, developed a presence and personality on the field and bonded with her teammates. 
"Riley is such a sweet person, but a boss on the field," Dumler said. "We found out that we both like decorating our planner all cutesy and bonded over that. But on the field, she's a beast."
"Some of my teammates call me WreckIt Ralph. And then some of them call me Smiley Riley," Omonaka said. "Some people think I'm like this super aggressive, angry soccer player and then other people are like, 'But you're so happy on the field, and you're always cheering us on.'"
After her second season with Linfield, Omonaka's coaches and teammates have found themselves relying on her as a go-to presence on the field they could look to during a tight game.
"I can always trust her to have my back defensively, and the whole team really relies on that," Dumler said. "You put Riley in a game when you want to lock down the midfield, or make an aggressive move in the attack."
Omonaka credits the fierce competitor that appears during games to her wrestling matches with her dad and brother along with always trying to keep up with her older brother despite the five-year age difference. Without the toughness and grit she built from such a young age, Omonaka wonders whether or not she would have been able to fully bounce back from her two knee surgeries and compete at the collegiate level. 
Hearing the words her doctor had to say about never running again solidified Omonaka's determination to push through her setback and achieve the unthinkable dream of playing soccer for at least another decade.