Meet Linfield's Athletic Trainers
"THEY ARE DOWN! They are down and in obvious pain!"
When you hear these words, it's as if the Bat Signal went off. Linfield's athletic training team is already on the field. In the frantic atmosphere, with fans screaming, music blaring, coaches and players gathering around the injured, the athletic training team must be the calm during the storm.
With life finally beginning to normalize since the initial impact of COVID, sports are back in full swing–which means so are the athletic trainers at Linfield. You might see them during early morning practices, in the treatment center or on the sideline of an important game. Wherever they are, the athletic team is always there to ensure those players get on and off the field safely.
"We are responsible for the health and welfare of the student-athletes," Linfield's head athletic trainer Duane Duey said. "This is ever-changing in trying to help manage their physical and mental wellbeing. We aim to give them a safe environment to pursue the activities they love."
Duey has been the head trainer at Linfield since 2013. His love of athletic training stems from his desire to positively influence the sports world and help student-athletes achieve their goals.
The student-athletic training program allows students to get hands-on experience in the world of athletic training.
"We take interested students and start them with work-study jobs. Initially, this is mostly setting up and tearing down practice [equipment] coverage. They also help out in the treatment center. Students interested in pursuing athletic training get hands-on training in taping and rehabilitation, which helps them prepare for and get accepted into an athletic training master's program," he said.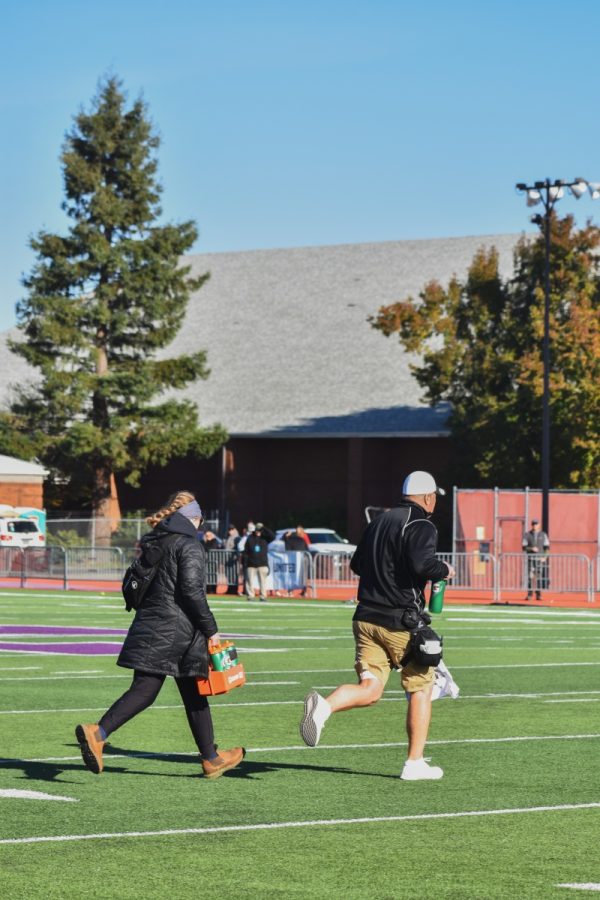 As student trainers, their main priority is handling smaller tasks to allow the certified athletic trainers (ATCs) to focus on injury evaluations and more involved treatments. Some examples of the students' tasks include cleaning/sanitizing equipment, assisting in minor treatments and prepping ice/water for practices and games.
"I hope that [the student-athletes] get a solid understanding of what athletic training is all about and if it is really what they want to do as a profession. Athletic training is hard. You work long hours, weekends, and late nights. If you don't have a passion for it, you shouldn't be doing it," he said.
It was that very passion that drew senior Rylee Meagher to become part of the training team. His junior year of high school, Meagher decided to take a sports medicine class, where she could learn about the field and shadow different trainers at the high school. She discovered and developed her passion for athletic training through that class. When she arrived at Linfield, she intended to further her education in that field.
"My freshman year at Linfield, I took the Prevention/Care of Athletic Injuries class with Dr. Laura Kenow, where we were asked to spend time shadowing the athletic trainers. It was through this assignment that I was made aware of a work-study position and jumped on the opportunity," she said.
Meagher was thrilled to be working in the department but soon realized just how big of a difference high school and college athletic trainers operate.
"Things here were more fast-paced. I also came in during football season, so much more work was on my plate. It was super overwhelming at first, and it was definitely a little bit of a learning curve," she said.
Despite the slightly rocky start, the Exercise Science major eventually found her footing with the help of her professors and ATCs. She likes that there are many opportunities to develop relationships with professors and the ATCs. When the ATCs are treating patients, they encourage the student-athlete trainers to observe and ask questions. Meagher usually feels that is the time that she learns the most about the treatment aspect. But Meagher also confesses that the learning curve would have been a lot more challenging to navigate without her team.
"All of the members of the team are very hard-working, dedicated and strive to provide quality care to all athletes. We also like to have fun when we can by making jokes, trying different modalities, or practicing new taping procedures," she said, "It is so important to have that relationship with your team because it really helps in developing a rhythm. Finding a rhythm within the team makes it easier to have better communication, which is important when it comes to efficiency in the facilities. We try to work together on tasks to complete multiple steps at once, so it's crucial to communicate what needs to be done."
A team consists of six ATCs and nine student trainers. The ATCs will typically be assigned one to two sports for a season and will be the primary trainer providing care for those teams. The student schedule is based mainly on availability, but their skill level might impact their jobs. Some sports, like soccer, require more taping than others. Meagher explains that taping is a skill that students must develop to maintain efficiency when trying to tape a large volume of athletes. ATCs will typically assign students who can perform various taping procedures to those sports.
The typical day of a student-trainer might look different depending on where they are scheduled to work. In the treatment center, most tasks consist of cleaning and treatments. Some days will be slower than others. In those cases, the team deep cleans projects or organizes the center. During practice, they typically start by prepping ice and water for the team. The team also helps with any treatments or taping needed. During the actual practice time, the student's main job is to supervise the practice and assess and/or treat any injuries that may occur.
If an athlete gets injured, the certified trainers will be the first on the scene, along with a student worker. The team can get an idea of where the injury occurred as they approach.
"If it were to be a spine or neck injury, the athlete would be held in place, moved onto a spine board and transported to higher level care. If it were to be a sprain or even a break, our main priority is to get them off the field and into a space where we can better assess the injury," she said.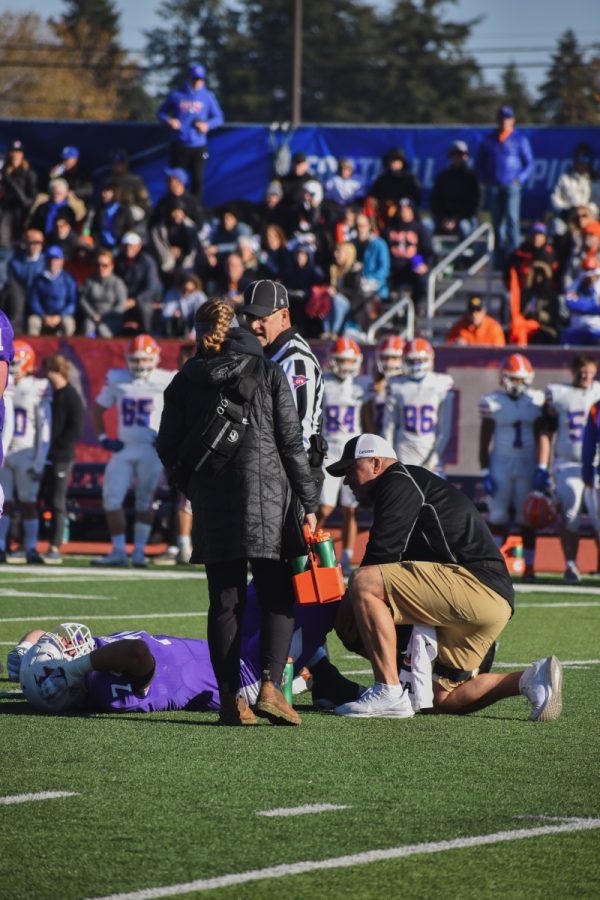 Meagher said that working with sports, the environment is very fast-paced, and preparing for anything is essential.
"The phrase 'hurry up and wait' comes to mind when describing the workplace environment. Things can often get busy. So, being able to handle high-stress situations is critical. These situations have taught me to actively scan my environment to see what needs to be done," she said, "However, it's not always so chaotic at work. There are times when there isn't much to do. During slower days, we focus on much more mundane but equally important tasks to maintain the space and ensure quality treatment for athletes."
But, throughout all the experience and knowledge she has gained, her proudest achievement was seeing her name on a little name plate located on the door of the football stadium.
"It was such a small thing, but when I saw my name on the door, it just felt super exciting," she said. "All those long hours and hard work were worth it once I saw my name on the door."
Leave a Comment