For the love of the game
When Joe Stuart and Kaho Akau were students at Linfield, the Journalism and Media Studies majors spent most of their free time around Wildcat athletics. As work study students in the athletic department they kept busy engineering live streams, operating camera equipment and doing statistics for several different sports. They performed pretty much every unglamorous job you could think of in addition to what they originally signed up for.
Akau, had most wanted to make a career out of sports writing and communications while Stuart had always wanted to be a sports broadcaster, skills that they were able to refine as work study students.
What they didn't expect was to never leave McMinnville. But something about the environment stuck. And while the average spectator might not know their names or exactly what they do, Linfield insiders know that without these two, Wildcat Athletics wouldn't be the same.
"I really think [with] Division III college athletics, there are very few pure forms of sport," Stuart said. "Nobody here is on scholarship, not really anybody is trying to go pro. Here, the passion and the love for the game that athletes have for their teams – just getting to be around that everyday is one of the best parts of this job for sure."
Stuart, 2020 Linfield alum, 25 years old and a McMinnville local, has garnered experience in play-by-by announcing for basketball, soccer, volleyball, baseball and softball. He has now moved into the role of lead play-by-play announcer for the storied football program. Many members of the Linfield community consider him "The Voice of Linfield," his enthusiasm and dedication apparent in every broadcast that he does.
This "Voice" is not only essential to have on the broadcasting side, but also online with social media and news releases for Linfield sports teams. Akau, who is a 25-year-old class of 2019 alum and originally from Honolulu, takes over this side of things. He puts together graphics for all of the Linfield teams' social media accounts and writes the majority of pregame and postgame releases for the Linfield community to stay updated on each game.
"To see that our parents or fans or athletes enjoy the content that's being shared with them, I think that's what makes you realize why we do what we do," Akau said.
Both team members have their differences, but Linfield's "Voice" wouldn't be complete if they didn't have each other.
"Joe does a really good job of writing down a lot of notes, in terms of if a player scores this many points, he's on it and always checking our record books to see where that may rank. He always tends to give me little notes here and there that really help with my release because he needs that for his purposes anyway," Akau shared.
Stuart needs to keep these notes on hand so that he has plenty to talk about on his broadcast, but admits that Akau helps him out with a lot of the intangibles.
"Honestly, I don't think he's conscious of it or anything, but he keeps me on top of things in a lot of ways. I would say [he's] a lot more organized than I am, I mean just look at our desks right now," Stuart laughed, gesturing to Akau's neat desk in comparison to his own, with broadcast equipment strewn everywhere.
"Kaho is on top of every deadline and just knowing that he is always going the extra mile on stuff reminds me that I need to, too," Stuart adds.
Working in the Linfield athletic department isn't for people who are OK with just being average. The department has a high standard to live up to, largely due to the famous 66-season winning streak the football program has built over decades. Going the extra mile isn't exactly celebrated; it's simply expected.
"We know that everybody else in the athletic department is giving 110%, so we gotta do the same," Stuart said. "I would say [we have] a lot of the same expectations that a [Division I] school does. If we're trying to hold ourselves to [those same standards], then we gotta grind."
A challenge of this is not having the staff that is necessarily available at a Division I school. The three-man team, including sports information director Kelly Bird, is constantly trying to keep up with a high level of publicity, publishing content most days to make sure Linfield Athletics is at the forefront of the audience's mind.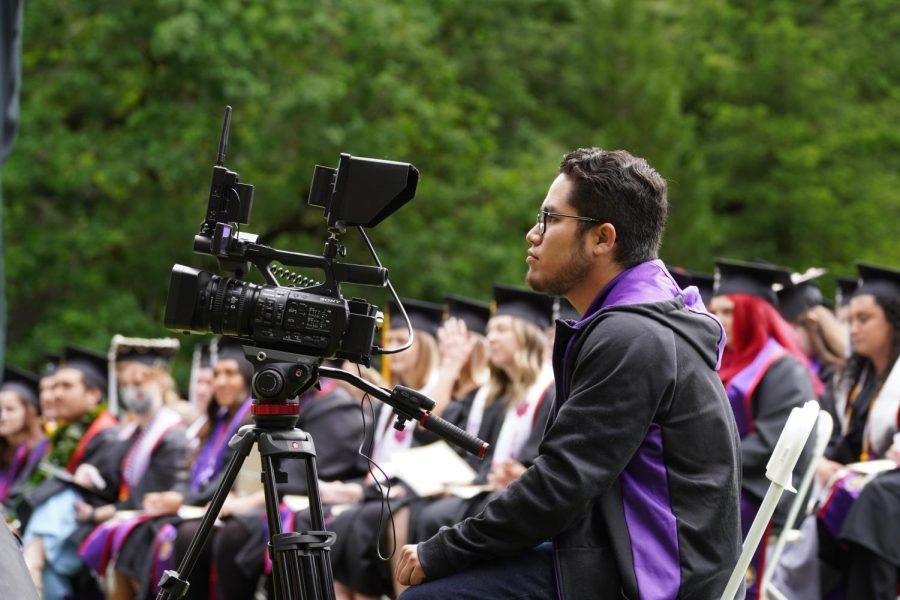 With this small of a team, some days are harder than others.
"Sept. 17 [this year] was Homecoming. We were hosting Redlands in our first home football game of the season. The men's soccer team also had a game against defending NWC champion Pacific Lutheran that afternoon, so once I helped get things off the ground at football, I rushed over to work the soccer game," Akau recalled. "Once the football and soccer games ended, [we] had to go straight to the gym to work the volleyball match. I believe we got to campus at 8:30 that morning and finally left campus around 8-8:30 at night following the conclusion of the volleyball match."
Sound exhausting? It's a demanding task and often, the work done by Akau and Stuart (and Bird) goes unnoticed. Getting the live stream to work, scheduling work-study students to help out or simply taking down equipment after a game is all necessary, behind-the-scenes work that Stuart and Akau – who often work weekends – have to do. And because of the packed sports calendar, they've got minimal days off.
"The biggest challenge is the time management, the energy management, and trying to have some assemblance of a work-life balance and having a life outside of the athletic department," Stuart said.
They may often be the last ones to leave the building after a long day of sports, but there are many aspects of the job that make their hard work worth it.
"We get paid to watch sports, so we can't complain too much," Akau said. "I love sports. I don't care what sport it is, it's better than being at my desk seven days a week and I'm glad to be able to actually see our athletes in action."
"You can't do this job without loving it," Stuart said. "This isn't a complaint, it's just a reality: the grind for what you make in Division III has to be about way more than the money. Sometimes that daily grind catches up to you, but then, [we] get to a game and we see you guys [get excited] on the bench, or we get to see men's soccer have their best season in years, and it just kind of becomes worth it after that."
Just a few years ago, two Linfield freshmen stood out for taking whatever job they could get at the athletic department because they simply loved sports. They wanted to be a part of making the action happen. Now they don't just help everything run smoothly – they're integral members of the team.
Leave a Comment