Gold Rush hopes for rush of Linfield students
Hang on for a minute...we're trying to find some more stories you might like.
McMinnville has a new coffee shop in town. On June 15, Gold Rush Coffee began serving their signature Italian Coffee and Soft pretzels to customers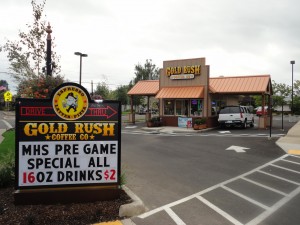 during their grand opening.
Gold Rush features a wide variety of beverages and a selection of warm snacks. The shop brews its own Italian blend of Caffé D'arte, a coffee roasting company located in Seattle. Gold Rush serves a bold drip coffee that is hand pressed, setting them apart from other coffee shops in town. For those non-coffee drinkers they have fruit smoothies, Oreo Freezes, Italian sodas and tea drinks.
Gold Rush has an array of flavors including almond, Kahlua, Irish crème, passion fruit, and its featured fall flavors are pumpkin spice and salted caramel. The shop is open to new syrup flavor requests, and makes sure to have all flavors in stocked.
Their warm snack items include bagels, breakfast sandwiches, three different flavors of pretzels—pizza, sweet crème and plain salted. They even feature hot dogs wrapped in warm pretzels. Gold Rush also has assorted cookies, muffin tops and sandwiches. Some of their most popular items are the Carmel Marvel and pizza pretzels.
"We have a good tasting coffee that isn't just all sugar," junior Tori Nickerson said, a barista at Gold Rush. "We brew a high quality coffee and many items on our menu are not sold at other coffee shops in town. I think our coffee is definitely worth trying."
Nickerson's classmate and sorority sister, junior Carlie Price, is also a barista at Gold Rush. The two are excited for Gold Rush's dollar discount day for those girls wearing letters from one of Linfield's four sororities on the Wednesday during recruitment, Sept. 11. The local shop wants to show support for Linfield's Greek System. The Gold Rush baristas describe Tom Hunt, the owner of the shop as generous and experienced in the restaurant business.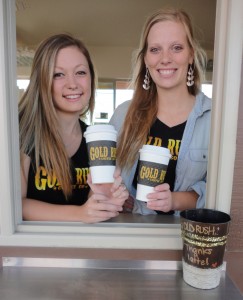 "He has a few deals in the work," barista Kate Blanchard said, who is a student at Chemeketa Community College. "He is super generous, and very open to specials and other promotions."
The shop is located on Highway 99 in the parking lot of AutoZone.
"I think that because we are located in the middle of town, we don't get as many Linfield students customers," Price said.
The new Starbucks on campus is a convenient espresso stop for students; however, the baristas argue that Gold Rush's prices are lower than most shops in town and their menu items are different.
"I think it would be really cool to have Linfield students more frequently at Gold Rush," Nickerson said. "Coffee is an important part of a students life and we want to help students satisfy their cravings."
For information about specials follow Gold Rush on Twitter @GoldRushMac and like their Facebook page Gold Rush Coffee Co. Gold Rush's hours are Monday thru Thursday 5:30 a.m. to 8 p.m., Friday 5:30 to 9 p.m., Saturday 7 a.m. to 8 p.m. and Sunday 8 a.m. to 6 p.m.
Sarah Mason /Copy chief
Sarah Mason can be reached at [email protected]
A sign displays Gold Rush specials while people buy their coffee at the drive thru. The shop is planning to develop a connection with Linfield through supporting the Greek System. Junior sorority sisters Carlie Price and Tori Nickerson serve Gold Rush coffee to the McMinnville community with a smile.