Meet Regan Henshaw, the Linfield football player from England, now kickin' it in McMinnville, Ore.
Many athletes spend their childhood training in hopes of one day competing in intercollegiate athletics. But imagine getting offers to play collegiate football only one year after starting the sport.
Sounds too good to be true, right? But that's exactly what happened to Linfield football's newest kicker, Regan Henshaw. And it's even crazier when you consider his athletic background.
Henshaw, a first-year Linfield student born and raised in Leicestershire, England, started playing soccer at 3 and immediately fell in love with the high-energy sport. By the fourth grade, Henshaw's accomplished skills even allowed him to leave school at lunchtime to train with the Leicestershire Soccer Club.
When he was not playing soccer, Henshaw often found himself in trouble with his other schoolmates during secondary school. That, coupled with his father getting a new job with DHL, led his family to decide it was time for a change of scenery. So when he was 12, during the winter of 2016, his mom, dad, and little sister Lizzie packed their bags and began their move to the United States in search of a fresh start.
"Moving to the States as a teenager was definitely hard for me," Henshaw said. "Not only did they put me in the wrong grade, but it took me a while to settle academically. Luckily, I'm quite a sociable person. But academically, in the beginning, I was just confused by the whole dynamic of school life in the United States."
Before his flight, Henshaw had never been to the United States, so prior to stepping on the plane he Googled "Oregon" and noted its proximity to California. As a result, when he boarded the 14-hour flight wearing a Leicester blue Hawaiian shirt and shorts, unaware that the climates of Oregon and California are not the same.
In addition, when he stepped off the plane, he was greeted by a snowstorm that would sweep through the Portland Metro area, causing power outages across the state, which he distinctly remembers because his favorite team Leicester City F.C. was playing Copenhagen that day – and he couldn't watch.
Not long after, he settled in his new hometown of Lake Oswego,a Portland suburb, where according to Henshaw, he made many friends and some of the best memories of his life. His favorite memory was the time he dressed up with his best buddies and created the Lake Oswego High School bowling league, where they went on to win the 2021 district bowling tournament.
Starting his freshman year of high school, he was able to join the Lake Oswego varsity soccer team as a midfielder, and by his senior year, he was one of the top-scoring players in Oregon. Unfortunately, throughout his 14-year-long soccer career, Henshaw sustained many serious injuries, including a broken shin, a sports hernia, four tears in both of his abductors, a tear in his meniscus, as well as a partial tear in his right hip flexor, which all ultimately lead to his soccer career ending in the fall of 2022.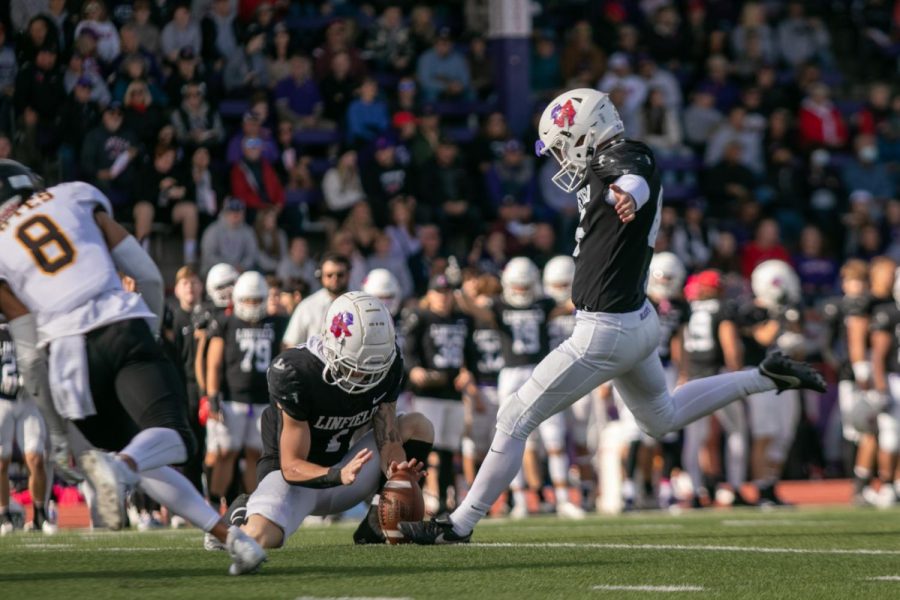 "I miss soccer so much, but my goal is to come back to it," said Henshaw. "When I am older, I want to coach. This summer, I'm moving to Minnesota and working with the Minnesota United FC along with their preseason tour for three months and shadowing assistant coach Sean McAuley. After this internship, I hope to get a career as a professional soccer coach."
Not quite ready to give up his love for his sport, on a whim during his senior year of high school, Henshaw joined the Lake Oswego football team. Due to his prior skill in soccer combined with playing a position where contact is minimal, he tried out as a kicker and made the varsity team. When he talked with his new roommate, Austin Leykamm, another Lake Oswego graduate and member of the Linfield football team, he realized that playing college football was a possibility for him.
"On my game day visit, I introduced him to all the coaches that I knew at Linfield and I watched the game with him," Leykamm said. "After the game, Regan looked at me and said, 'Whoa, maybe I want to play college football.' After that, I talked to the special teams coach and the recruiting coordinator and I asked him if I came for an official visit if I could bring him and show him around on my visit because he has a lot of potential and the coaches agreed."
Leykamm said he and Henshaw have a strong yin-and-yang connection: While Leykamm describes himself as very reserved, Henshaw is the super social guy with a magnetic personality.
Like Leykamm, other Linfield football players and staff immediately noticedHenshaw's dynamic, infectious personality and commended Henshaw for how well he's made the transition to American football.
"As a fifth year member, Regan is someone who stood out to me for his strong work ethic." said teammate Grayson Cosier, a senior defensive tackle from Kamuela, Hawaii. "Seeing him stay after practice and doing extra drills is not something you see often from younger members. Regan has a lot of potential and a bright future ahead of him both on and off the field."
However, Henshaw hasn't adjusted to everything as smoothly as football. Even after six years in the States, he's still not wild about American food. South Asian cuisine is a popular staple in England, but noticeably lacking in McMinnville. As a result, he decided to cancel his student meal plan and cook in his dorm, experimenting with a range of cuisines including Indian, Bangladeshi and Sri Lankan. Henshaw noted that one of his favorite go-to meals is jollof rice, a Nigerian dish traditionally served with long-grain rice, tomatoes, onions, spices, vegetables and meat.
"In England, I come from a very affluent area where I am considered the minority," Henshaw said. "So when you are surrounded by people from so many diverse places like Jamaica, the Caribbean or from the Udo Islands, the food you get to eat is really banging."
Looking forward to the next three years, Henshaw said that while it might be ambitious, he hopes to be Linfield's starting kicker for the next three years and try to get to the NFL. But most important is his goal is of returning to soccer someday and settling down near his family in Lake Oswego.
Until then, Henshaw hopes to enjoy his years at Linfield. Every day he's in Oregon, he is learning something new – whether it's about the game of American football or that true Oregonians don't use umbrellas in the rain. (And most of them don't wear Hula shirts, either.)
Leave a Comment