Casey Wong: Tech extraordinaire, spirit leader and swimmer
In the chilliest months of the year, the Linfield swim team made the trek back from a meet at Willamette University in a bus with no ability to defog its windows. The bus was equipped with little fans in a poor attempt to clear the windshield. In that moment of low visibility a hero arose: without a word Casey Wong, a member of the team, walked to the front equipped with paper towels. Wong stood at the front of the bus for the rest of the ride continually wiping the glass so that the driver could see.
Wong has a killer backstroke, but he's so much more than just a swimmer. Wong is also the team's tech guy, supporting and walking thesaurus. The senior from Honolulu has been swimming since he was 8 months old. In his early days, his parents forced him to attend class and practice, but he has since grown to love the sport and his team at Linfield.
"We truly feel like a family," Wong said. "Coach Kyle (Kimball) and Coach Alec (Webster) make you feel wanted, and they understand the ups and downs of being a collegiate athlete."
Even in those moments of seemingly endless conditioning, Wong's gracious nature shines through. Winter training, for example, is a grind but also his favorite time of the season because he bonds with his teammates.
"It is the part of the year where the team truly gets close to each other," Wong said. "The feeling of all of us being there, doing the same thing and trying hard together is special to me."
The relationship Wong shares with his teammates is one of trust. So much so that Wong's teammates consider him a second coach, often going to him for advice or drills to improve their swim mechanics. Wong's knowledge of the sport supersedes his age and experience. His teammates' trust in him is a testament to Wong's wisdom.
"A lot of people go up to Casey and ask, 'What can I work on?'" teammate Omri Forte, a graduate student, said. "He also coaches an actual swim team and he's incredibly good at it."
Beyond his knowledge of the sport of swimming itself, Wong brings an unyielding spirit to the team. He's known for being decked out at the conference swim meet in the team's colors of cardinal and purple.
"He has so much school spirit at conference. He's got hats, necklaces, leis and even fake tattoos," Forte said. "He's always cheering people on."
Wong is a beloved member of his team. He puts his teammates high on his priority list and is constantly trying to help others. While he will soon graduate with a degree in computer science, it is unlikely Wong will be forgotten anytime soon. His energy and vitality have left a mark on his teammates and the program.
"Casey is one of the most prepared, caring and quirky people I've ever met," teammate and roommate Ben Simpson, a senior, said.
Wong's decision to attend Linfield was intentional. Linfield was one of three schools recommended to Wong by his youth swim coach. When Wong was unable to decide between the three, he went where he felt the most wanted.
"Linfield was the last school I applied for and the first school to respond," Wong said.
That sense of community was important to him. The small classes and tight-knit city were reminiscent of his hometown in Hawai'i.
"I chose this school because of the atmosphere. The class sizes are small, and the professors made it seem like they wanted to help their students," Wong said.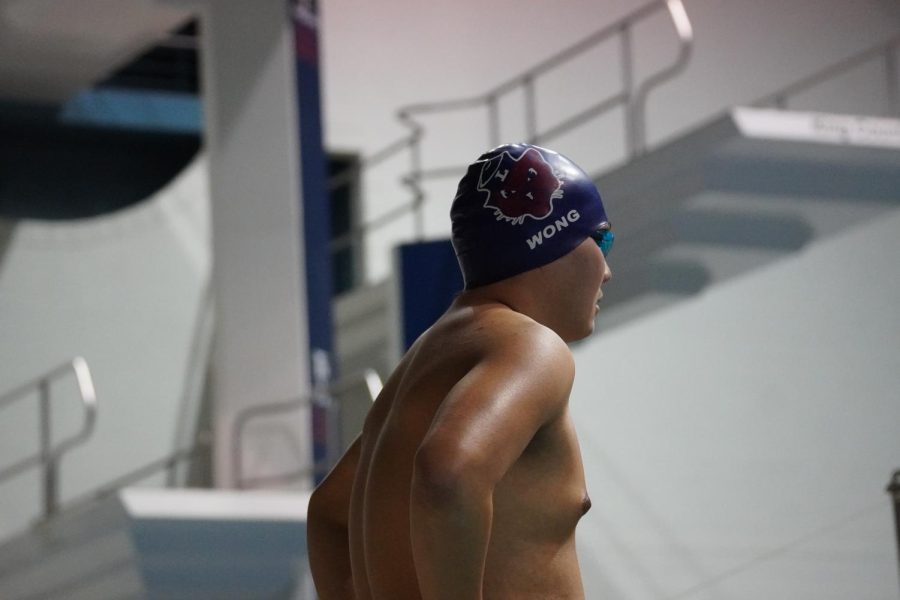 Growing up outside of Waikiki, Wong met people from all walks of life. Tourists from around the world flocked to his home island of O'ahu, allowing him to become familiar with various cultures and backgrounds. While Waikiki is a hub of international tourism, Wong's family and friends made his community feel much smaller, in a good way. Wong was the youngest of his cousins and siblings so he was especially close to his parents. He chalks most of his development up to them and the coaches he had when he was young.
"My coaches taught me how to be tough and understanding at the same time," Wong said. "In training and talking with them I relied on their experience and knowledge to grow."
Outside of swimming, Wong is involved in the Lu'au and Hoike put on by the Hui o Lōkahi club at Linfield. While he does not dance, Wong enjoys sharing a bit of his home with the Linfield community. Volunteering has been one of his favorite memories from his time at Linfield.
In the classroom, Wong is an expert on all things technology. As a computer science major, Wong enjoys learning about software development. He came into Linfield undecided, torn between computer science and exercise science. It only took one computer science class— "COMP121: Introduction to the internet and the World Wide Web," to be exact—for Wong to make a decision.
"After taking that class I realized that I liked doing this type of work. I also realized that I was not cut out memorizing all the names of the body parts in the human body," Wong said.
It has become clear in the years since that Wong was meant to pursue computer science. He is known as the "tech guy" in his friend group and his friends and peers often ask him for help with all things computers and electronics.
"If there's a problem Casey will try to fix it," Forte said. "If the clocks or the touch pads aren't working at a swim meet, he'll go fix it."
Beyond fixing his friends' gadgets, Wong loves immersing himself in all things technology-related. His favorite class was platform-based software development because it allowed Wong to see the big-picture applications of his degree. In the class, he built a web application and got to see his hard work bloom into a finished product.
Even in his free time, Wong loves spending time around technology. His favorite hobby is gaming and watching other gamers' stream on Twitch.
"It helps me get away from the real world and calms me down. Playing video games is also another way I increase hand-eye coordination and work on improving my fine motor skills," Wong said.
Wong and his friends also enjoy playing games together. Whenever they need a break, they put on a "Switch night" where they gather in one of Renshaw's classrooms to play Nintendo Switch.
"We take the big monitor and play a bunch of games: Smash Bros., Mario Kart and Mario Party," Forte said.
In addition to being the IT guy in his friend group, Wong has also earned the nickname "Thesaurus" for his plethora of fun facts. The origin of his wealth of knowledge is unknown, but it makes a lasting impression according to his friends.
"He knows things that I wouldn't expect him to know," Simpson said. "Sometimes he'll mention something like 'Oh yeah, I know how to fix a car,' and it'll catch me off guard."
Wong is constantly putting his skills to use to help others. Equipped with some useless (but fun!) facts and all the tools he needs, Wong is unstoppable.
Just ask the Wildcats' bus driver.
Leave a Comment