Basketball and swim take home conference honors
Linfield University's winter sports have garnered recognition from the Northwest Conference in the past few weeks. On March 29, swimming and men's basketball swept the NWC Player of the Week competitions.
Sophomore swim duo Kate Walkup and Edan Donaldson were both named Swim Athlete of the Week after the team's final meet of their undefeated 2021 season on March 29. That same week, basketball's Dempsey Roggenbuck took home the Basketball Player of the Week honor and has since been awarded his third of the season on April 6 after scoring a career-high 43 points against Pacific University on Friday.
Roggenbuck has now collected seven weekly NWC honors in his career, with the last three coming in the first three weeks of 2021's season. The senior leads the league in points-per-game by an average of more than 10 points. The next closest player to Roggenbucks' 31.5 average is Pacific Lutheran University's Seth Hall, with 20.2 points per game.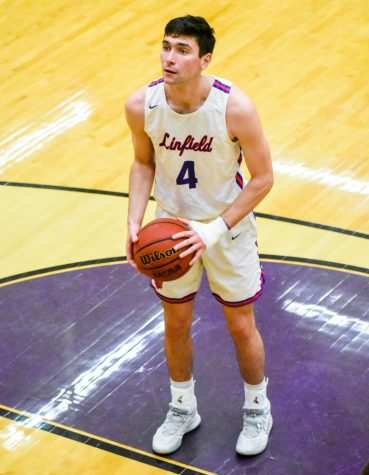 Men's basketball is currently placed second in the conference with a 6-1 record after a 91-79 win against George Fox University on Friday. The Wildcats dropped their season opener to GFU 106-102, but are now enjoying a six-game win streak.
"The team's key to success, in my mind, is ourselves," said Roggenbuck. "We know that we are the only thing that can hold us back, so just continuing to work on the little things is huge for us."
Men's basketball only has five games remaining in the shortened season with no postseason tournament planned, due to COVID-19 restrictions. Up next, the team will face George Fox once more on Saturday night.
"We still have a long way to go but it's really nice to see our progress as a squad," said Roggenbuck. "I feel very honored and just thankful for this team. It's full of unselfish people who care about each other's success."
Linfield swim finished their season on March 27 with wins against Pacific, the women victorious with a score of 144-83 and the men following suit with 131-53. Walkup and Donaldson both contributed multiple winning times during the meet in Forest Grove, leading to the sophomore duo's first career Player of the Week honors.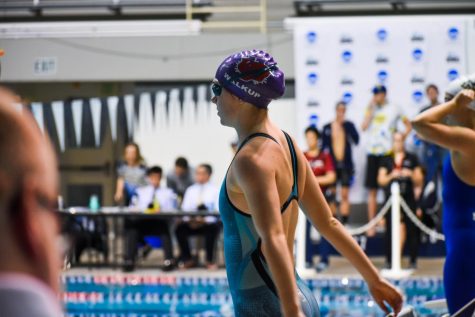 "Even though it didn't happen during a normal season, I'm still very thankful for the recognition," said Walkup. "I couldn't have done it without my teammates by my side pushing me every step of the way. Since this was such an abnormal year, the support from my teammates and coaching staff was especially important."
Walkup placed first in the 1,650-yard freestyle with a time of 18:39.42 seconds, beating the next closest competitor by almost two minutes. She also took home the win for the 200-yard backstroke with a time of 2:12.35.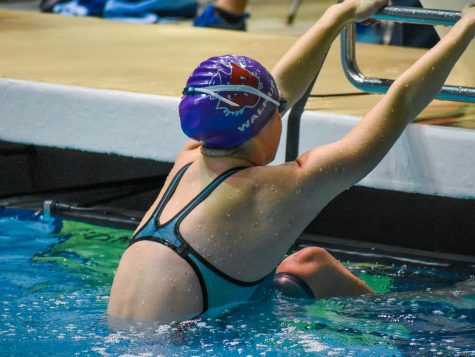 "Awards themselves don't mean a whole lot to me, but the swimming itself does," she said. "The fact that I was able to come close to some of my personal best times speaks a lot to my cross training and positivity throughout this weird year. It's a reminder to keep training hard and believing in myself as well as my coaching staff."
On the men's side, Donaldson took home three wins of his own, including a narrow win over senior teammate Daisuke Fitial in the 50-yard freestyle, setting a personal best with a 21.47 second finish. He also recorded the fastest time in the 100-yard butterfly at 50.46 seconds.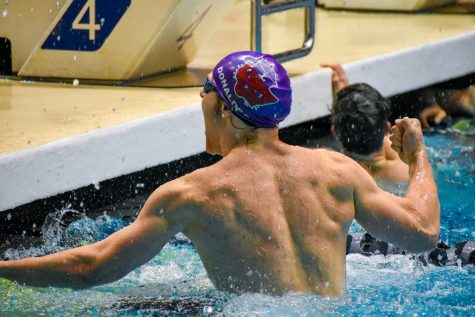 "It was a fun way to end the season, but in all honesty I was just happy we were able to compete this year," said Donaldson.
During his freshman year, Donaldson competed in and won the 400-yard freestyle during the NWC championships. He also currently holds top-four fastest times in program history in the 50 butterfly, 100 butterfly, 100 backstroke and 100 freestyle.
The promising young swimmers both look forward to using their offseason to compete with their respective club swimming teams and continue cardio training outside the pool to stay in shape. Both look forward to the potential of a normal season in the coming school year.
"This year was hard for everyone, having a more normal season will be best for all the swimmers and our coaches," Donaldson said.