Lacrosse takes down conference rivals at home
The Linfield women's lacrosse team started off their season with a devastating loss at home at the hands of Aurora Spartans on Thursday.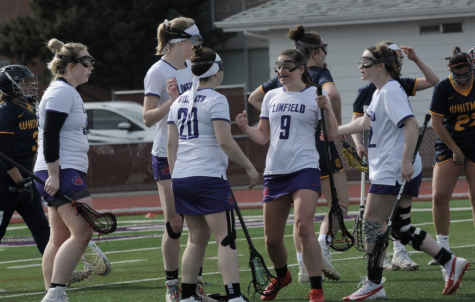 The question for the next two games that weekend would be how the team would respond after the weak home-opener. 
On the bitter cold Saturday night, the Wildcats welcomed division rivals Whitworth Pirates to Maxwell Field. 
The Cats wasted no time and got straight to scoring. Linfield sophomore Josie Duey landed the first blow and scored the game's first points. 
Although the heat continued to decrease the passion on the field rammed up. The Wildcats never ceased their attack for a moment.  
The Pirates answered with a goal of their own and tied up the game early in the first half. 
As the moon-light illuminated the field Linfield's star players started to make a statement. The Wildcats would score four consecutive goals and take a lead they would never give up. 
Although the Pirates would show some life in the second half Linfield's defense, led by senior goalkeeper Kylee Duey, fended off any idea of a come-back.
The Wildcats would take the game 16 – 9 over Whitworth. Junior Jenna Hessel and Duey would share the honor of top scorers, each getting four goals.  
"These first three games were great learning opportunities for the team," Hessel said. "I think, over the course of the weekend, we learned a lot about each other and how to work together." 
The next challenger was the formidable Whitman Blues. The March 8 game was a grudge match where the two teams blow-for-blow. 
The Wildcats would come back from a three score deficit in the first half. The score was tied up at the start of the second half. 
The Wildcats would blow the door down in the beginning of the second half by taking a 10-5. The Blues would battle back to make it a two point game with little more than 6 minutes left in regulation. 
However, the Linfield defense stayed strong and held on to their lead and beat the Blues 13-11. 
"Our first wins feel amazing," Duey said.  "We worked really hard for over a month practicing and getting ready, so it feels good to know it's paying off." 
With a successful first week of play in the books the Wildcats have their eyes locked on to next week. 
The Cats will be back home on March 14 to take on Pacific University at 1 p.m. and Willamette University on March 15 also at 1 p.m.