A fairy-tale experience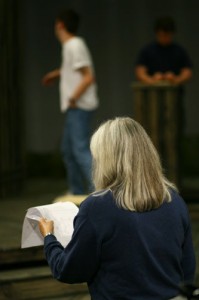 Lizzie Martinez
Senior reporter
"Every minute I've spent here has been a delight."
When you hear Visiting Director Ellyn Gersh Lerner say those words, she radiates sincerity.
Sitting behind the desk of Janet Gupton, associate professor and director of the theater department, who is currently on sabbatical, Lerner appears to be at home.
Her sense of familiarity at an unfamiliar school may be attributed to working with her friends Brenda and Ty Marshall, both professors in the theater department. Or perhaps it is because of her lifelong desire to live in Oregon, despite the rainy weather.
"For years and years, I had this fantasy about Oregon before I ever set foot here," Lerner said. "So it really is a fairy tale for me to be here working with staff and students who are so focused, caring, interested, talented and organized."
From the moment you meet Lerner, you get the sense she is an advocate for and ally of Linfield College, or for any small liberal arts college, even though she teaches at a university of 36,000 students.
Lerner is visiting Linfield from her position in the Department of Theatre at California State University Northridge in the Los Angeles area. She arrived in Oregon on March 29 to begin casting and directing the latest Linfield production, "Book of Days," which opened on May 7.
"I believe students are more likely to grow to question their own beliefs and learn from one another in a small, liberal arts environment where they are part of a community," Lerner said. "From the day I arrived here, I have seen this happen."
Since coming to campus, Lerner faced a challenge: In exactly six weeks, she needed to hold auditions for "Book of Days," cast the actors and hold numerous play practices to prepare for opening day. In addition, the production features a large cast of 12 main characters who play integral roles in the production's nearly 60 short scenes. When you add an innovative lighting design, you have the makings of an obstacle course for any director.
All of those factors forced Lerner to be more demanding of the student actors. For auditions, students were required to prepare a monologue and memorize their lines as soon as possible, coming into characters more deeply than before.
For students not familiar with Lerner, it was a shift.
"It was a struggle at first to get used to her," actress junior Jillian Haig said. "It's hard auditioning for another person."
Lerner's extensive experience in theater, however, provided her all the skills necessary to pull it off.
"On the one hand, I'm very warm, silly and compassionate,
but at the same time, I'm pretty authoritarian," Lerner said. "I'm open to new ideas, but I have my expectations."
In the end, the high standards have paid off.
Despite the difficulties that come with being a visiting director, such as adapting to a new department, a new location and new students, Lerner said she enjoys it.
"I've done this guest thing before," Lerner said. "And I like it. I'm fairly adaptable."
Of all the arenas in which a director can work — professional, community or educational theater — Lerner prefers the last one. During her career, she has worked with young children, high school students and undergraduates.
"The most personally gratifying environment [for me] is college-aged students who are at this uniquely special stage in their lives where they are thinking about the future," Lerner said. "To be able to participate in that is a wondrous thing."
Last year, the Marshalls offered Lerner the opportunity to come to Linfield. The trio previously worked together, and Lerner jumped at the chance to collaborate with them again. They joined forces on the play, finally selecting "Book of Days" for its large ensemble cast and its complex themes.
In many ways, the opportunity to come to Linfield was gratifying: working with friends, visiting a state she had always wondered about and working in a small-college atmosphere.
"It was an opportunity I couldn't pass up," Lerner said. "On May 17 [when I leave], I'm going to be very sad. I miss my family and friends in L.A., but I can't say I miss L.A."
When all is said and done and the cast and crew have successfully executed the seven-show run of "Book of Days," Lerner will hop on a plane to return to her normal life. But the experience at Linfield has changed both her and the students she has worked with.
"She brings a really different energy and atmosphere to rehearsals," actor senior Matt Cantelon said.
Haig thoroughly agreed.
"It's been a fun and intense journey," she said.
For Lerner, she learned a lot about how to maximize the limited amount of time she has to prepare a play. She said she has reconsidered how best to move a project along.
"I've had the luxury to be able to examine my own priorities and practices as a director," Lerner said. "I can only hope I'm not terrorizing or confusing them, but facilitating."
Though Lerner has been on campus for fewer than two months, the environment and location has grown on her, sparking a conversation with her husband about possibly moving to the Willamette Valley someday. Perhaps her love for small liberal arts colleges will one day draw her back to Linfield.