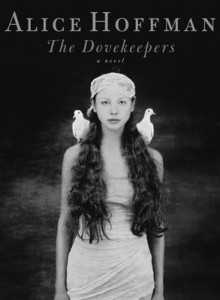 "The Dovekeepers," the newest novel by Alice Hoffman, is often disturbing, occasionally sexy, usually sad and an oddly satisfying work of feminist literature.
"The Dovekeepers" is a novel inspired by actual events. According to historians, the fortress of Jewish rebels was surrounded by Roman soldiers and destined to be violently desecrated by the soldiers. So, instead of letting the Roman soldiers destroy them, the citizens in the fortress (around 900 people) committed mass suicide and burned down the fortress.
In this novel, only two women and five children survived to tell the tale.
Don't worry, this is history, and therefore, not a spoiler.
Set in 70 C.E. in the deserts surrounding Jerusalem, "The Dovekeepers" tells the story about the Roman army's siege on the last Jewish fortress on the mountain of Masada. The story is narrated by four women who were seemingly unimportant during the time period, but in reality, they were the backbone of the Jewish resistance against the Romans.
The women work together as dovekeepers, hence the title of the novel, and witness all the heart wrenching events within the fortress. Each woman, Yael, Revka, Aziza and Shirah, tells of her traumatic journey from the home she was chased from, to the mountain of Masada, and the ongoing events within the fortress. Each woman faces her own difficulties, such as adultery, unwed childbirth, cross-dressing and witchery.
Alice Hoffman is an experienced author. She wrote the children's novel "Aquamarine," as well as "Practical Magic" and the screenplays for both films that were based on her novels. In total, she has written 33 novels and five
screenplays.
Ron Charles of "The Washington Post" describes Hoffman as, "The most uneven writer in America. A trip through her enormous body of work—for adults and young people—is a jarring ride… But nothing she's written would prepare you for the gravitas of her new book, an immersive historical novel about Masada during the Roman siege in the 1st Century."
When one thinks of the times of the Romans, his or her mind goes to Spartacus-style battles or Julius Caesar and his troops, but one rarely thinks of the women of that time.
"The Dovekeepers" is a refreshing feminist reimagining of true historical events that doesn't coddle the reader. Unlike Hoffman's other works, "The Dovekeepers" is full of gratuitous violence, several vivid rape scenes and many vicious murder scenes. So, if you're easily disturbed and prone to nightmares and bedwetting, you should steer clear of this novel. "The Dovekeepers" should be on any ambitious reader's list this flu season.
Paige Jurgensen/For the review
Paige Jurgensen can be reached at [email protected].