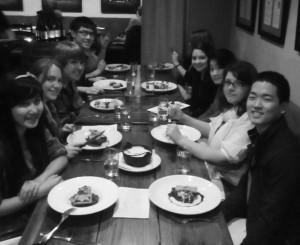 College students' meals don't usually include crème puffs and escargot, but a few Wildcats were granted a break from Dillin dining when they attended the event "Taste of: Recipe 'A Neighborhood Kitchen'" March 1 in Newberg, Ore.
For just $4, the Linfield Activities Board (LAB) sent students to enjoy a classy dinner and dessert, normally priced at $30 from Recipe. They enjoyed dishes, such as flank steak with pureed potatoes, and heirloom lettuce salad with vanilla rice pudding for dessert.
"Recipe had a warm and inviting atmosphere and food that looked like art," said senior Megan Bahrt, LAB cultural events chair. "The service was wonderful, and we all had a good time."
Owners Dustin Wyant and Paul Bachand are passionate about cooking with only the highest quality foods from local farms and ranches. They embrace the "slow food" movement, which promotes local and sustainable foods, rather than fast food and the globalization of agriculture.
"A large portion of the food there was locally sourced, which was obvious by the freshness of everything I tasted," said sophomore Chloe Shields, one of the participating students.
Wyant and Bachand abide by old-school cooking rules, using family recipes and timeless methods. They hand-make their own pasta and Buratta cheese every day, illustrating the care they take in creating their foods. Recipe's menu changes with the seasons so that customers are indulged with the flavorful foods at the peak of their harvest.
Wyant and Bachand feature dishes that one would eat amongst friends and family in the comfort of their own home, which perhaps explains why the restaurant is established in a classic Victorian home. Recipe's farmhouse design is intended to make customers feel welcomed and comfortable in their restaurant.
"Recipe was a little small, as it was tucked away in the structure of an old Victorian house." Shields said. "The restaurant was beautiful and provided a warm and relaxing candlelit atmosphere."
"Taste of" outings are created to give Wildcats dining experiences with foods from a variety of cultures and locations outside of McMinnville.
"I came to the U.S. as an exchange student with a view to experience new things and broaden my horizons. Sometimes I feel McMinnville is a bit too small, and there are not many places to go and not so many things to do. Although, I still love this town," freshman Chihoon Cho said in an email. "These 'Taste of' trips (have) granted me the opportunity to understand the diversity in the U.S. food culture. I appreciate it from the bottom of my heart."
If cereal, pizza or—heaven forbid—Thai Country gets old, students can make the trip to Recipe, where they can enjoy home-style dishes from the local wine country.
Carrie Skuzeski/Culture Editor
Carrie Skuzeski can be reached at [email protected].