Linfield introduces mental health app Joyages for students
With mental health being a hot topic of conversation on Linfield University's campus, a new app has been introduced for students. Joyages, a free mental health app, offers a variety of lessons and activities, to provide habit-building skills, mental health resources and support.
This past year, Mayo Clinic Health System reported that 44% of college students were experiencing symptoms of anxiety and depression. With this, it is important to have resources available and ready for students to use. Although there are other types of coping strategies to help aid mental health such as therapy and online chats, if the app is successful, it could be one of the more accessible resources available.
The sign-up process is user-friendly and takes less than one minute to set up. On the first slide of the app's website, it claims to have "a customized experience designed to empower users to become happier in less than three minutes each day." The idea is that you spend minimal time, to get maximum results. But can it be that easy?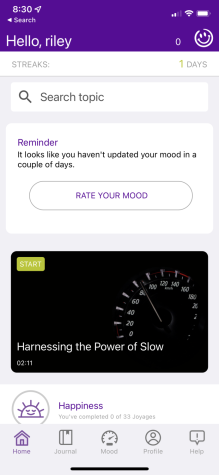 Some may say that apps like Joyages are pointless and in-person help is the best option, but not everyone has access to those resources. Sometimes, an app is the easiest option for people. One aspect of the app that is important for everyone to have access to is the "get help" page. This page lists the quick link resources for some of the most important hotlines, numbers, and websites.
The app emphasizes the importance of having quick access to suicide and addiction help. The "get help" page provides the Suicide Prevention Hotline number, which is 988, as well as the website, here. Joyages also provides the National Drug Helpline, 1-844-289-0879. The app also offers the ability to help connect with a therapist, and many other helpful links.
Available under the "home" page, there are various Joyage options including habits, resilience, suicide prevention and happiness. A daily Joyage includes a video with activities that moves you through the process. Each video is less than three minutes long and gives you tips, and resources based on the Joyage theme you are working on.
A unique aspect of the app is that it offers an online journal for users. Joyages provides the digital space, with daily prompts included, to journal down thoughts and feelings. Journaling after each Joyage is encouraged to track progress and emotions as well as expand the impact of the theme.
One component of Joyages is the ability to track daily emotions. This is available in the track emotion toggle, which lets you rate your moods and feelings on a scale. The tracker then uses the data to help set up your Joyages. It is encouraged because it creates a more customized experience for individual users.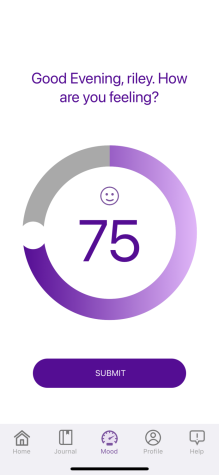 While there are few reviews on Google Play and the App store to give insight into others' experience with the app, there tend to be two contrasting experiences.
Half of the reviews explain that users have had difficulty navigating the Joyages and that the system is not working or tracking progress. "I am stuck watching videos repeatedly because it doesn't mark them as complete," said one reviewer on Google Play.
The other half state that they enjoy the videos and find them very helpful. "I love the videos- there's a lot of content here that can help you!" said a reviewer on the App Store.
The mixed reviews seem to be based on personal experience, not across the board, in both directions. Also, there are many other mental health apps available alongside the Joyages app including Moodfit, Talkspace and Headspace, all available on Google Play and the App Store.
Whether this app is beneficial to all students, it could be a step closer to getting better mental health resources on campus and allowing everyone accesses to some form of help if needed.