Defense lifts Linfield to homecoming victory
The Linfield defense came to play Saturday afternoon, holding off the Redlands Bulldogs (0-3), for a 21-3 Homecoming game victory at Maxwell Field.
Linebacker Blake Rybar led the way for Linfield with a forced fumble, four tackles for a loss and a sack to go within his 10 total tackles. Edge ruser Travis Swanson tallied two sacks to go along with his five tackles. Linebacker Logan Carr totaled a sack and five tackles as well. On the back end, safety Ben Baxter intercepted Herrera for his second interception of the year to close out the first half.
Gaining just 84 yards of total yards, the visiting Bulldogs offense did not travel very well, struggling to find any sort of rhythm throughout the game. Following a late first quarter field goal, the Redlands offense proved to be ineffective.
In the trenches, the Wildcats' run defense resembled a brick wall, allowing just one yard per rush on the afternoon. When Redlands quarterback Myles Herrera dropped back to pass, the Wildcats' defensive front pinned their ears back, bringing Herrera down for five sacks.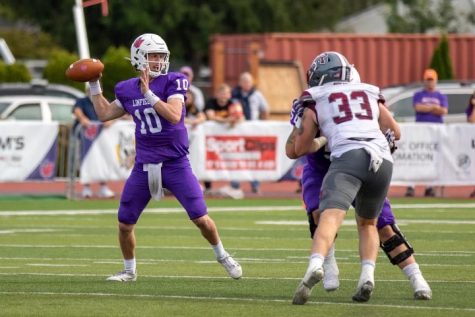 After putting up 41 points on the road in week one, the Linfield offense did not seem to be firing on all cylinders. First year starting quarterback Blake Eaton threw for 230 yards and tossed two touchdowns, both to receiver Devon Murray. Murray finished the day with seven receptions for 54 yards to go along with his two scores. Receiver Colton Smith hauled in a 45-yard bomb from Eaton to propel his team-leading 64 yards on three receptions.
The backfield Connor-combo of McNabb and Morton led the potent rushing attack for Linfield. Mcnabb ran for 77 yards and a touchdown, while Morton added another 51 on the ground. Eaton did his fair share as well, scampering for 29 yards.
The No.8 Wildcats (2-0) will have the next week off before they kick off Northwest Conference play by hosting the Loggers of Puget Sound (0-2) at 1:30 p.m. on October 1.