A Linfield student in search of the ideal bubble tea
I still remember the feeling of being torn away from my favorite drink as I sipped my final straw full of bubble tea before leaving home for college in August of 2019.
The mixture of sweet milk, bitter tea, and chewy tapioca pearls takes me back to some of my earliest memories. My mom would walk my sister and me up to the little bubble tea cart at the top of our street when I was barely old enough to order my own drink.
Punching a hole with my green straw through the stretchy plastic seal that kept my tiny, clumsy hands from spilling the icy beverage felt like the initial enjoyment of the treat I held between my palms.
Those first sips of bubble tea I enjoyed at such a young age stayed with me throughout my childhood. The creamy, chewy drink soon became a bonding activity for my mom and me when my older sister left for college just before my junior year of high school. We loved trying new boba shops that began popping up around Eugene, Ore., almost as fast as the bubbles sneak up through the straw.
While I knew the day would come that I would have to say goodbye to bubble tea in Eugene and hello to college in McMinnville, Ore., with no bubble tea, I still dreaded it. I didn't want to give up the fun activity that my family had created that was centered around this drink.
Coming to college, I knew I wouldn't have the ability to enjoy bubble tea like I had previously. I didn't have a car, I would be busy with classes and swimming, and I didn't even know where the closest bubble tea shop was located.
However, by the time my sophomore year rolled around, I'd explored the neighboring cities and discovered a few shops that satisfied my craving for a drink with chewy bubbles inside.
But now, on April 9, 2022, well on my way to finishing up my junior year of college, I decided that today was the day to test my bubble tea limits. So I persuaded a few of my friends to accompany me on an adventure—visiting six different bubble tea shops in the greater Portland, Ore. area to discover the best place to satisfy my craving.
Now, the popularity of this tea trend that has spread around the world in the past few decades means that the drinks can be rather expensive—especially if you find yourself craving this treat more than once a week. However, to help make your bubble tea experience more affordable, I've compared the prices and the quality of the various drinks in the area to find the best deal—and the tastiest bubble tea.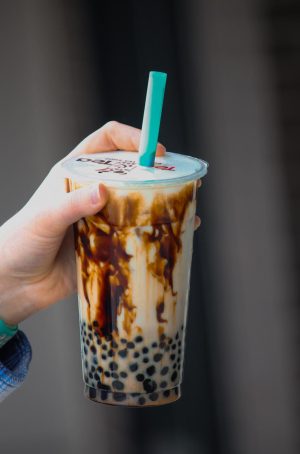 Tea & Tea
Our first stop today was Tea & Tea. This bubble tea shop took us 57 minutes to get to from McMinnville and was located in Beaverton, Ore., in a newly developed apartment and shopping complex.
When I asked the baristas at Tea & Tea what their most popular drink was, they suggested I try their Tiger Boba. This drink was $6.25, which was on the more expensive end of the drinks sampled that day. However, the amount of tea and toppings I was served more than made up for the price.
The Tiger Boba consisted of brown sugar stripes coating the inside of the cup, creating the tiger striping effect. Instead of just having the regular, straw-sized boba, the drink included mini boba as well. I decided this drink deserved a 7.5/10 rating only because the style of the drink doesn't include tea—just brown sugar syrup and milk.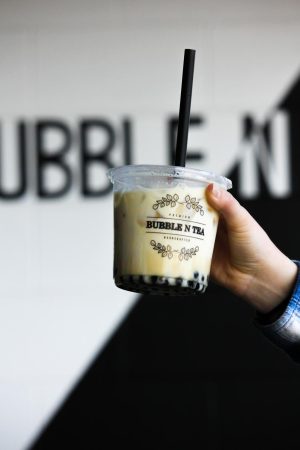 Bubble N Tea
Our next stop was Bubble N Tea, which takes just under an hour to get to from Linfield. Before stopping at the boba shop, I already knew from my research that the cups this shop used were different from any other bubble tea cup I'd seen. They almost looked more like bowls than cups. However, I quickly realized that I didn't prefer these over the classic tall cups I'm used to.
My hand got so cold from the drink, and it couldn't escape to a warmer section of the cup until I'd pretty much finished it. The beverage itself was ok; I'd decided to get my favorite bubble tea drink—a jasmine milk tea with boba—but it wasn't anything special. In fact, I've actually made a better version of the drink in my own college apartment.
This jasmine milk tea with boba cost only $5, making it the cheapest drink of the day. I decided to rate this drink a 6/10 because it was good, but not anything special. Also, the straw stood twice as tall as it should have for the stockiness of the cup, making it somewhat challenging to drink.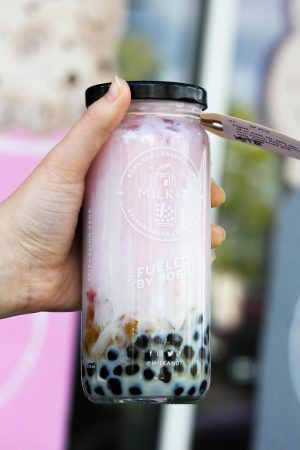 Milk + T
Moving on, we made our final Beaverton stop at Milk + T before moving on to the shops in the city. I had tried their bubble tea about a year ago, but I decided to add it to my list anyway because of how popular Milk + T is. This boba shop is about 56 minutes from campus.
I decided to try the Piglet Strawberry Coconut Milk Tea with boba, rainbow jelly, and condensed milk. The Piglet Milk Tea tasted like a sophisticated version of strawberry milk but with coconut milk. This drink only turned out to be $5.50, even with all of the additional toppings.
Milk + T used to operate similarly to a frozen yogurt shop where customers would be able to put their own toppings in the cup and then the baristas would assemble the drink with the tea for you. However, Milk + T had to stop doing this because of COVID and hasn't added that feature back in yet.
Another perk of this boba shop is that they allow customers to choose a reusable glass jar for their drink instead of a plastic cup. Overall, I decided to rate this drink an 8/10.
Tea Social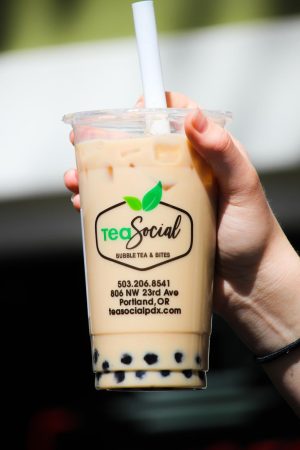 Next, we drove to downtown Portland to try the original milk tea with boba from Tea Social. This drink was also $5.50, but definitely not worth the price.
Before we even get into the drink, the location was cute but difficult to access. It's on 23rd Street right by the original Salt & Straw, so if you've ever gone to get ice cream there, then you know how difficult it is to find parking in that area. It's also about an hour and 5 minutes away from Linfield.
The tea tasted like a burnt protein bar and had a marshmallow and bark aftertaste. The boba disintegrated in my mouth and stuck to my tongue. Overall, I gave this tea a 2/10 rating—I wouldn't recommend it unless you enjoy that unique flavor palate.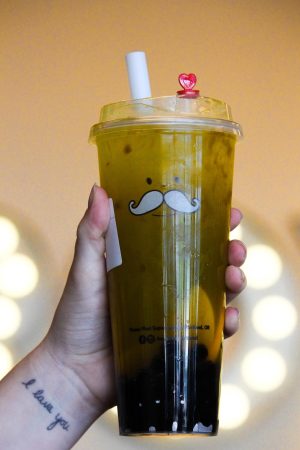 Royal Tea
After bubble tea number four of the day, I was craving a fruity tea. Royal Tea happened to be the next stop of the day, and I ordered their Lemongrass Orange Peach Tea with boba for $6.50. This drink was the priciest of the bunch, but it was served in a tall cup with actual pieces of fresh fruit inside.
This fruit tea tasted like a sip of summer, and the brown sugar syrup from the boba coated my teeth like a warm hug. This shop was located 1 hour and 9 minutes from campus, and despite it being a bit farther away than some of the others I visited today, I would still give it an 8.5/10 overall rating.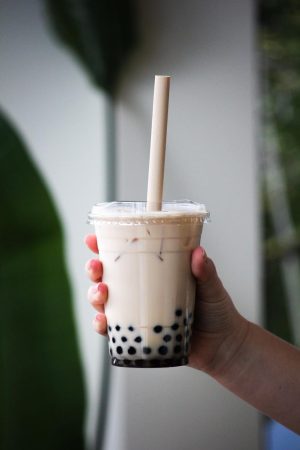 Tea Bar
Finally, it was time to make our final stop of the boba outing: Tea Bar.
The Tiffany blue logo of Tea Bar always catches my eye when I'm searching online for a new boba shop to try, but it's never made it on the list of places to visit in a day. At least not until today.
The windows stretched from corner to corner of the shop and light wooden stools lined the tables that looked out at the cherry blossom–lined street.
I decided to ask the barista what the most popular drink they offered was, and she recommended I try their Vanilla Rose Milk Tea with boba. Something fun about Tea Bar is that you can choose to sip your tea at the shop out of a glass jar or get it to go with a bamboo boba straw.
Tea Bar is located 1 hour and 9 minutes away from Linfield, but the $5.50 drink was more than worth the journey. The perfect combination of sweet, warm vanilla and soft, floral rose paired with the chewy boba satisfied my boba addiction for at least a week. This drink easily won the competition between the six bubble tea drinks, as I gave it a 10/10 rating without any hesitation.
The final consensus?
If you too are a bubble tea addict or are just looking for a fun place to try something new on the weekend, I've found the perfect place for you to escape McMinnville for a bit and try a delicious new drink.
If you're looking for a bubble tea shop that's a little bit closer to campus and you don't want to deal with potential Portland traffic, then Tea & Tea is calling your name. The extensive menu and friendly environment invites college students like you and me to take a study break and embark on a mini road-trip to get boba with your friends.
However, if you're up for a bit more of an adventure, I would encourage you to pack your backpack with your laptop and perhaps a camera and take the time to experience the tea and atmosphere of Tea Bar. But make sure you try the Vanilla Rose Milk Tea with boba just like I did!
View Comments (3)