Linfield Theatre opens "Treasure Island", first live production since 2019
Swashbuckling pirates have made their way onto campus, arriving just in time for Linfield Theatre's first live performance since November 2019. "Treasure Island", directed by Linfield's director of theatre Janet Gupton, opens on Nov. 11 in Marshall Theatre.
"It's an adventure story," Gupton said. "There's lots of sword fighting, knife fights, and lots of blood. But it's all a little bit on the funnier side, if you will. I'm very excited to have people back in [the theatre]. I think we need to come together as a community and experience something together."
The story follows a young Jim Hawkins on a treasure hunt based in the 1750s, when pirates controlled the seas. In this adaptation by Bryony Lavery, Hawkins is played by a woman, a departure from the typical adaptations of the story. 
"Girls want to go on adventures, too," Gupton said. "Why do we have to do it by gender? So, Jim, the main character, is played by a girl and it's written for a girl. And I like that about it."
Hawkins will be played by junior Zell Burke. This is Burke's first play at Linfield. Hawkins will be played by junior Zell Burke. This is Burke's first play at Linfield, and she noted that it's been eye-opening to watch how much work goes into a production behind the scenes.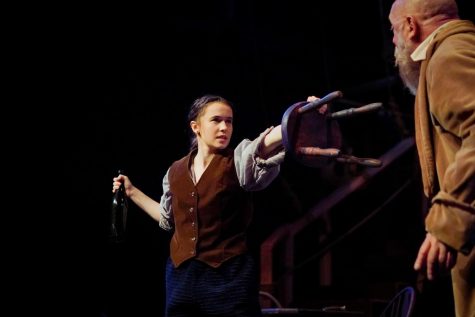 "I auditioned for the play because last year I felt so isolated from everyone else on campus due to COVID," Burke said. "I wanted to be around people again, make more friends, and get to know some other people on campus. While I didn't expect to get the lead for Treasure Island, it's been a wonderful experience so far. Even though I'm still nervous, I'm so excited for others to see what we've put together. It's really come a long way."
The last main stage production with a live audience was "Sweat" in November 2019. In 2020, the department was preparing to perform Shakespeare's "Measure for Measure," but COVID-19 shut down production two and half weeks before opening night. 
Over the last year, Linfield Theatre found alternative ways to perform, including podcasts, a film called "A Night in New Orleans", and live streamed performances. 
"Last spring, I worked on a film which I loved doing, but that is very different," Gupton said. "I found that my heart is in live theater, because I love the instant gratification of making an audience member smile or laugh."
For "Treasure Island", cast members will be unmasked on stage, thanks to COVID testing protocols.
"We did COVID tests and they've come back negative," Gupton said. "We're excited because so much of your face is important when you're performing, and also just being able to understand what they're saying because they're speaking with British accents." 
To attend, audience members will need to show proof of vaccination or a recent negative COVID test. Attendees will be required to wear masks for the entire performance. 
Opening night is on Nov. 11. Other performance dates are on Nov. 12-13 at 7:30 p.m., Nov. 14 at 2 p.m., Nov. 18 and 19 at 7:30 p.m. and Nov. 20 at 2 p.m. in the Marshall Theatre.