A moment in Linfield sports history: Portland Trailblazers take over Ted Wilson Gym
Blacked out gym windows, mysteriously closed gym doors and luxury vehicles. This was what Linfield looked like for a brief time in October of 1996. 
The Portland Trail Blazers used to travel around to local colleges in the greater Portland area as a way of getting media exposure while still being able to train at basketball facilities. Linfield acted as one of the sites for several years. The Blazers held training camps, media interviews and open practices in the Upper Wilson Gymnasium at Linfield during the fall.
In a photograph from an issue of The Linfield Review in 1996, the only noticeable difference in the upper gym is the people occupying it.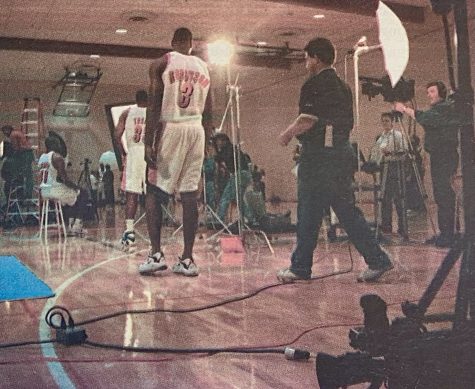 But the hoops and court? They look as though they are frozen in time. The '96 Blazers' team appear as though it should still be in the gym with cameras flashing, basketballs swishing and Nikes squeaking. 
Linfield students and faculty were granted the opportunity to watch the NBA players practice for several of the days they were on campus. 
Most NBA teams didn't allow outside access to their preseason practices, but the Blazers saw this as an opportunity to give back to the community.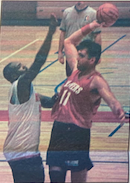 Linfield basketball players had the unique opportunity to learn from the pros by taking a closer look at their practices and seeing how they worked together as a team. This opportunity was like none other for the student-athletes and faculty.
After completing a week of training in McMinnville in front of local media organizations and Linfield personnel, the Blazers made their way to Lewis and Clark College in Portland before opening their 1996 season. 
But what about now? Does Linfield see blacked out windows and hear basketballs effortlessly swishing through nets every fall? Not anymore. 
The last time Linfield hosted the Blazers for a training camp was documented in 2005. Other schools in the Northwest also used to host them, but it now appears that the Blazers exclusively train in their various facilities in the Portland area.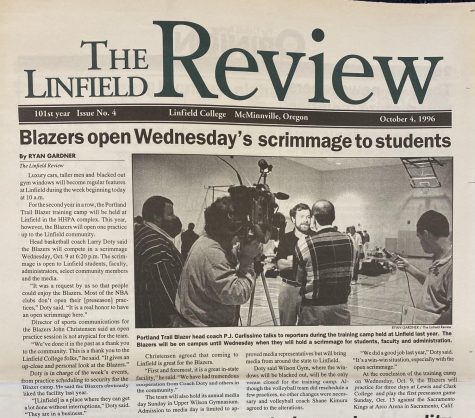 The only way for students to relive the experience of the Blazers setting foot on campus is to step into the gym where they once stood over 20 years ago. Nothing but the people standing inside has changed over the last two decades.