Senior basketball player balances school, sports and work  
Senior Linfield women's basketball player Jordyn Feinauer has successfully navigated the school year balancing three jobs—full-time student, NCAA athlete and student teacher. In a normal year, her schedule is challenging in and of itself, but during the COVID-19 health crisis, it seems nearly impossible. 
For Feinauer, Tuesdays tend to be the days that go on and on. She begins her student teaching at 7:45 a.m. when she logs into her third-grade Zoom classroom from her computer at home and teaches online until mid-morning. 
After the morning session, she makes the 20-minute drive to the elementary school where she teaches from the classroom with her mentor teacher from 10:00 a.m. to 2:30 p.m. while the students continue to learn virtually from home. 
The teaching pace can be chaotic. "Thirty-one seven- and eight-year-olds on Zoom is a lot," Feinauer said. 
Although she would prefer to teach either first or second grade, she has found that she also enjoys instructing the slightly older students. "I really like it," Feinauer said. "I didn't know if I was going to because I wanted to do first or second, but I actually like it and I really like my mentor teacher."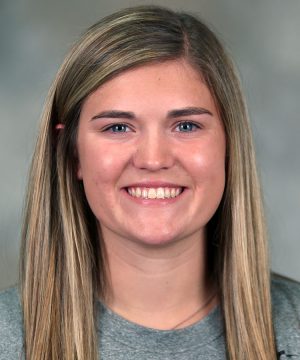 As an elementary education major, Feinauer knew her senior year would start out with part-time student teaching in the fall and full-time in the spring, but she had no way of knowing that this would all be happening remotely. 
While she isn't having a difficult time adjusting to the Zoom format of teaching, her young students have had a number of obstacles to face. "A lot of our kids switch between mom and dad's house, so I've noticed some kids do better at mom's house, some do better at dad's house," Feinauer said. "It's every other week for those kids." 
After the first few months of teaching, she has noticed varying levels of attentiveness amongst her students. Some students never show up to class on Zoom but somehow manage to complete all of their assignments. Other students always log in to class but never turn in their assignments. "I'm finding the balance of when to really nark and push and when to take what I can get," said Feinauer. 
After a full day of student teaching, Feinauer returns to campus for basketball practice from 4-6 p.m. Practices have looked a little different during the 2020-21 for the veteran, but she is taking every opportunity to get better and demonstrate strong team leadership. However, she often has to leave practice early to attend her senior seminar class in the evening.
Despite all the challenges, Feinauer is still focused on basketball. "We threw in a new offense this year so we're really harping on that," she said. Since the team's season was delayed, they have had extra time to focus on training and not worry about preparing for games just yet. Feinauer believes that this has helped assimilate the newcomers to the team because they are all learning something new together. 
After college, Feinauer hopes to secure a teaching job somewhere close to Hillsboro, her hometown. However, the senior guard is still hoping for a final season with the Linfield women's basketball team. 
Whether or not Linfield basketball is able to compete this spring is entirely dependent on the state of the pandemic. The NCAA defines basketball as a "high-contact sport," which means that their restrictions will be tighter than lower contact sports deemed less risky, such as soccer or softball.
Men's and women's basketball hope to have a shortened season competing against other Oregon schools, but restrictions have prevented both teams from practicing since returning from winter break. The first scheduled game for both teams was originally Feb. 9th, but it remains unlikely that the games will take place. 
"We could be practicing for no season," Feinauer said. "It's just the mentality that we're hoping to have a season, so we're going to bust our butts until we hear otherwise."