A new platform for campus events and activities comes to Linfield
This semester, Linfield University adopted the Engage online platform as a way of promoting events, performing contact tracing, and conducting surveys. Will this new way of communicating with students about various events be a successful way of creating a better community around campus? 
Engage is a website that can share events from many different clubs and organizations in one place. Instead of sending out multiple emails and newsletters informing students about events, students can see everything that is happening on campus in the next few weeks through Engage.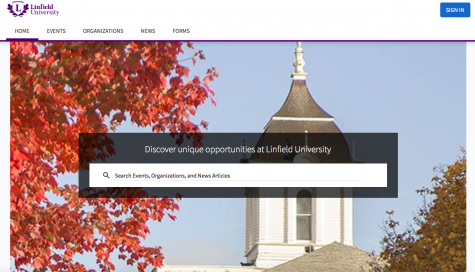 Sarah Fuller, Assistant Director of Student Activities at Linfield, played a significant role in bringing the online platform to Linfield. Vice President of Student Affairs and Athletics and Admission, Susan Hopp, asked Fuller to look into different platforms that would facilitate contact tracing while maintaining a rich student life. 
Hopp wanted the platform to give students the same involved experience that Linfield offers even if the school did have to go virtual again. Fuller began to do her research on platforms that would bring a sense of closeness to the school, and Engage stood out as the best option. 
After launching the program at the beginning of fall semester, Fuller hopes that Linfield will use Engage for many years to come. "If students are using it regularly and if by the end of this academic year it becomes clear that the student body wants this tool to stick around, then I will do everything in my power to help," said Fuller. 
While life at Linfield currently looks a little different due to COVID-19, Engage is helping Linfield create better camaraderie throughout the entirety of the campus.

Sean Webster, ASLU President, has explored the ins and outs of Engage and how it is going to affect the Linfield community. "The level of organization is better than anything we've ever had before," said Webster. Engage is set up in a user-friendly format with two partner apps that go along with it. Through one partner app, event leaders can check people in within seconds, and through the other app, everyone can see a list of future events. 
"At the beginning of the year before we had Engage up and running, we would have an Excel document and we'd have to get names, IDs and emails for contact tracing purposes," Webster said. After becoming more experienced with Engage, Webster was able to conduct the check-in process much quicker at a recent food truck event. He enjoyed being able to make conversation with the people he was checking in instead of stressing over getting the right emails in the Excel sheet. 
Campus events now require contact tracing because of COVID-19, and Engage has been a helpful tool for that. "My hope is that with Engage, it lowers some of those barriers," said Fuller. Students are encouraged to stay on campus in the efforts of keeping the Linfield bubble during COVID-19.
Abigail Gorton, Vice President of Programming, thinks Engage could actually help keep students on campus. "I think a lot of us are missing the social aspect of Linfield, and so I think that as more students get on Engage and are seeing that there actually are opportunities and things going on that they'll hopefully come to them," Gorton said.
Fuller stressed the importance of keeping students engaged in the various events held on campus. Through surveys, the event hosts can determine if their event was successful or not by the response of the attendees. 
"[Club leaders] want to tailor their events specifically to the students at the time. They don't want to get caught up in doing what they've always done," Fuller said. "For me, doing what we've always done is never a good enough reason to keep doing something. It needs to tailor to the community at the time and Engage will help us do that."