Welcome To the Drag Show: Linfield's Hottest Homecoming Event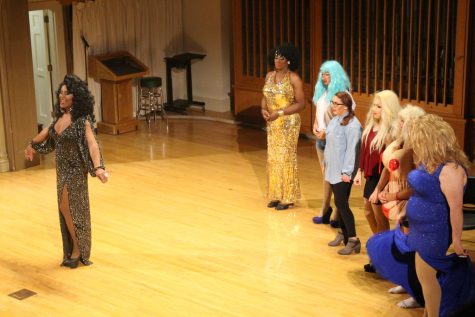 Linfield College's biggest Homecoming event was back, ladies and gentlemen. The event that had brought Linfield students together last year was on Wednesday night Sept. 28. This was Linfield's second year of hosting a drag show, and the turnout was amazing. Every seat in Ice Auditorium was filled, leaving some students to stand on the sides of the auditorium. There was even a line to enter Ice before the doors were open for the general public.
        Poison Waters & Friends were the famous and talented ladies that graced the stage last year's Homecoming show. They had returned this year to give Linfield College another show and oh boy, they sure did not disappoint. Each performer performed multiple dance pieces and had interesting audience interactions. So interesting that it would audience members gasp and blush at the same time mixed with laughter. Each routine was graced by cheering and clapping, these ladies knew how to get the crowd going. Poison Waters was a gracious and funny MC throughout the night. 
        Though Poison Waters & Friends weren't the only ones dressed in drag. Some of Linfield's students joined in on the fun. Senior Ehren Cahill, Sophomore Jose Madrid, Sophomore Caitlyn Van Zandt and Junior Ben McNair were the performers that represented Linfield College's Homecoming spirit. Cahill, Madrid, and Zandt's group dances to "Move Your Body" by Beyoncé and "Legs" by Luciane Paine were on-point and fierce.  The flirty, fun and scandalous solo dance from Cahill to the song "Candy Man" by Christina Aguilera got everyone excited. The equally flirty, fun and scandalous solo dance from McNair to the song "MILF Money" by Fergie.
        The Linfield Drag show is the event of the year. Not many Linfield College events hold the power to unite the student body, but this event does. Let's hope we can continue this wonderful Linfield tradition for years to come.