Pet peeves: students share their hidden on-campus pets
Have you ever thought you heard a dog bark or a cat meow in a residence hall or apartment?
Maybe you did.
A pet on campus is a violation of Linfield's policies and procedures, but some students think it is worth the risk.
A student in a residence hall, who asked for anonymity, used to have her cat, Shadow, living in the dorm with her. She would carry Shadow from building to building in a duffle bag with her friends to keep him hidden.
"My cat, Shadow, was nice to have to pet and play with when I was stressed and wanted to take a break," she said.
Another student living in the HP apartments had two kittens for a while, but they were caught by campus safety when one of the roommates was locked out. The kittens, Bruce and Alex, brought fun, love and lessons about responsibility to the HP apartment residents.
The student explained that when adopting the cats, she and her roommates had a plan for if they got caught, but when the time came to give them up, it was really hard.
The Residence Life page on the Linfield website states that "animals of any kind—except for harmless fish in an aquarium, not to exceed 10-gallon capacity—are prohibited within all residence halls and all campus apartments."
Jeff Mackay, associate dean of students and director of residence life, said the only other time pets are allowed to live on campus is when they are in the Legacy apartments, located off campus, because of the cat pilot program. The program allows residents to have one cat per apartment for a $300 fee per year.
He said, "The cat policy was designed with two purposes in mind, (1) as an incentive to increase students' interest in the Legacy Apartments as well as to enhance the experience of independent living that the Legacies ideally offer; and (2) to give upper class students the option of having a cat on campus."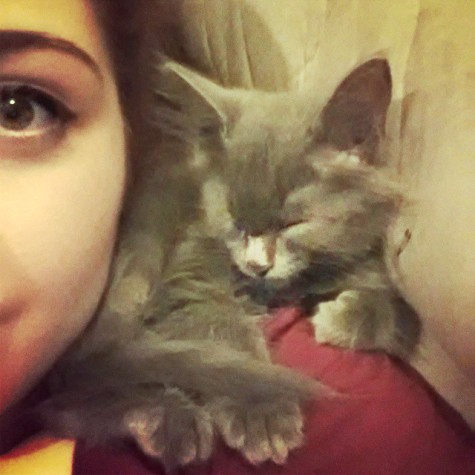 If a pet is caught in a residence hall, the residents will have to jointly pay a standard $150 cleaning fee and pay for any additional costs from damages after Facilities does a walk-through. If the pet is not removed within 48 hours there is a fee of $75 a day.
Senior Emily Meinel said that having a cat would have made her college experience better overall and would have lowered her stress levels.
Another student, who asked for anonymity, says small pets should be allowed, especially animals such as hamsters or cats. She has a hamster named Kevin, a Roborovski Dwarf hamster. Kevin, who is actually a female, lives in a small cage with lots of toys. She was named after the bird in "Up."
"She is really fun to have, keeps me company, and calms me down," Kevin's owner said. "I can see why hamsters wouldn't be allowed in dorms since they are nocturnal and loud at night, but in the apartments you can just put their cage in the bathroom."
Another college apartment resident, who also asked for anonymity, is keeping a secret turtle named Yertle.
"It was a Christmas present and I've never considered not having him with me at all times," she said.
She said a turtle is "not a pet that needs attention" and is "super low-maintenance."
"Having an animal makes me more comfortable," she said, and "is a source of entertainment."
Chris Poole, a resident adviser, said, "I think the pet policy serves a good purpose. In residence halls the animal policy is a good idea since residents all live under the same roof and are all exposed to the same elements.
"If an animal escapes a room, it can cause a disturbance in the residence hall," Poole said.
Some students have a relationship with their pets that is hard to leave, including freshman Rebeca De Leon.
"I grew up with a pet pretty much all my life, so it was hard to come and not have one," De Leon said.
Dana Brumley and Kaelia Neal can be reached at [email protected]
Leave a Comment