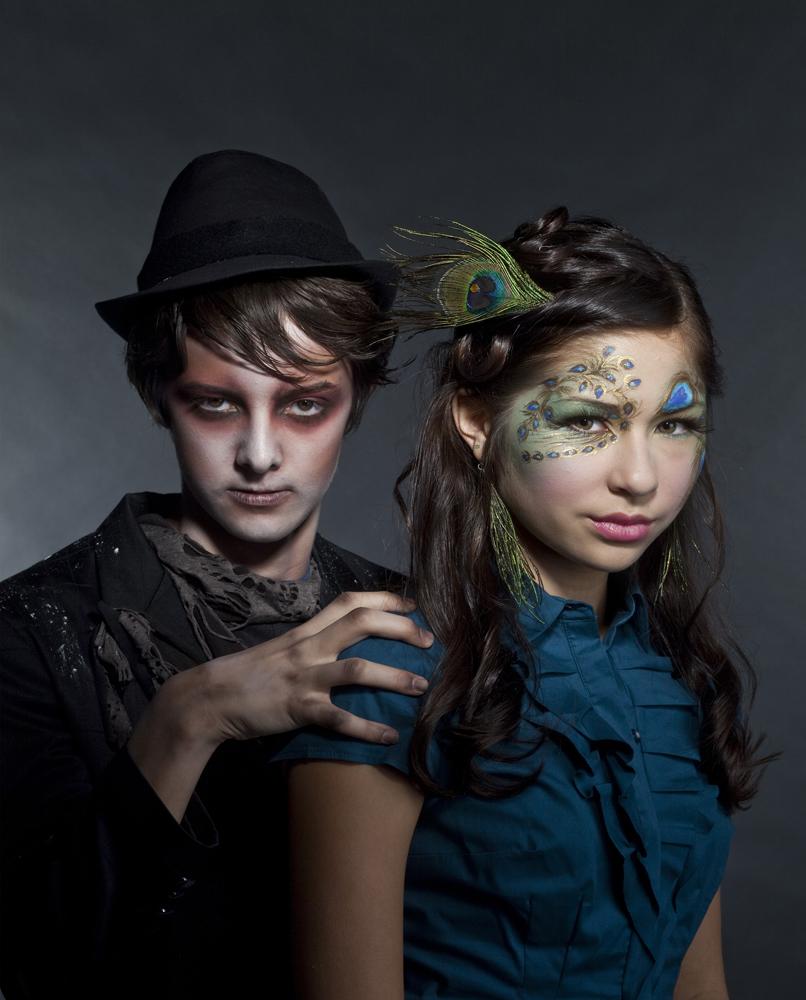 By Wendy Donahue/  Chicago Tribune (MCT)
For Halloween 2011, zombies are battling vampires for hearts and minds. The peacock is the new black swan. And Monster High's Frankie Stein is challenging Hannah Montana in the 'tween popularity contest.
Along with the classics, a new generation of pop-culture heroes and villains inspire Halloween costumes each year. This time around, influences range from AMC's grisly hit TV show "The Walking Dead" to the elegant bird who fled the Central Park Zoo in August to strut his stuff in Manhattan.
For younger girls, Mattel's doll-faced Monster High clique fills in the generation gap left by dusty Dracula and fogey Frankenstein. Comic book heroes who leapt to the big screen are big for the boys.
Many of the trendiest characters require special attention to the face to achieve the desired effect. The good news is, once you've got that down, the rest of the costume is likely already in the closet.
"Zombies are the biggest costume category for 2011," said Ressa Tomkiewicz, spokeswoman for Party City. "That's partly because vampires are falling out of fashion a little bit. Consumers are looking for the newest dark creature to personify."
Part of the appeal of zombie looks, which are proving popular among adults and boys, is that any character can be zombified nurses, rockers, day traders, teachers.
"This is where makeup comes into play," Tomkiewicz said.
Costume stores have expanded makeup kits for Halloween. But the face is such a focal point this year that some adults are calling in professionals.
"We've already started booking up," M.A.C. Cosmetics senior artist Jane McKay said in September. "The Saturday night parties will be crazy."
ADULTS: GASHES AND LASHES
"Halloween is becoming more and more popular for adults," Tomkiewicz said.
According to a National Retail Federation report released in September, Americans will spend $1 billion on children's costumes in 2011, up from $840 million last year, and $1.21 billion on adult costumes, up from $990 million last year.
About 68.6 percent of Americans plan to celebrate Halloween, up from 63.8 percent last year and the most in the federation's nine-year survey history.
Adults like to buy a la carte items to create costumes that are both economical and can be customized, Tomkiewicz said. So Party City added more mini-kits this year containing, say, peacock wings and a mask, or peacock clips for shoes, to which some adults might add a tutu, leggings, blue and green makeup and false lashes, which abound in a rainbow of colors and embellishments at beauty stores such as ULTA as well as M.A.C.
"Lashes can be used for creating a lot of characters," McKay said. "Many times you want your features larger than life. Lashes help achieve that."
Everyday toiletries can add up to some of the most dramatic looks. The pale skin of a zombie can start with sunscreen containing zinc, McKay said. "Then you have to create the gore."