Wildcats balance NWC record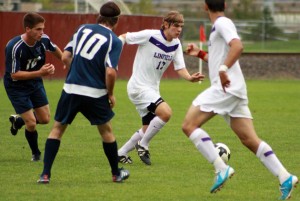 Men's soccer evened its overall record to 5-5 last weekend, defeating Willamette University 2-1 on Oct. 9.
After an early goal by Bearcat freshman midfielder Brandon Shiluk, Linfield's defense took over, holding Willamette scoreless during the final 86 minutes of play.
Freshman midfielder Michael Swain scored the first of his two goals on a pass from senior midfielder Kevin Donato, tying the score at 1-1.
Swain's second goal — his third of the season — came during the 21st minute off of an assist from freshman forward Harper Taylor. Swain's goal was the game-winner, putting Linfield ahead 2-1.
The 'Cats held off the Bearcats despite being outshot 12-8.
Sophomore goalkeeper Cody Tipton finished the game with two saves. Tipton relieved senior goalkeeper Joe Locascio, who finished with six saves in the first 64 minutes of play.
Tipton said he was satisfied with the win but knew the team could have played better.
"I felt like we were a little slow to begin with, and that's how they got their goal," Tipton said. "I think right now it is all about fine-tuning what we do to limit mistakes."
The game was plagued with fouls; 35 were called. In the second period, the 'Cats committed 19 fouls, a number which Donato was not pleased with.
"I don't feel we played well at all, especially in the second half," he said. "Our performance just wasn't there, and we just made it difficult on ourselves."
Swain agreed with Donato.
"In the second half, we kind of fell apart and had a lot of fouls in a short period of time, which is not what we want to do," he said.
With the win, the 'Cats hold a 4-3 conference record going into next week's game against George Fox University on Oct. 16. Linfield defeated the Bruins 7-0 on Sept. 26.
George Fox has endured a rough season, holding an 0-9 overall record with an 0-7 conference record.
But Tipton said the team can't expect an easy game, and he drew a comparison from last season.
"We beat Willamette 5-1 in our first game last year and lost to them in our second. We don't want that to happen this year with George Fox," he said.
Swain agreed with Tipton, advising that the team not relax against a motivated George Fox.
"They are definitely looking to come back at us because of our win last time," Swain said.
The 'Cats will square off with Pacific University for a second time this season Oct. 17. The game will allow Linfield a shot at redemption, after losing its first game to Pacific 1-0.
The Boxers hold a 9-1-2 overall record and a 5-1-1 conference record.
The 'Cats have a chance to win their third game in a row and climb up the conference standings this weekend. The opportunity is not lost on Swain.
"We're trying to get some momentum going," he said. "These games this weekend are super
important to win, to keep the streak going."
With the 'Cats entering the second half of the season, Donato said that, compared with last year, this season was going well so far.
"It definitely feels a lot better. It's been more enjoyable, and we're seeing better results," he said.
The Wildcats' next game at George Fox on Oct. 16 and at home Oct. 17 at 2:30 p.m.
Matt Bayley/Staff reporter
Matt Bayley can be reached at [email protected]