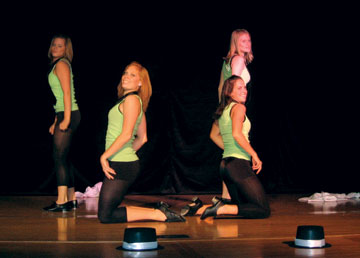 – Photo Courtesy of Amy Goodloe
Joelle Cheek
Ten weeks of sweat, long nights and intense preparation will culminate in two nights of energy as the Dance Ensemble class performs "Stage Rage" May 1 and 2 at 8 p.m. in Ice Auditorium. 
The performance is an assortment of hip-hop, ballet, African dance and many other styles. The student performers have a mix of
dancing backgrounds and special talent this year, Emily Crocker, adjunct music professor and dance instructor for the class, said.
Crocker said her goal is to put the responsibility of the show in the students' hands. Each plays a role in the production of the show and can be involved in up to four dances, whether performing or choreographing the piece. 
This year's ensemble performance is Crocker's third at Linfield, and she said she thinks anyone can appreciate it.
"The show is very accessible and really shows the girls' technique level," Crocker said. "I hope it inspires people to dance."
Crocker is not only the instructor for the class, she has also choreographed two African dances, which she holds close to her heart, she said.
The first piece is a harvest dance she learned a few years ago from two men she met from Ghana.
The second piece originated from her time at University of Oregon, where she concentrated on studying conflicts occurring in Africa, such as genocide.
"It's about how people can live through tough times and find life on the other side," Crocker said.
Senior Bernice Nisbett has worked with Crocker for three years. Never having taken any dance classes before coming to Linfield, Nisbett said she loves to dance and has learned a lot from Crocker.
"I've learned that you don't have to be a trained dancer," Nisbett said. "If you love to dance, then you should, no matter what."
Sophomore Jenny Stewart choreographed a hip-hop piece and is performing in the show. Stewart has been dancing since second grade. She said she has learned many different styles of dancing from her peers and from Crocker, which is important for a choreographer.
"(Crocker) has helped me explore new movements," Stewart said.
Getting everyone ready for the performance has brought challenges for both the students and the instructor.
Crocker said because of the students' variety of dance backgrounds, getting everyone to see the final product with the same vision has been the hardest part of preparation.
"Trying to get everyone moving in the same direction with 17 people can be difficult sometimes," Crocker said.
For Stewart, getting dancer's block, similar to writer's block, was the worst that could happen while planning out the dances.
"I spent hours listening to the song and trying to figure out the movements, and I just couldn't figure it out," Stewart said. "It is the worst thing that a choreographer can get."