"At the heart of creating art it is that search for authenticity, it is an opportunity to create a world that allows you to be your most authentic self" Thea Gahr, Linfield University art gallery curator, said.
Linfield's art gallery is currently hosting the "Blame It On Art" exhibition. This collection features works from mentors and professionals from Outside The Frame, a local Portland organization that supports homeless youth. Within the exhibit there are a variety of visual mediums.
One that stands out is "The Lost Boys of Portlandia", a documentary that shines on the challenges homeless youths are faced with. When arriving at the gallery, a film echoing through the space can be heard. It is a moving message about the power of art that is then reflected in the other art around the room. The film is a great place to start when visiting the current exhibition.
In the center of the gallery, viewers will find a piece done by Devon Riley that includes messages such as "Resource is a cycle, you cannot hold it still." This piece conveys a desire for humans to become a part of the environmental cycles, rather than working against or taking advantage of those systems. Gahr felt this message was important as she has come to understand that, "ultimately environmental justice is social justice." The animals and the plants of this world have no say in what happens, they can't fight for themselves, but this piece helps to give our environment a voice.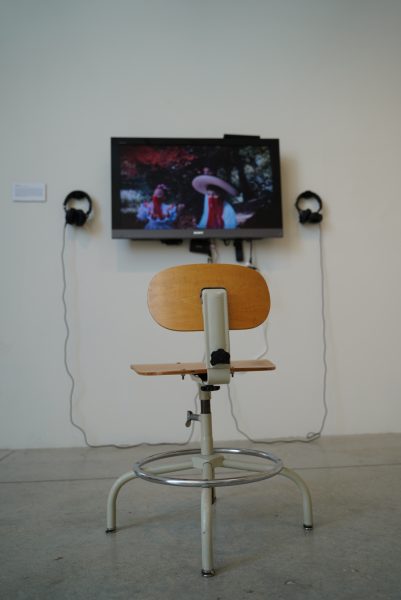 On the far wall there is a piece by Marcieline Novatore, her work from far away forms a cross along the wall. The piece plays with perspective, as each side of the cross mirrors one another, which is similar to the work that Outside the Frame does. It works to change the perspectives of people who have never experienced homelessness as well as change the perspectives of the homeless youths that feel that they have no options.
At the exit of the gallery, there is a timeline created to show the work of Outside the Frame. It shows organizations beginnings, as well as awards they've received over the years. There are also several movie posters featured, each with different artists.
The gallery is open now until Oct. 6, at the Linfield Art Gallery inside of The Miller Fine Arts building. To see more work produced by Outside the Frame, checkout the film festival on Tuesday, Oct. 3 from 6-7:30 p.m. in the Delkin Recital Hall within Vivian Bull Music Center. This event will present short films created through the Outside the Frame program, as well as a Q&A session with filmmakers.